Ithaca Reggae Fest returns to Stewart Park on June 17th and 18th, 2022, with full day of reggae, yoga, water education, skateboarding, art, food, dance and more. Dedicated to the protection of Cayuga Lake through a conscious celebration of Ithaca's legendary reggae community and its history, this festival returns after three years of being apart.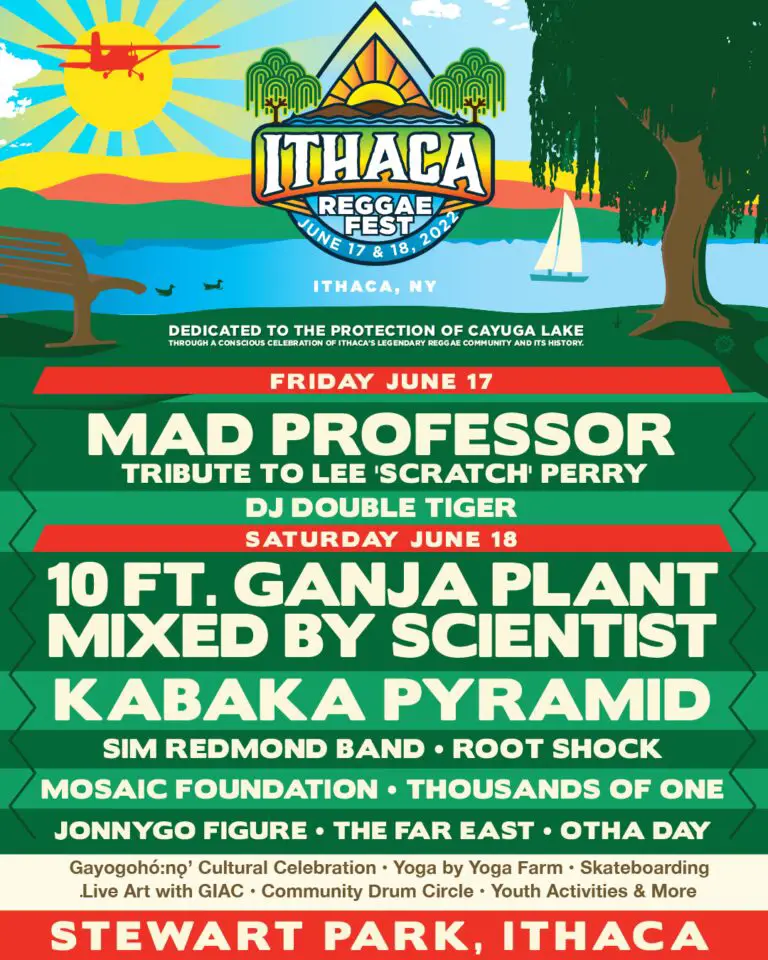 This year's festival is culminating with headlining performances from internationally renowned Ithaca-based roots reggae & dub masters. Featuring revolutionary artists like 10 Ft. Ganja Plant mixed by legendary Jamaican producer Scientist and Kabaka Pyramid, both making their Ithaca debuts. Saturday's lineup includes some of the best reggae bands from throughout New York State. 
Dedicated to protecting Cayuga Lake, throughout the day Ithaca Reggae Fest features Education Village, which will showcase numerous water protectors from throughout New York and the United States including the Audubon Society, Community Science Institute, Cayuga Nature Center, and many others with interactive exhibits for all. 
Youth Village presented by the Childhood Development Council will feature youth programming throughout Saturday from family yoga and storytelling to drum circles and a special performance by Hangar Theatre's "Three Little Birds." 
And focusing on art, Ithaca Reggae Fest is excited to partner with the Greater Ithaca Activities Center (GIAC) and famous artist Jay Stooks to host its Art Village featuring numerous local, regional and national artists creating art throughout the day Saturday raising proceeds to benefit the 50th Anniversary of GIAC. 
Throughout all of this, in collaboration with USA Skateboarding and Etnies shoes, Ithaca Reggae Fest presents Skateboard Village hosting the 1st Annual Flat Attack US Pro/Am Championships of Flatland Freestyle Skateboarding. Free to attend and open to all to register, Qualifying Rounds take place on Friday, June 17 from 11 AM to 5 PM before the Championships on Saturday, June 18 from 2pm to 7pm at the Tennis Courts in Stewart Park. 
Bringing the community together, tickets to the triumphant return of the 4th Annual Ithaca Reggae Fest is on sale now with children under 16 admitted free of charge with a parent or guardian. Tickets and more information linked here.