Tinsley Ellis is on tour across America following his latest album release, Devil May Care, and he made a stop in Saratoga Springs on February 19th to play at Caffe Lena. The Atlanta-born front man released his first album, Cool on it, in 1986 and has been consistently putting out music ever since. Tinsley's hard earned experience was evident from the moment he took the stage; with no words spoken, he jumped right into his upbeat blues with songs including: 'One Less Reason,' and 'To the Devil for a Dime.'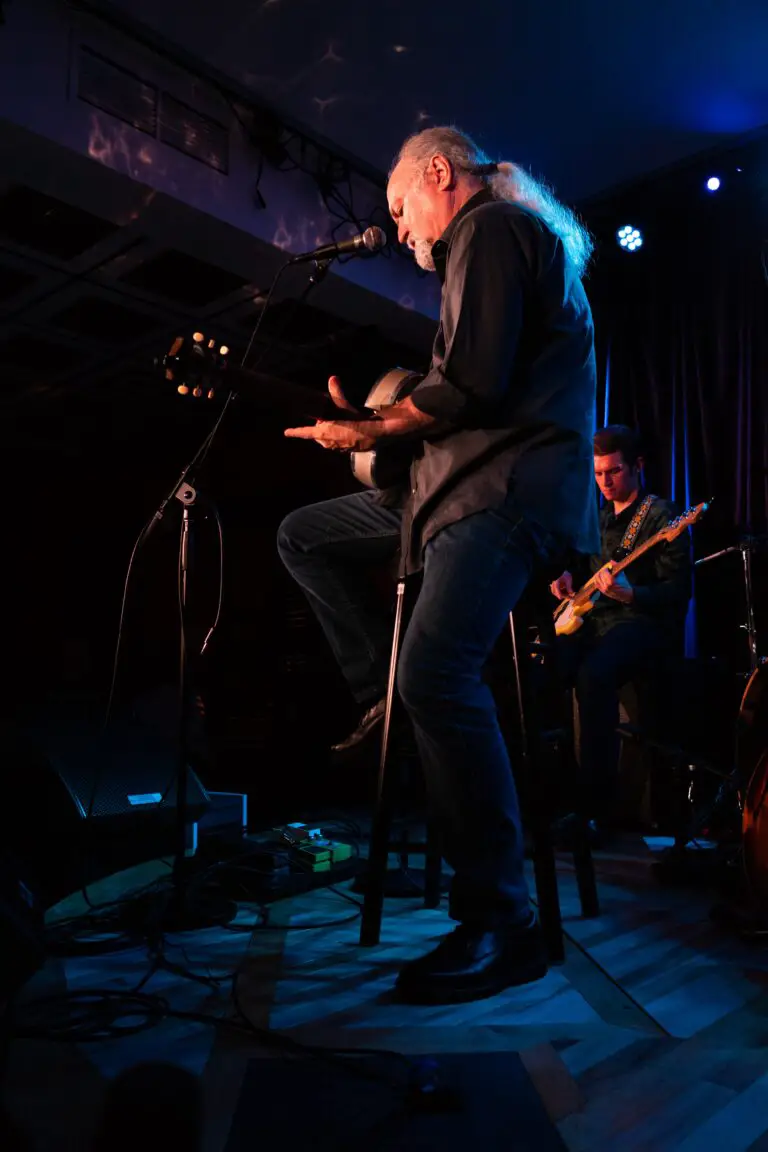 These opening songs set the tone for whole show. Tinsley impressed the crowd with his powerful vocals and even stronger guitar solos. For some, their instruments are an extension of their bodies, and this was certainly the case for Mr. Ellis. Tinsley's road worn guitars showed their use, and he showed Caffe Lena just how well he can use them. His pedal board was minimal, and this left the control over Tinsley's tone entirely in his own hands. After just these two songs, it was clear what the Saratoga crowd was in for a masterclass in blues guitar.
Tinsley came out hot and stayed hot, counting off song after song with no pauses in between. He continued on with tracks from his 1994 album Storm Warning, including: 'A Quitter Never Wins' and 'The Next Miss Wrong.' Eventually, Tinsley would let the room simmer as he pulled up a stool, and grabbed his resonator to play some slide guitar for the Saratoga crowd. In the image above, you can see the reflection cast on the ceiling by the beautiful silver top of his guitar. Tinsley covered songs by both Muddy Waters, and Willie Dixon before playing one solo tune.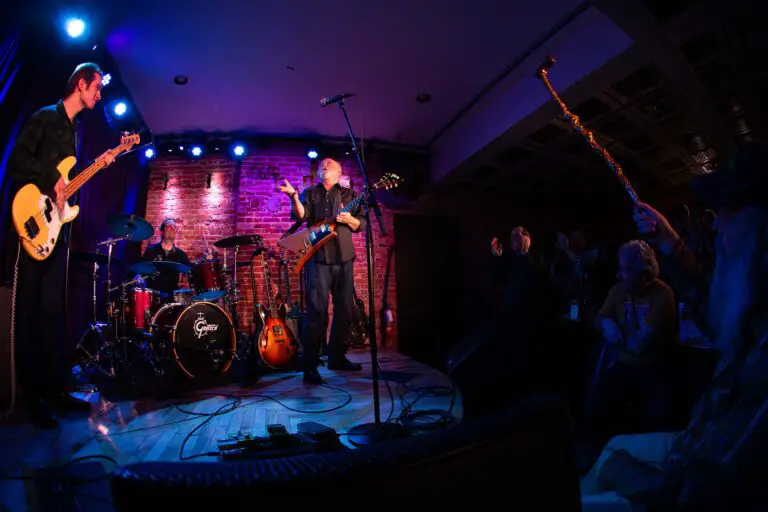 When the band returned to the stage, the room's energy shot back up during Tinsley's high tempo track, '28 Days,' off the new album. Fans cheered along, and one fan in particular, with his cane raised high, shouted "YEAH TINS," just as he had done all throughout the night. The tempo came back down again for another new song called 'Slow Train to Hell,' and the regular set closed out with 'Pawnbroker.' After a brief stage exit, Tinsley and co. returned to the stage for a crowd-welcomed encore that left Caffe Lena's patrons standing for an ovation.
Below you can check out a clip from Tinsley's set on Caffe Lena's YouTube channel. Skip to around minute 8 to see Tinsley take the stage.
After this stop in Saratoga, Tinsley Ellis will be continuing on down the road to Nashville before hitting the rest of the U.S. For all of his upcoming tour dates you can visit Tinsley's website. You can also listen to his new album on Spotify. And don't forget to check out Tinsley's YouTube channel and Instagram. For future shows at Caffe Lena, visit their website.
Setlist (Partial): One Less Reason, To the Devil for a Dime, A Quitter Never Wins, The Next Miss Wrong, Cut You Loose (Buddy Guy), Double Eyed Whammy, I Can't Be Satisfied (Muddy Waters), Little Red Rooster (Willie Dixon), 'Solo Acoustic Song,' 28 Days, Slow Train to Hell, Pawnbroker
Encore: 'Elmore Slide Songs'