Saturday Night Live was back this week with host Paul Rudd for the NBC staple's Christmas episode, but with a scaled back cast and crew, no musical guest and no studio audience, due to concerns over the Omicron variant of COVID-19.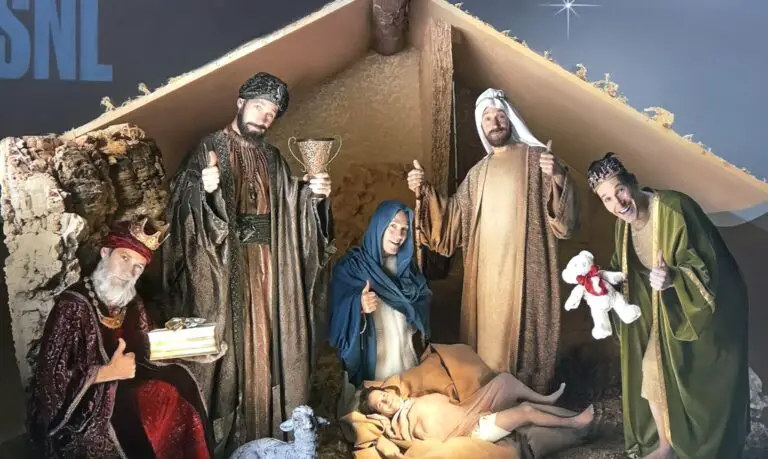 Recorded earlier in the evening, a departure from the typical live taping, SNL adjusted and made the most of the situation, with a blend of fresh and classic holiday sketches. The cast was limited to Kenan Thompson and Michael Che, and only two members of the Saturday Night Live Band on hand – Lenny Pickett (sax) and Tuffus Zimbabwe (piano).
The show began with an atypical intro, Tom Hanks walking out to introduce host Paul Rudd, and no cast montage to begin the episode. Rudd kept things light and soldiered on in his fifth appearance as a host, joining the Five Timers Club in the process, thanks to special guests and fellow club members Hanks and Fey.
Earlier Saturday afternoon, Saturday Night Live announced the changes for this week's episode, which included Fey filling in for Colin Jost on Weekend Update. This brought Fey back to the Update desk, despite there being no actual desk due to a limited crew for this episode's taping. Jost, along with Aristotle Athari, and Sarah Sherman had reportedly tested positive for COVID-19.
The musical guest for the evening was slated to be Charli XCX, but shortly after the official word from SNL, Charli tweeted "Due to the limited crew at tonight's taping of SNL my musical performance will no longer be able to go ahead. I am devastated and heartbroken. I am currently safe and healthy but of course very sad. Please look after yourselves out there," along with a follow up clearing any confusion that she did not cancel or pull out of the show. Although Charli did not perform, she did take part in the digital short "Christmas Socks," a take on "The Christmas Shoes," as a bird named TJ Rocks.
Classic holiday sketches like "Dick in a Box" and "Christmastime for the Jews" (sung by the great Darlene Love) filled in where new material would normally be found. The brilliant "An Evening with Pete" looked at the career of Pete Davidson in the year 2054, a take on Raging Bull and Christmas movies of the past.
The fully decorated set found the five actors – Che, Fey, Hanks, Rudd and Thompson – on stage at the end of the episode for goodbyes, as well as socially distant hugging. Only Pickett and Zimbabwe stood on the stage playing the outro music as the credits rolled.
Tonight's show marked the first time since October 11, 1986, when Sigourney Weaver hosted, without a musical guest in the show's history. Madonna did appear that night to read a statement apologizing for the previous season, noting it was only a dream, ala Season 9 of Dallas. While not the musical guest, Buster Poindexter performed "Oh Me, Oh My," "Baby, It's Cold Outside" (a duet with Weaver), and "Smack Dab in the Middle."
Saturday Night Live will return in 2022.