On Thursday, November 11, pianist, composer and ensemble leader Michele Rosewoman will present "A Function at the Junction: Ancestral Bridge, Musical Streams" / "Una Función en el Cruce: Puente Ancestral, Corrientes Musicales," a collaborative, multimedia event that will bring together Rosewoman's New Yor-Uba ensemble, Francisco Mora Catlett's Afro Horn and Román Díaz's Rumba Ensemble in live performance with video documentation, a subsequent HotHouseGlobal broadcast and Habana/Harlem panels.  

The program will take place at the Clemente Soto Velez Center, Flamboyan Theater in New York City at 107 Suffolk St, as part of Arts for Art's three-day festival, Jazz Libre. Tickets are available here, with a cost of $15/set, $25/night in-erson, and $5 for a livestream. View the full schedule here.
On December 18, the event will be broadcast on Cuban national television (and beyond) as part of a 2-night event  (Dec 18/19) through the HotHouseGlobal streaming platforms on Twitch, YouTube, HotHouse's website, and Facebook Live. A recipient of the prestigious Southarts Jazz Road Creative Residency grant, Rosewoman has created a night that gives broader space and voice to the inspirations and traditions that have shaped and nurtured her. 
With New Yor-Uba, we pay homage to the journey of centuries-old Yoruba traditions from Nigeria through Cuba to present-day New York, reflecting its contemporary manifestations. 

Michele Rosewoman
The ensemble's distinctive repertoire features Ms. Rosewoman's original compositions and visionary arrangements that incorporate a large spectrum of Cuban spiritually-based musical traditions including, Yoruba (Nigeria), Arará (Dahomey), Abakuá (Calabar) and rumba/guaguanco, a uniquely Cuban musical form.    
Rosewoman's vision is that of a unique community of musicians in NYC with deep ties to both spiritually-based Cuban folkloric traditions and contemporary jazz, Rosewoman, Román Díaz and Francisco Mora Catlett share conceptual, artistic and spiritual intersections. Rosewoman sees this residency as an opportunity to "incorporate and stage the work of treasured co-creators who also highlight these traditions in unique contemporary contexts, while building bridges between artists and cultural voices based in NY and also those artificially separated by Cuba/U.S. policies."   
Master folklorist Román Díaz, a member of all three ensembles (leader of one), as well as a former member of Yoruba Andabo  (Cuba) has been a featured and foundational member of her New Yor-Uba ensemble since 2008. Fulfilling a desire to further share her music (deeply informed by traditions born of Cuba) with Cuban audiences through her partnership with HotHouseGlobal, especially gratifying for Ms.Rosewoman is the fact that Mr. Diaz is featured in all 3 ensembles.   
Michele Roswoman's New Yor-Uba lineup includes: Michele Rosewoman– piano/vocals. Alex Norris–trumpet. Mike Thomas- alto & soprano saxophone,  Isaiah Collier-tenor saxophone. Chris Washburne–trombone/bass trombone/tuba. Gregg August–bass. Robby Ameen–drums. Román Díaz – percussion/vocals. Rafael Monteagudo–percussion. Mauricio Herrera-percussion/vocals,  Abraham Rodriguez-  lead vocals.
This project enables us to share Mr. Díaz with the Cuban communities he is born of but separated from, as they experience his impact on the jazz community here in the U.S," says Rosewoman. "And by 'taking' this music to Cuba, we all return to the source and pay homage to the roots of our inspiration, nurturing this junction.
Francisco Mora Catlett's Afro Horn, an avant-garde ensemble that highlights the African presence in the Americas through an assemblage of prime musicians and a repertoire of written and improvised jazz expressions and Cuban folkloric influences, will also perform. Mora is especially known for his work with Motown, Sun Ra and Max Roach and as co-founder of the Oyu Oro Afro-Cuban Experimental Dance Company (2000) with his wife Danys Perez Prades, performing dance and music from the African Diaspora. Lineup: Francisco Mora Catlett–drums. Sam Newsome–soprano saxophone. Román Díaz –percussion.  James Weidman–piano.  Rashaan Carter–bass. Alex Harding–baritone saxophone.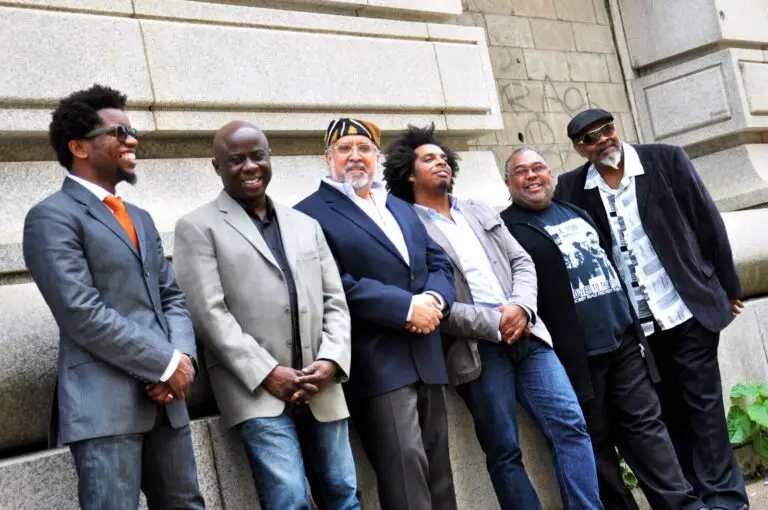 Also performing is Román Díaz, a scholar of religious and folkloric music, composer & performer of folklore and contemporary jazz. Considered both a pillar of the New York City jazz avant-garde and one of Afro Cuban music's great innovators, his Rumba Ensemble displays his vision of the confluence of New York City's tradition of music of the African diaspora.  He has performed and recorded with Merceditas Valdes, Raices Profundas, Paquito D'Rivera, Michele Rosewoman, Henry Threadgill, David Virelles, Jane Bunnett, Juan Carlos Formell, Orlando "Puntilla" Rios, Oriente Lopez, Afro Horn& Danilo Perez among many others. 
Román Díaz 's Rumba Ensemble: Román Díaz -percussion/vocals.  TBA-percussion. Clemente Medina-percussion.  Rafael Monteagudo-percussion. Abraham Rodriguez-vocals, TBA- vocals. Onel Mulet-saxophone/flute.