written by Matthew Romano
Hey Uticats, Police, Primus, and Phish fans, do you remember when Oysterhead played the Utica Memorial Auditorium on November 9, 2001? It was Stewart Copeland and Les Claypool's first time in Utica. Trey Anastasio's first of four musical projects debuted in the Mohawk River city at the base of the Adirondacks.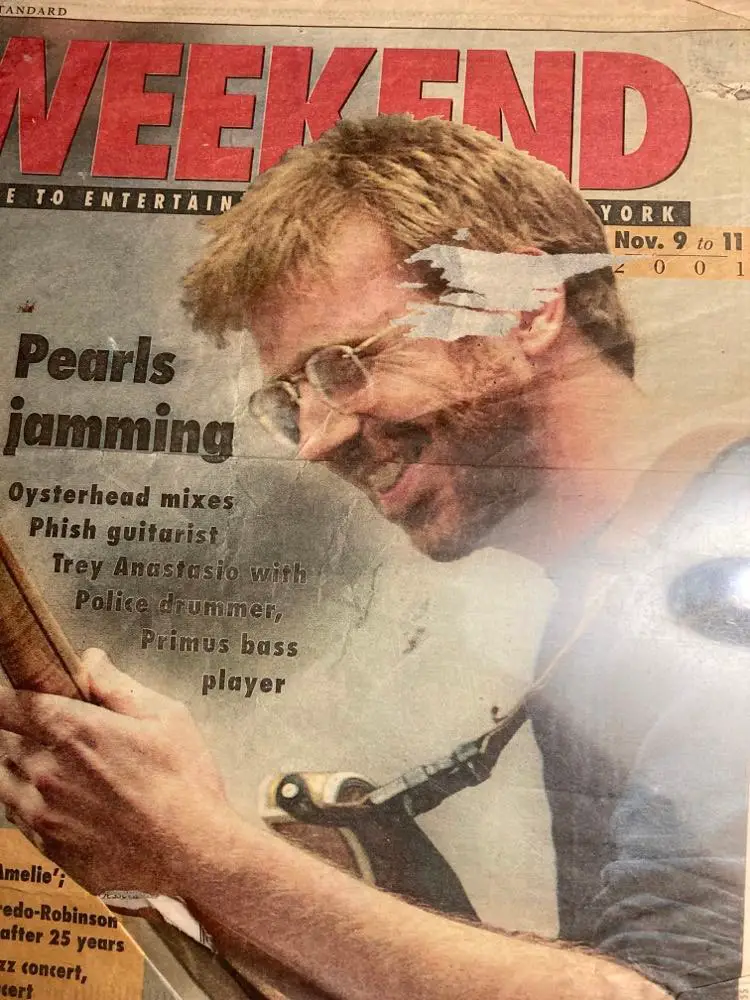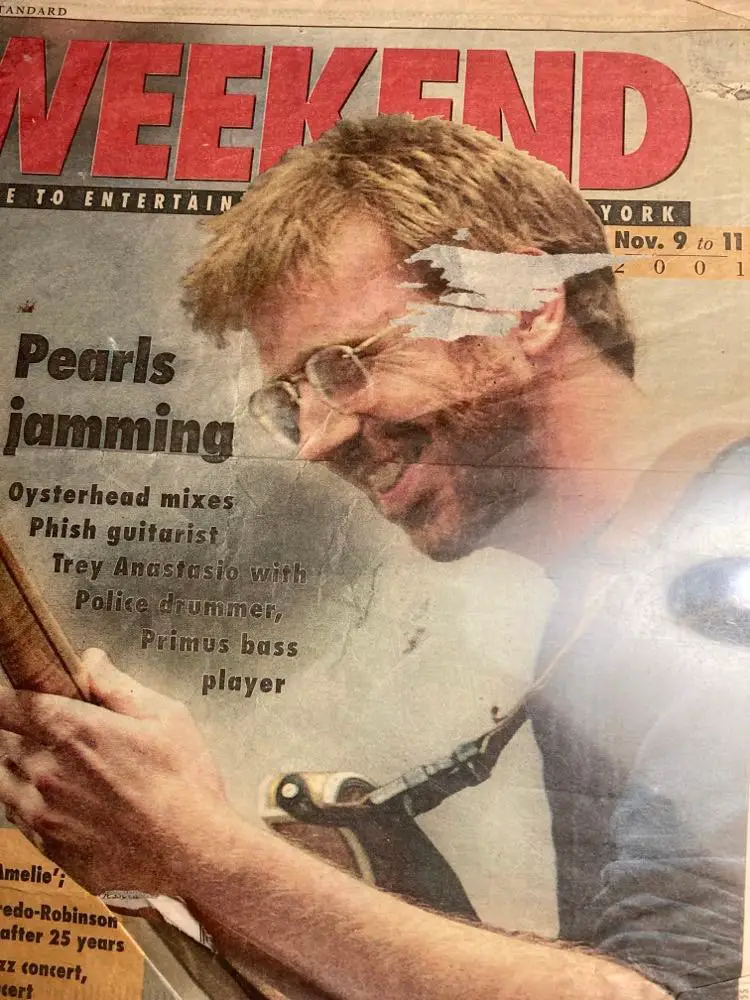 If you recorded the HBO show Reverb ,you'll have a VHS tape of Oysterhead's inaugural tour footage from Los Angeles's Palladium to New York City's Roseland Ballroom during its Fall 2001 episode. Their last television performance would be from NBC studios in NYC for on Late Night with Conan O'Brien.
Ironic collaboration considering the trios background during the 1980's. Stewart Copeland went from playing the Fire Barn Club across from Syracuse City Hall with his band "The Police" to selling out the Carrier Dome a year later at Syracuse University & various other arenas across the world during the decade.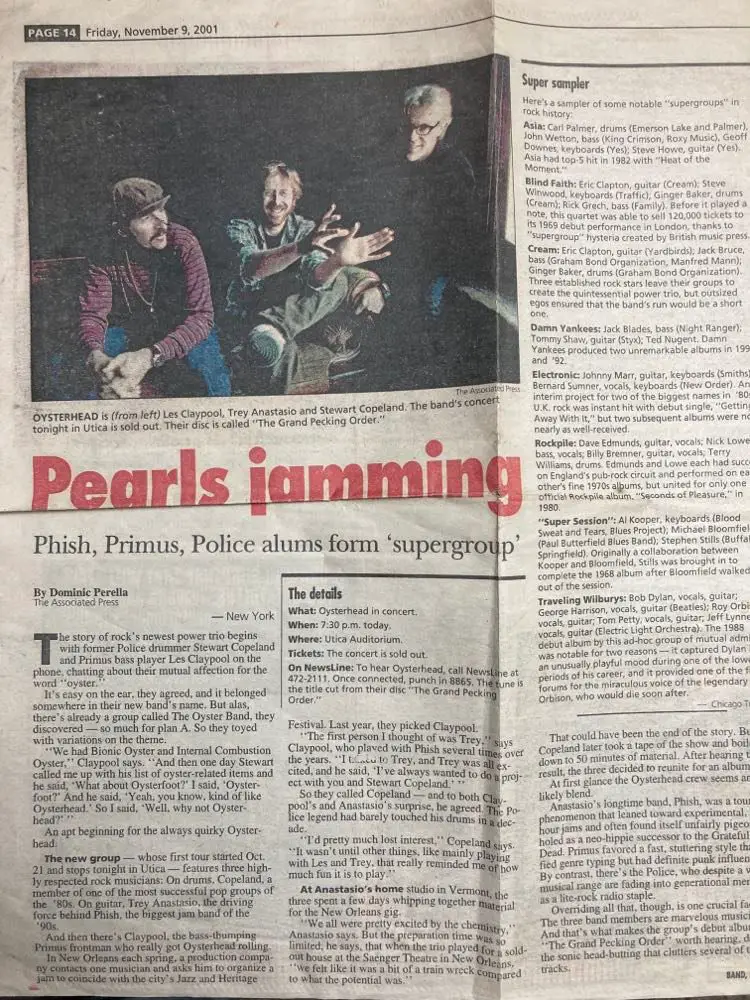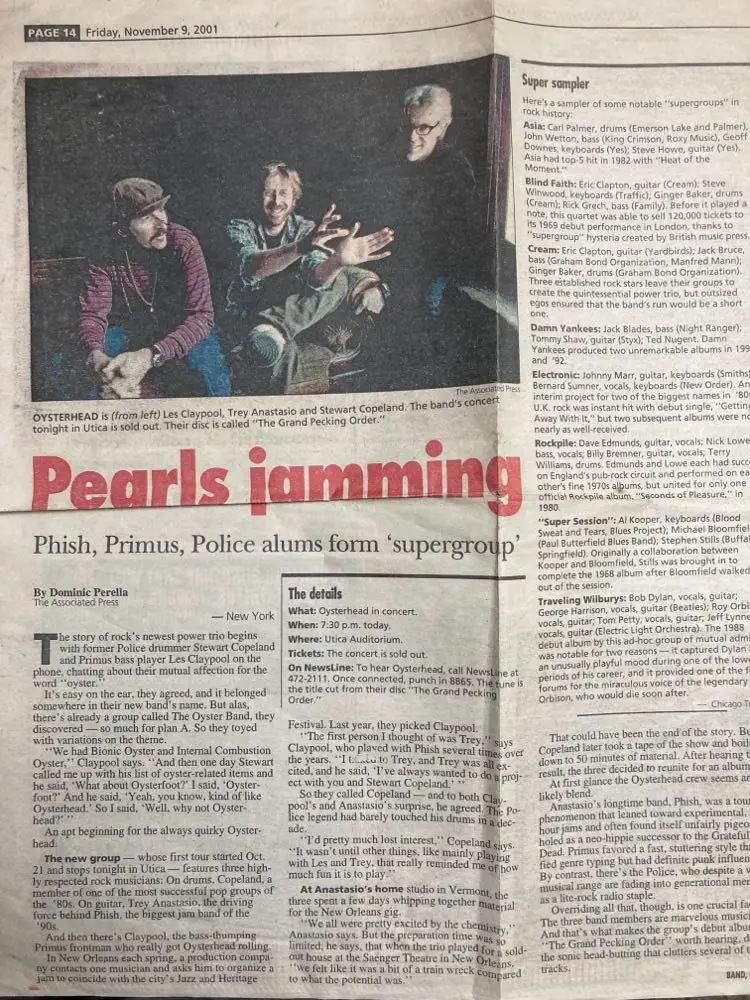 Les Claypool was in California during the 1980's auditioning for Metallica's vacant bassist slot at the time. He was also brainstorming with drummer Jay Lane and guitarist Larry LaLonde about a new project called Primus.
In 1983, we know that Trey Anastasio just hooked up with Syracuse native drummer Jon Fishman at University of Vermont to form their new group appropriately named Phish.
The only collision was during Fall Tour 1996 when Les Claypool and his band Primus sat in with Phish for "Wildwood Weed Harpua" in Las Vegas. Phish covered "So Lonely"by the Police in November 1998. That's all we knew. These artists were certainly castaways at sea during the 1980's while The Police's "Roxanne" dominated the air waves.

It all started in New Orleans by "Superfly" during Jazz Fest who curate random musicians to play the late night gig. Les was called on by Superfly with the intention "of musicians to get other interesting musicians to play a night club after Jazz Fest" Claypool called up Trey and Stewart from always wanting to work with them. It was that simple. Although Trey told HBO's Reverb of the trios seed while the pearls were jamming
I get these glimpses of potential and chemistry between the three of us. First time we got together we did a jam in my barn and I thought it was incredible. Then we did the Strand Theater show and I thought it kind of sucked. But then Stewart sent me the good moments of the show and those motivated me…We got to do another album, We got to tour Japan.

Trey Anastasio
Trey told The New Yorker in Fall of 2015 the hilarity of the trio snowshoeing through Vermont to the surprise of locals who recognized the formation. "Could you imagine walking through the snowy woods and seeing me Les and Stewart on the trail?" They didn't make it to Japan but they made their way to Utica, New York's Memorial Auditorium for their 14th show of a national 22 tour date support of their only album The Grand Pecking Order.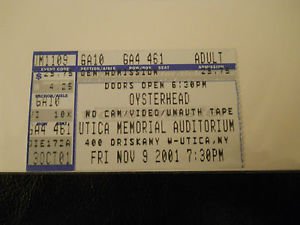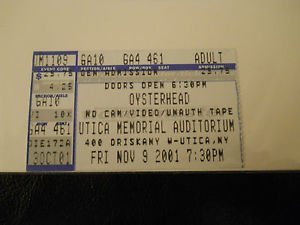 The Oysterhead trio's distinct backgrounds came to light in Utica when Les addressed a sign from the GA crowd in bold magic marker titled "Les is Evil." Claypool told the New York audience during Rubberneck Lions:
I'm looking directly at a bright red sign that says Les is Evil. I don't know if that's a fair thing to say. Are you saying in comparison to Mr. Happy Pants Trey Anipasta that I'm the evil one? Is what your saying? Because in the grand scheme of things compared to Marilyn Manson or GG Allin… I'm not very evil. In this situation if were looking at Trey Anastasio as the symbol of good than yes i am a symbol of evil. But not so much evil like ah Satan or Vlad the Impaler. More like Evil Kanevil… If there was a Harley Davidson sportster in this room and four trucks…I would jump those sons of bitches for you all

Les Claypool
Les Claypool & Trey Anastasio traded vocals all evening, with the 2001 anthem "Army's on Ecstasy" resonating with the fall crowd. The Army's on ecstasy so they say, I read all about it in USA Today. During "Shadow of Man," Les appeared from the darkened hockey rink stage with a pair of extended eye balls attached to a LED space helmet portraying psychedelic illuminations toward the performance.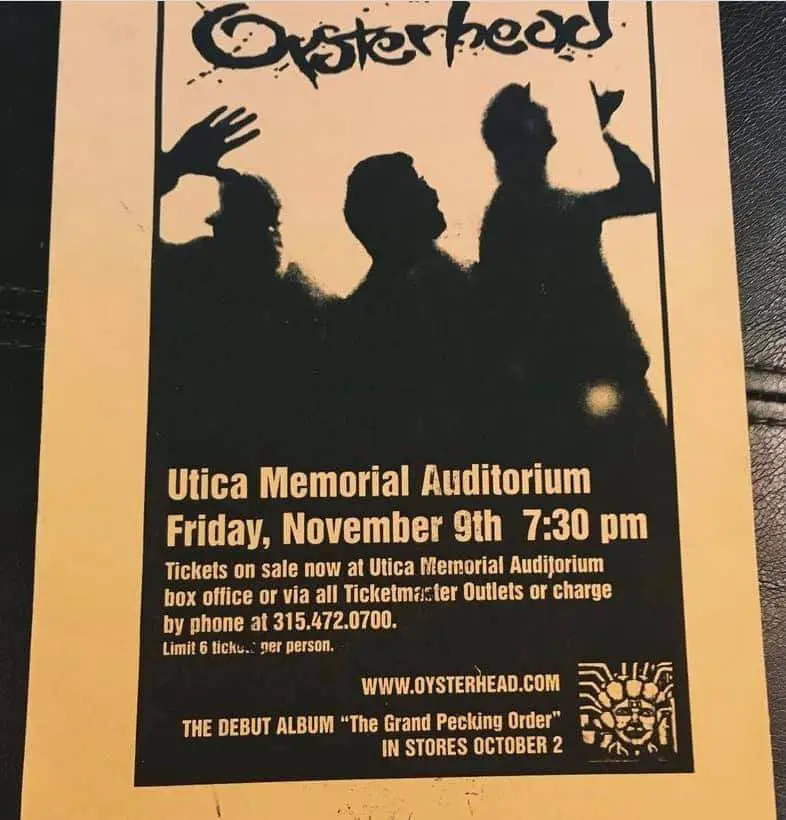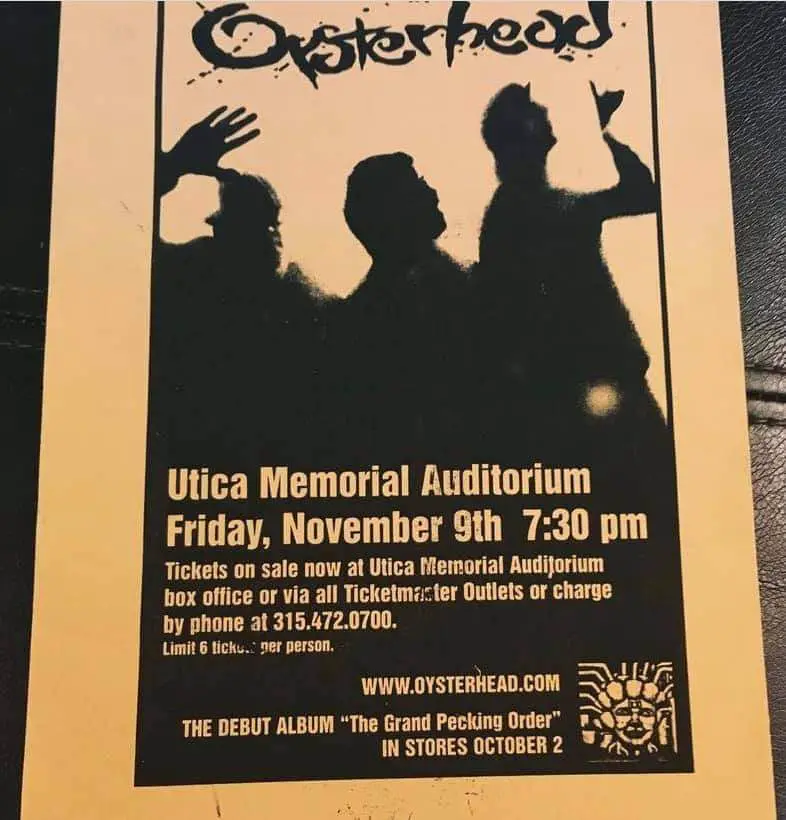 Trey used Jimmy Page like theremin signals from his antler-adorned custom Languedoc guitar, flickering sounds from the edge of his palm to the Upstate crowd. His acoustic Martin was pulled out for the twangy tune "Birthday Boys," a tun that Claypool referenced in Colorado in February 2020, that the song is about four things. "Vegas, a penis, some cocaine and pair of breasts." Trey added "it's also about Kid Rock who was there with Les and I… the birthday boys"
Stewart Copeland emerged from behind his hanging percussion kit adjacent to the drum rig for all the bells and whistles of sound. He even got on vocals asking the clergy to "Wield the Spade." After funking out on "Mr. Oysterhead" to close the night, the trio paid homage to the most Viking-like rock acts to grace the Americas, as Les Claypool took on Robert Plant's howling for a cover of Led Zeppelin's "Immigrant Song" for the encore.
Oysterhead flew full circle to the Northeast this past July 4 at the Peach Music Festival on Montage Mountain. It marked the bands first headlining festival gig since the Bonnaroo Music & Arts Festival in Summer of 2006. They are set to headline the Sweet Water 420 fest in Georgia with Trey Anastasio Band in 2021.
Les Claypool returned to Utica just once in 2019 to the Saranac Brewery as part of The Lennon Claypool Delirium show. Attendees in the Utica crowd that night were fellow bassist Krist Novoselic from Nirvana and Rochester harpist Mikaela Davis. In November 2005 Trey returned to the Aud with Tony Hall on bass as changing cast of the Trey Anastasio Band during the Phish hiatus. The 11/11 nights special guests included Jon Fishman and Mike Gordon with the exception of Page McConnell. On Phish Fall Tour 2010 the Vermont quartet culminated their concert film Guyutica on DVD upon return to the Utica Memorial Auditorium, There is something about those Upstate, NY hockey arena stages that just rock.
God Damn, Playing in this Hockey Arena rink shit is fun

Les Claypool, Utica
Oysterhead, Friday 11/09/2001 Memorial Auditorium: Utica, NY
Set: Oz is Ever Floating, Rubberneck Lions, Little Faces—>Hello Skinny—>Army's on Ecstasy, Radon Balloon, Pseudo Suicide, Shadow of a Man, Wield the Spade, Birthday Boys*, Mr Oysterhead
Encore: Immigrant Song**
*acoustic
**Led Zeppelin Cover