The room at Buffalo Iron Works filled in quickly and the energy was high for a mid-week stop for Dopapod on their 2021 Fall Tour. There was chatter and excitement from previous performances, with fans draped in the band's merch and a general feeling that this tour felt special. The jams were unique, went harder, longer, with the Boston-bred jam-band utterly locked in. There's been a sense of renewed energy in the jam scene after a long period of stagnation with many feeling like it's a good time to be a jam fan.

After the intro music and the pink floyd-esque light show that have become standard to any Dopapod concert, the band walked on stage to a welcoming applause. Guitarist, Rob Compa, greeted the crowd, Keyboardist, Eli Winderman, commented on how beautiful the crowd looked, and bass player, Chuck Jones, sarcastically pointed out that "there were in fact people there." After more amusing banter, the band kicked off the set with "Braindead." Heads were banging, bodies were moving as fans sang along.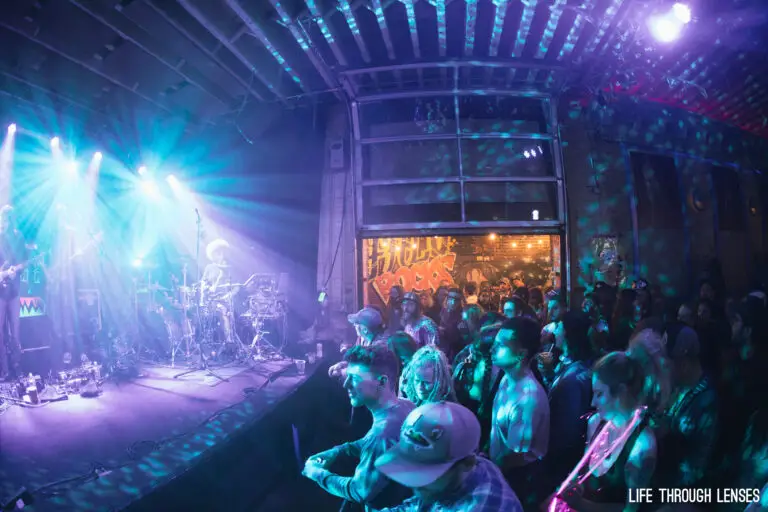 Aside from the pleasing aesthetics, the strobing lights are used to shift the mood as they went from dark to light, shifting to a more delicate records like "Mucho" and "Turnin' Knobs," as fans serenaded along. The emotion in the room could be summed up in a few images of everyone smiling. Some had their eyes closed, while others sang along with the band.
The concert ebbed and flowed, with each soaring high followed by another as the band followed with "Weird Charlie" into "Please Haalp". The first set closed out with a sit in from Michelangelo Carubba, of Turkuaz. There was a smile on every band member's face as Michelangelo provided a strong backbone to a rip-roaring "Freight Train." As an older gentleman exclaimed "That was incredible! I really liked that a lot," a seasoned younger veteran warned, "Just wait."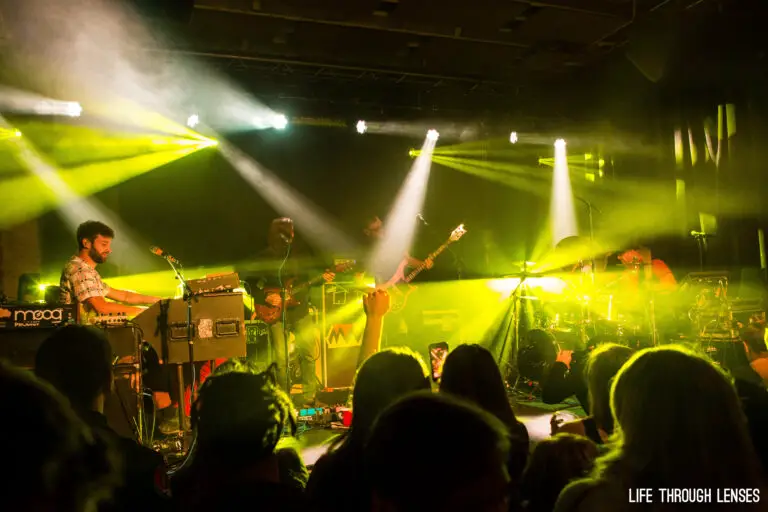 A fat chunk of the second set was spent in one big jam over the other sandwiches of the show. The band flowed seamlessly from their dissonant, but catchy "Vol. 3 #86," into "PLSS" and back and didn't stop to let anyone pick their faces up off the floor.
It is worth noting that there were teases of "Kitty Chaser" by Aqueous, another legendary jam band that hails from Buffalo. Dopapod led the audience from the spark and zest of the moment into "Psycho Nature," as the audience went from brooding to jazzy.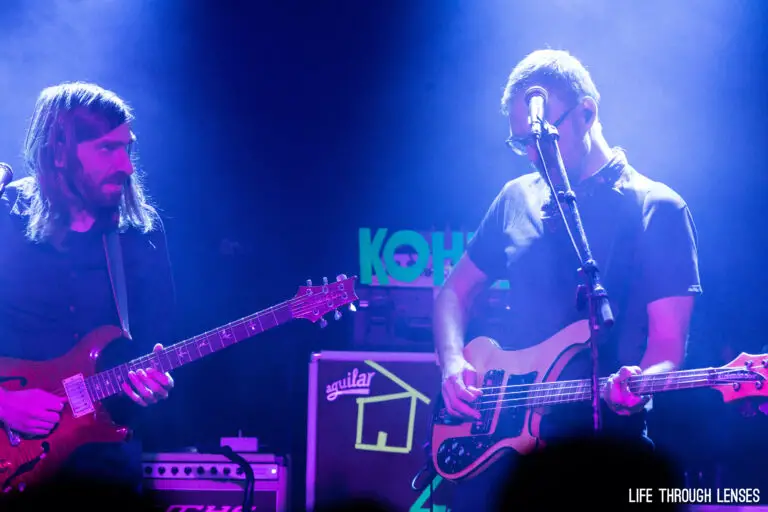 By this point, the audience had been going strong for a while, but the occasional exclamation of astonishment and amazement could be heard. The dynamic jam of "Psycho Nature" moved into an upbeat "8 Years Ended" which included "Wipeout" and "Johnny B. Good" teases. The sustained joy of this segment resulted in an uproar of cheers as the band returned to finished off "Psycho Nature". After a short bit of banter, Dopapod cleanly finished the second set with the cerebral "Velcro" into fan favorite, "Nerds."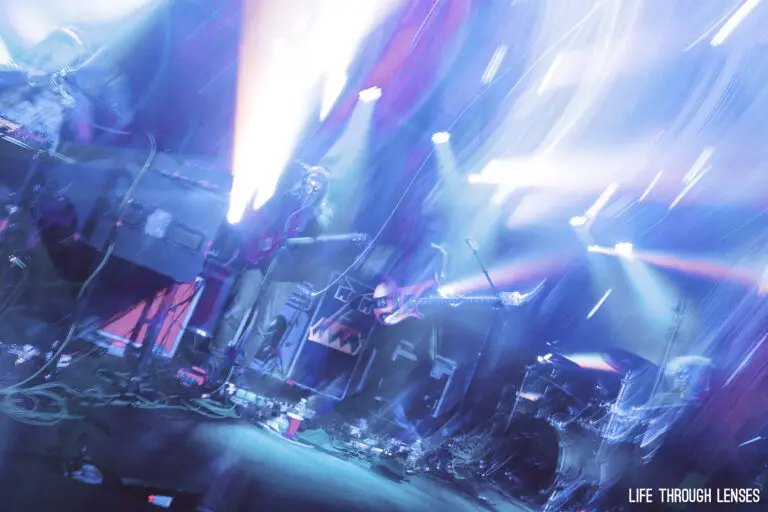 Like any Dopapod show, the music featured varied sounds, rhythms and genres, as Eli spun beautiful tales from the piano or blasted the audience with sonic bliss from his synths and Rob twisted from a jazzy clean sound to a heavily distorted rock tone. Ever present at every Dopapod show is a respectful, fun-loving crowd that is even better to be around when the band plays with this kind of vigor.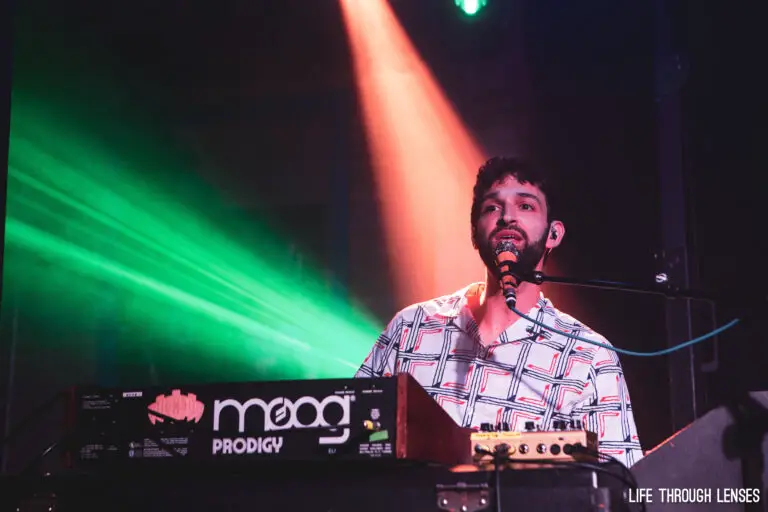 Before signing off, the band came out for an encore and played their cover of Billy Eillish's "Bad guy." After ripping through the song, Eli commented on the audience and how great they had been. Hence, Buffalo was treated to ten more minutes of blistering beauty with "Bubble Brain." The house lights came up and everyone was all smiles as they exited the venue.
Setlist – Dopapod – Buffalo Iron Works – Wednesday October 27, 2021
Set 1: Braindead, Mucho ->Turnin Knobs -> Mucho, Weird Charlie > Plaese Haalp, Freight Train*
Set 2: Vol. 3#86 -> PLSS^ -> Vol. 3 #86 > Psycho Nature -> 8 Years Ended% -> Psycho Nature, Velcro+ -> Nerds
Encore: Bad Guy=, Bubble Brain
*W/ Michelangelo Carubba from Turkuaz on drums
^contained teases of Kitty Chaser by Aqueous
%contained Wipeout and Johnny B Goode teases
+unfinished; contained 23 Forever teases
=Billie Eillish cover