Couchtour.TV will livestream The Disco Biscuits' upcoming 3-night run at the iconic Brooklyn Bowl Las Vegas, starting Thursday, October 28 through Saturday, October 30 – the final show ending early in the morning on Halloween.
The first show will technically begin Friday morning, at 3am ET, or Midnight PT. Each show will be on-demand following the live broadcast, perfect for early risers on the East Coast. Weekend passes and single day tickets can be purchased through Couchtour.TV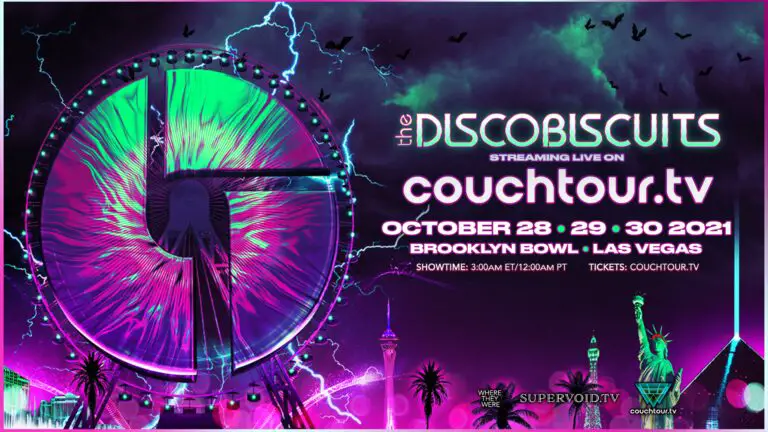 Couchtour.TV will also be offering a free rebroadcast of The Disco Biscuits' 2021 performance from Brooklyn Comes Alive next Wednesday, November 3 at 8:00pm ET/ 5:00pm PT. This broadcast concludes a series from Brooklyn Comes Alive filmed September 26 at the Brooklyn Mirage that also includes The Motet and Break Science Live Band. 
Couchtour.TV continues to be home to the highest quality livestreams available – PPV, free and on-demand. More information on available streams, upcoming events and account registration can be found on the couchtour.TV website.
Watch The Disco Biscuits from November 2, 2018 at Brooklyn Bowl Las Vegas
Set 1: 1999 > Astronaut, Jigsaw Earth > Triumph > Jigsaw Earth
Set 2: Safety Dance > Little Betty Boop 1 > Spraypaint
Encore: Floes*
*middle section only
disco biscuits Halloween