Grateful Dead bassist Phil Lesh is making up for lost time from last year with an essential October residency at the legendary Capitol Theatre in Port Chester, NY. Three different Phil & Friends lineups will perform over three different three-day spans throughout the month, with the nine-night run coming to a close on Halloween. Each lineup brings a little something different to the table, with friends both old and new joining the fray.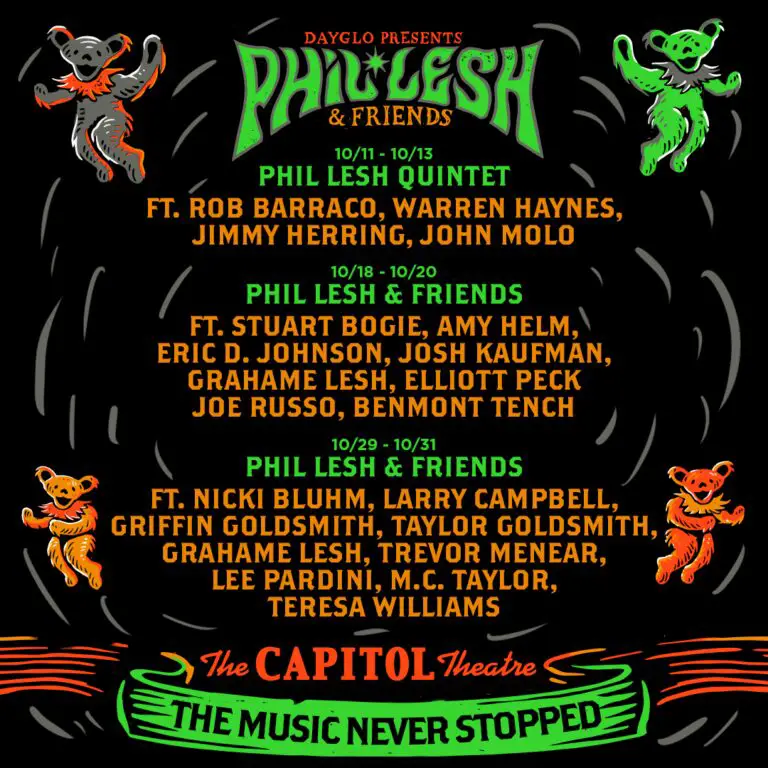 The first three-night run is slated for October 11-13 and is set to play host to The Phil Lesh Quintet, aka The Q, the longest running version of Phil & Friends to date. It features longtime friends John Molo on drums and Rob Barraco on keys as well as the guitar stylings of Warren Haynes and Jimmy Herring.
The second run is scheduled for the following week, October 18 – 20. This one will see Stuart Bogie and Amy Helm join Phil on the first and last night of the run, with Eric D. Johnson, Josh Kaufman, Elliot Peck and Phil's son Grahame set to play on the 19th. This run will also feature Joe Russo on drums and Benmont Tench on keys.
Lastly, a three-night run leading up to Halloween is set to play host to a plethora of musical stars. This includes Nicki Bluhm, Larry Campbell, Grahame Lesh, M.C. Taylor of Hiss Messenger Service, Teresa Williams and various members of Dawes.
Start making those October plans now. Tickets can be purchased here. All patrons 12 and over must show proof of either full vaccination or a negative COVID-19 test taken within 48 hours of entry.
Check out all setlists from the run so far below.
Friday, October 11
Set 1: Mason's Children, Doin' That Rag, The Low Spark of High Heeled Boys > So What > The Low Spark of High Heeled Boys, She Said She Said, Night of 1000 Stars
Set 2: Shakedown Street, Viola Lee Blues, New Speedway Boogie, Broken Arrow, Cryptical Envelopment > Wharf Rat > The Other One, I Know You Rider
Encore: The Real Thing
Saturday, October 12
Set 1: St. Stephen > The Eleven > Eyes of the World > Mountains of the Moon, Acadian Driftwood, The Wayfaring Stranger > Angel Band
Set 2: Uncle John's Band > No More Do I, Bird Song, The Wheel > Terrapin Station > Morning Dew, Donor Rap
Encore: Sunshine of Your Love
Sunday, October 13
Set 1: Celebration, Not Fade Away, China Cat Sunflower, New Potato Caboose, Help on the Way > Slipknot! > Lucy in the Sky With Diamonds
Set 2: Scarlet Begonias > Fire on the Mountain > Scarlet Begonias, Unbroken Chain, Dark Star > So What, The Low Spark of High Heeled Boys, Dark Star > I Am the Walrus > Dark Star, Wharf Rat, Stella Blue > Franklin's Tower, Donor Rap
Encore: Patchwork Quilt