Keep your calendars open for the new album from Brooklyn's Surfbort, Keep On Truckin', due out October 11. This release will be a little different from their others seeing as though now they have launched a partnership between legendary producer, composer and philanthropist, Linda Perry and SoundCloud/Repost. The band will be will be hosting a pre-save give away contest where three lucky fans who pre-save the album will be sent a care package.
If you have been following them, you'll know that the band just released the music video for their latest single "FML" with someone you might know from Saturday Night Live. Aside form Fred Armisen's glowing review he is also featured in their music video — just as how Fred Armisen in real life walks around doing good deeds, in the music video he then transforms into each member of the band, saving them from their extreme depression. Isn't that what all comedians do?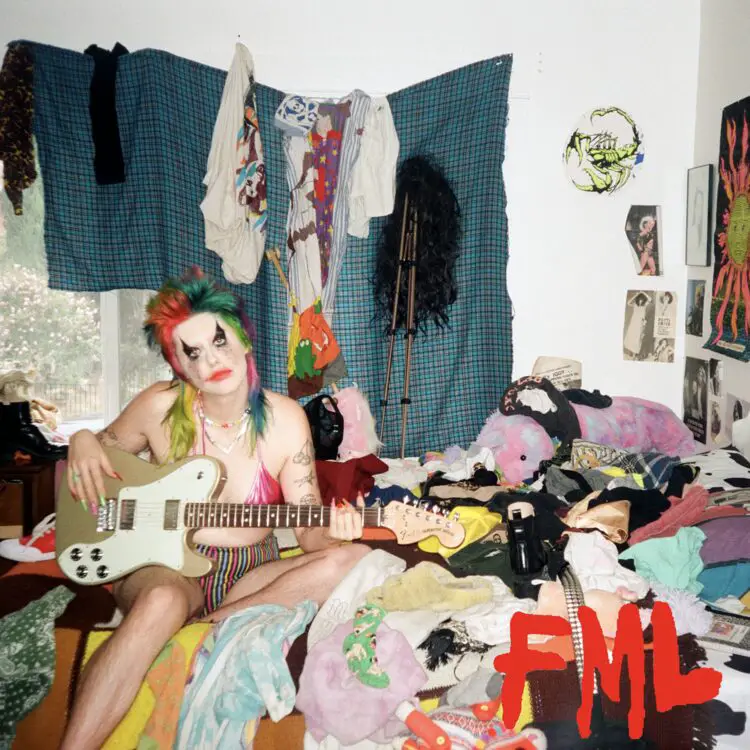 Although Surfbort is a Brooklyn based punk band, their fan base rocks from coast to coast. Surfbort is accepting to all while radiating love and friendship. Their live concerts are incomparable, a punk environment with visceral guitar-shredding.
They are everything I want a band to be. I love their music, both on record and performed live. Just the right amount of chaos. And their sense of aesthetics is amazing to see. I am excited that they even exist. I love SURFBORT!


Fred Armisen
After speaking with lead singer Dani Miller, he comes to explain the "FML" single as an inside look on crippling depression. Suicide is one of the leading causes of death in this country and often goes unnoticed. That is, suicide ideation is extremely common, even amongst the band members of Surfbort. This pandemic has severed many's mental health leaving people suffering and feeling alone. Miller encourages people to hold on and preaches the importance of reaching out to loved ones. He opened up on being an artist and drug addict/alcoholic while being bipolar, his past was filled with suicidal ideation. Even his aunt fell victim of suicide and not a day passes where he wishes that he could go back in time.
Fred Armisen poses as a hero in the music video, changing band mates perspective on life which he wishes Fred could be for his aunt. Fred radiates electric positive healing energy that he even missed a premier, rather transforming into each band member and even becoming Miller's twin, complete with classic makeup while learning all the lyrics and instruments acting as an understudy. We all need a super hero or a strong support system to get us through tough times like these and countless other obstacles we may face and Surfbort only hopes that they can provide the support or encouragement to lean on our loved ones in our times of need. 
Surfbort will be playing new music from their forthcoming album at the below upcoming tour dates, as the band tours across the US in Fall 2021.
Upcoming Tour Dates w/ Starcrawler
Oct 17th                                Eugene, OR                           Sessions Music Hall
Oct 19th                                Sacramento, CA                    Harlow's
Oct 20th                               Berkeley, CA                          The UC Theatre
Oct 21st                               Los Angeles, CA                     The Regent Theater
Oct 22nd                              San Diego, CA                        Brick By Brick
Oct 23rd                               Tucson, AZ                            191 Toole
Oct 25th                               Dallas, TX                              Granada Theater
 
Special Events
Oct 27th                             San Diego, CA                         Casbah event for DC Shoes
 
Upcoming Tour Date w/ The Garden 
Nov 4th                               Santa Ana, CA                            Observatory
Nov 5th                               San Luis Obispo, CA                   Fremont Theater 
Nov 6th                               Felton, CA                                   Felton Music Hall
Nov 7th                               San Francisco, CA                       Great American Music Hall 
Nov 9th                               Portland, Oregon                       Hawthorne Theater
Nov 10th                             Seattle, WA                                The Crocodile 
Nov 11th                             Boise, ID                                     The Shredder       
Nov 12th                             Salt Lake City, UT                       The Loading Dock 
Nov 14th                             Denver, CO                                Marquis Theater 
 
Upcoming Solo Shows
Nov 15th                             Fort Collins, CO   The Coast