PEAK, the Brooklyn-based quartet release their second single, "Starlight Child," off their forthcoming full length album Choppy Water, due for release on October 14. Recorded throughout 2020 and 2021 at their studio, the material is culled from several years of songwriting and road-testing, with mixing and mastering by Jason "Jocko" Randall (Turkuaz/ Jimkata/ Dopapod) at Moresound Studios in Syracuse.
PEAK consists of songwriter and guitarist Jeremy Hilliard of Turbine, Kito Bovenshulte (Particle) on drums, Josh T. Carter (Haley Jane and The Primates) on bass, and newcomer Johnny Young, a Brooklyn-based-keyboardist, blind since the age of 17.  In 2018 they released their debut album Electric Bouquet, produced by Dave Brandwein of Turkuaz, and the buzz is escalating.  Self-described as Psychedelic Indie Funk, the songs on the album are vibey and lyric-based, and the live show is groove-oriented and exploratory.
Choppy Water is chock full of groove-based psychedelic rock, with plenty of funk, electro-pop, prog, and Americana.  The deep, polished grooves from the bass and drums complement guitar and keys solos that wail with searing intensity. Hilliard's songwriting takes the stage with a unique voice that captures a bizarre chapter in the world with a fresh distinct PEAK voice and defined sound.
'"Starlight Child" kicks off side 2 on the vinyl, and we picked it as the second single because it really captures the vibe and mood of the whole album as well as any song on it. I particularly like the way there are a lot of instruments on the track that all have their place in the mix. Even though there's a lot going on, you can hear the subtleties of the piano, the percussion, and the acoustic guitar. Also, this was the very first guitar solo I tracked in our new studio, so I was pretty amped."

Jeremy Hilliard
"Starlight Child" stands out as one of the catchiest PEAK tracks on Choppy Water. Out of the gate, Young's keys set the tone, jumping out with a catchy riff that graduates to the organ heading into first stanza. A hint of Crosby, Stills & Nash can be heard in the lyrics "Starlight Child, you were born in summer, you're the same as I am, we were made to wander, we can stay and dance a while, the night will soon be over," followed by a blistering guitar solo from Hilliard. The pace from Bovenshulte on the drums gives the track full-bodied character, not a second wasted on the 5:11 track.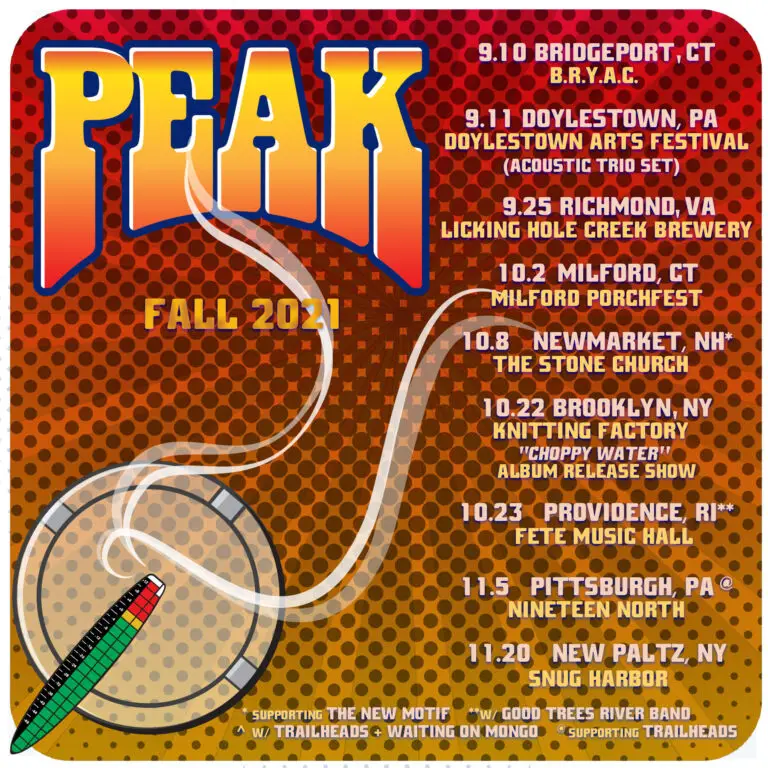 PEAK will hold an album release show on October 22 at Knitting Factory in Brooklyn, and currently have a Kickstarter Presale for Choppy Water that ends on Sept 23.