Alice Cooper opened his fall tour Friday night in Atlantic City at the Oceanic Casino. The crowd began filing into the arena hours before the set started, with many in attendance wearing Alice Cooper t-shirts and eye make-up. The stage was hidden behind a giant curtain with Alice's trade-mark eyes, and Alice songs played with the crowd already starting to sing-along. As the entrance music started to swell, the massive curtain fell, revealing the two-story castle set, and the words rang out: "Welcome to Alice Cooper's Nightmare Castle!" As knights carried the curtain away, a drawbridge opened and Alice walked onstage in a plume of smoke.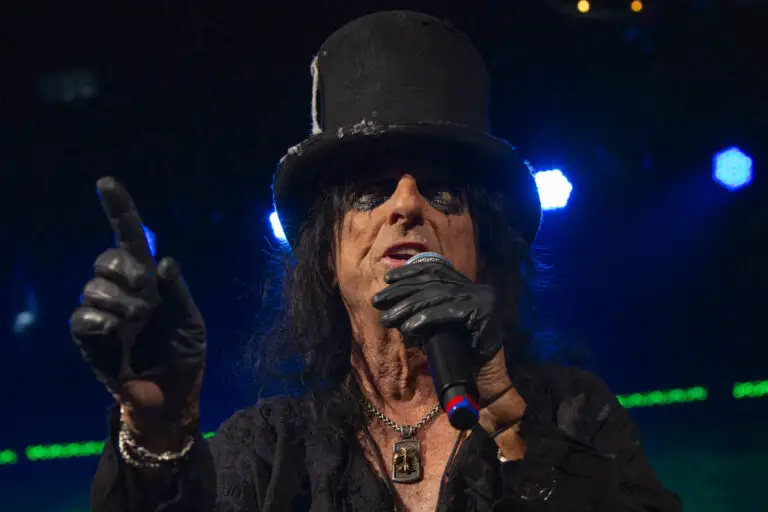 From the opening notes of "Feed My Frankenstein," it was clear Alice is still in great shape, and his band spent considerable time practicing together during the live music lockdown. Their excitement to be back onstage was evident by their smiles and energy displayed throughout the two-hour set. Alice Cooper doesn't just play a concert, he puts on a SHOW, with the pomp and props of a theater production. A master entertainer, Alice made multiple costume changes throughout the set, referencing different eras of his 50-year career. How effortless his performance seems is a testament to his drive and conditioning, he controlled the band, stage and the crowd as well, eliciting sing-alongs and responses with hand gestures and using his sword and cane like a conductor. He had a microphone holster on his giant leather belt, and handles the mic like a gunslinger. When he was on top of the castle behind a spiked wheel, it evoked an image of a mad captain steering a pirate ship.
With over 50 years of albums to choose from, the setlist was a solid collection of his biggest hits, ranging from the Alice Cooper Band era and his solo career, leading into his last two records, Paranormal and Detroit Stories. There was a clever segue from the new song "Go Man Go," about cruising around in a stolen Hellcat, with the last verse implying the car could be destroyed in a train wreck (with a similar vibe to KISS's 'Detroit Rock City') leading into his classic "Under My Wheels." Those songs and their placement were vintage Detroit songwriting and Alice wordplay, complete with an American muscle car and macabre ending. A few more notable songs played were "Fallen in Love" co-written with ZZ Top's Billy Gibbons, new songs "Rock'N'Roll" and "Social Disease" which showed him still flexing his song-writing muscles during lockdown, and a combination of "My Stars/Devils Food/Black Widow" that led into the intense drum solo from "Black Juju."
The props and theatrics were non-stop, ranging from a crutch he wielded during "Eighteen" to mock the fact that he's been singing a song about being a teenager for 50 years, to the giant baby who uses a skull-studded-cannon to shoot money into the crowd during "Billion Dollar Babies." The baby theme continues with the huge images of evil babies projected on the castle during "Dead Babies," and the baby-faced doctors who place Alice in a straightjacket and oversee his execution in a guillotine. Alice has multiple encounters with his wife, Sheryl Goddard, including her waving his severed head victoriously to the crowd after he's decapitated. The show opened with the giant Frankenstein monster that comes onstage during "Feed My Frankenstein" and he closes the show with his arms and chains draped around Alice for "Teenage Frankenstein."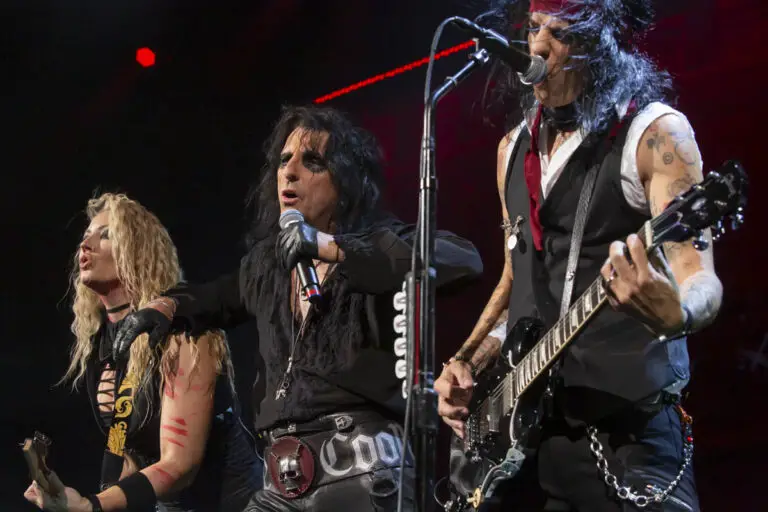 The band returned for an encore with a sprawling, sing-along version of "School's Out," including a breakdown of Pink Floyd's "We Don't Need No Education," that featured confetti, streamers and giant balloons being shot into the crowd as Alice popped any balloons that came back to the stage with his sword. They came back to the stage for multiple bows as the crowd kept cheering.
Alice Cooper and Ace Frehley play in New York this Wednesday, September 22 at the Stanley Theater in Utica. This tour takes Alice (and opening act Frehley) across the Midwest and South, ending in Georgia at the end of October. Full dates for the tour can be found here.