Under the hazy light of 2021's August Full Moon, it became apparent that attendees of Fred The Festival at LOCKN' Farm were, in fact, getting involved. Fred, a festival hosted by Goose, included side projects of the band itself like Vasudo, Elephantproof, and the aGOOSEtic trio, as well as Peter Anspach's debut acoustic solo performance. The festival provided a refreshing and wholesome interpretation of what a music festival could look like without ever compromising on the quality of production and music.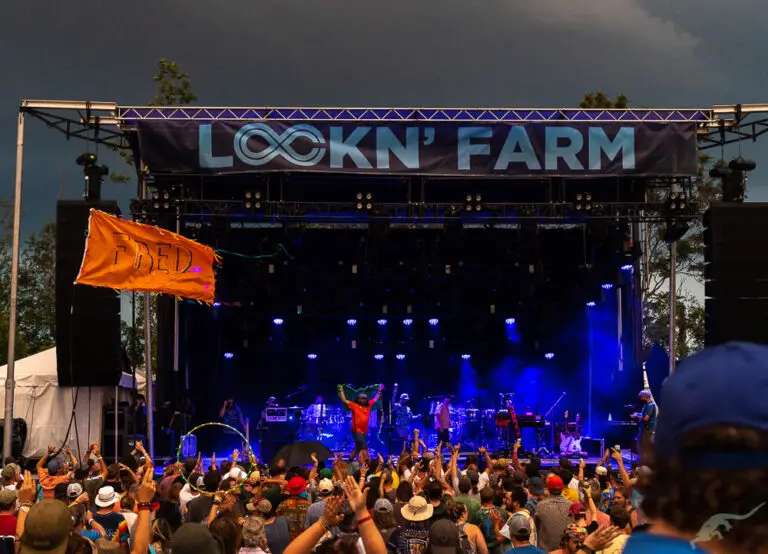 Is It The Wind Upon My Neck?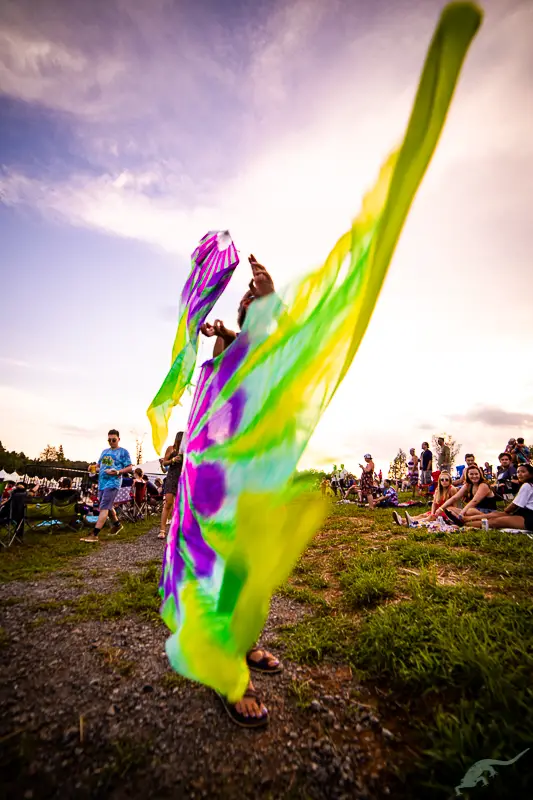 Despite threatening skies that seem to always make for the most beautiful sunset, security guards seemed disinterested in the potential weather and said that the storms always passed behind the farm. They did.
Is It The Glowing Of The Moon?
On the weekend of August 20-22. the full moon illuminated the rolling fields at Lockn Farms in Arrington, VA.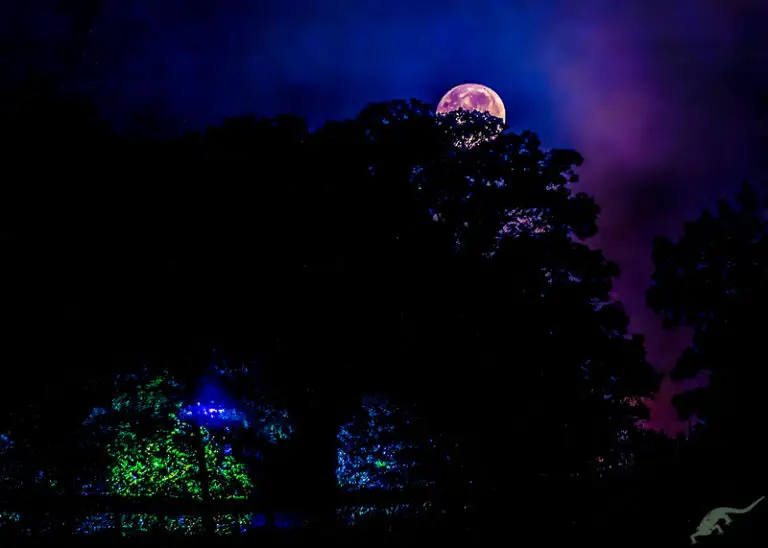 It is said that if a seeker perceives their environment to be safe, then the light of a full moon can illuminate new intuitive understanding about how to navigate through darkness or uncertain times. New and excellent music can be medicinal in properties. ElephantProof gave the entire crowd a dose of the rare form of stoke that only comes from that ear-tingly reserved only for future favorite artists.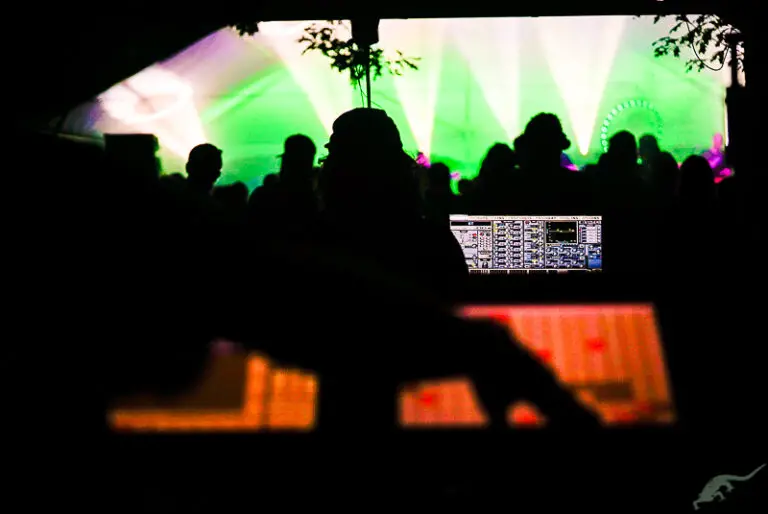 The real magic of this moon, this gathering, and this grand reveal was that many found out just how loved they were by their chosen family. The plot twist theme seemed to be that the haze hills and dark pathways were much easier to navigate when in the company of others.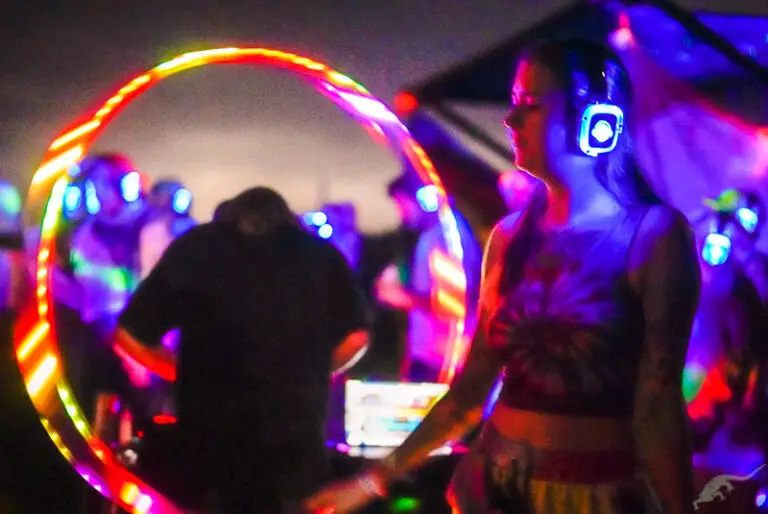 It proved to be especially helpful when that company happened to be carrying an illuminated hula hoop at a silent disco half way back to camp. Doey Joey and Becky provided more than just a boogie-down pit stop. They offered their love and shared their creativity without hesitation. Those wise guiding lights and silent dances helped some of those that might have been lost to find their way.
The more time I spend with this (Goose) community the more I realize… the people you do things with become a part of you and who you will be. In your blood, family.

Doey Joey
Seekers On The Ridge
LOCKN' Farm hosted Fred the Festival. At about a day's drive for most participants, the rolling hills are located in the midst of the stunning Blue Ridge Mountains. The environment allowed for all seekers on the ridge to separate themselves completely from everyday responsibilities. To truly detach allowed for the examination and reevaluation of moonlit discoveries.
Get Involved
The rolling hills and open fields provided the perfect place for games. The "Get Involved Games" were held on the lawn adjacent to the main stage and in front of the much smaller Porch Stage. Color coded teams assembled every morning to play games like tug-of-war, noodle hockey and giant Jenga. Band and crew members captained the teams and provided support from afar due to Covid restrictions.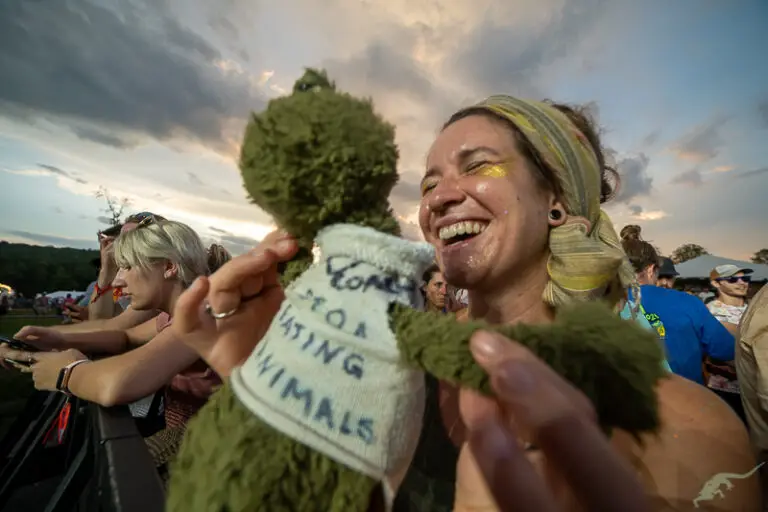 Participants were actively partying less because they did not want to let their team down during the games. One team member recalled meeting with the captain bright and early to discuss potential strategies for the games ahead. A festival that had games scheduled during an hour that required early bed times with dedicated participants begs the question of if Fred the Festival itself have been an illusion.
In Search Of An Honest Place To Call My Home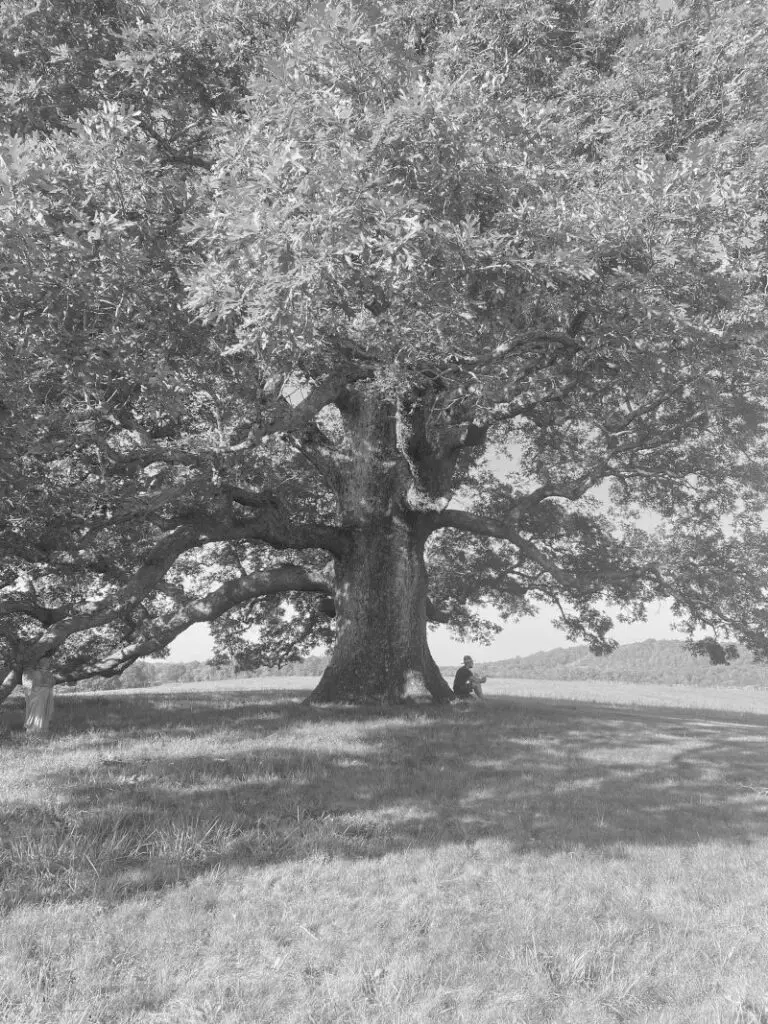 One dedicated couple chose Fred to be the place for wedding vow renewals in celebration of their five-year wedding anniversary. After enduring years of tumultuous societal overtones, this couple learned what it truly meant to find meaning in the grounding comfort of the earth and all it has to offer. They live and love in harmony with the land and have honed the ability find joy in the most uncommon places (hint: turn over a rotting log and watch her lose her mind at all the fungi growing). Multi-tiered snow forts and multi colored livestreams filled their time together until restrictions were lifted enough to dawn their chef and spaghetti costumes for Halloween at South Farms in Connecticut way back in November. Goose helped them stay involved with each other.
Adorable Hour
One benefit to waking up early, regardless of game status, was seeing Goose Guitarist Keyboardist, Vocalist Peter Anspach deliver his first solo set on the extremely intimate Porch Stage setup. What could easily make a fabulous segment on a TV show, some fans had their heart strings pulled at the music so much that they lovingly came up with the segment intro that goes a little something like, "On this episode of The Adorable Hour with Peter Anspach: Things that make you say, "Aww." Peter's set truly showcased a side of vulnerability and artistic ability in himself that created a bond between the crowd and the man in only the way accepting someone when they try something new can. To lead by example in that difficult and personal way set a precedent for others to take into consideration what can be gained with honesty and vulnerability.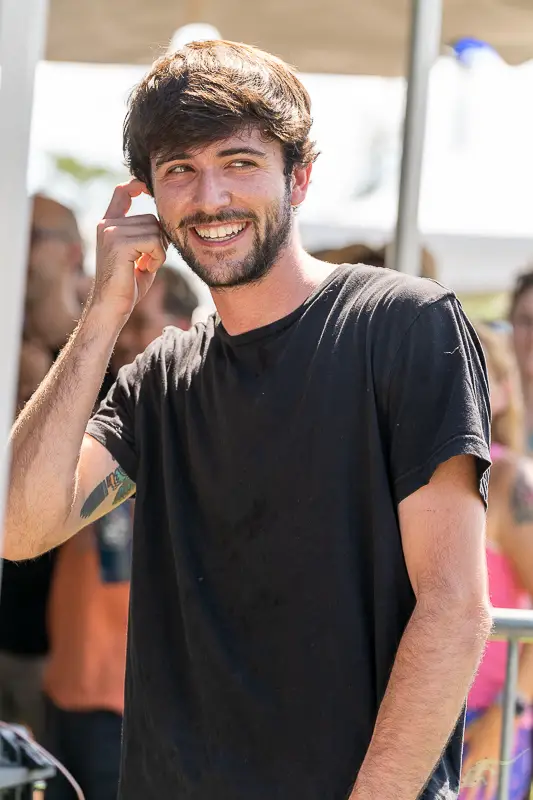 It is said that the moon represents illusion and that what might have been seen under the moonlight could have been skewed. Fred the Festival revealed the depth of misinterpretation held about what a music festival should look like. Many traveled far and wide to attend even just a day of FRED, but it was not simply a music festival to which they were so drawn. The seekers were drawn to an evolution from participants to chosen family that has occurred over the last year as a result of what Goose likes to call "getting involved." A little over a year ago, many seekers met in chat boards during the virtual interactive Bingo Tour. As reopening began, many of the people that met and remained in contact through message boards and streaming chat rooms got to meet in person and form more personal connections.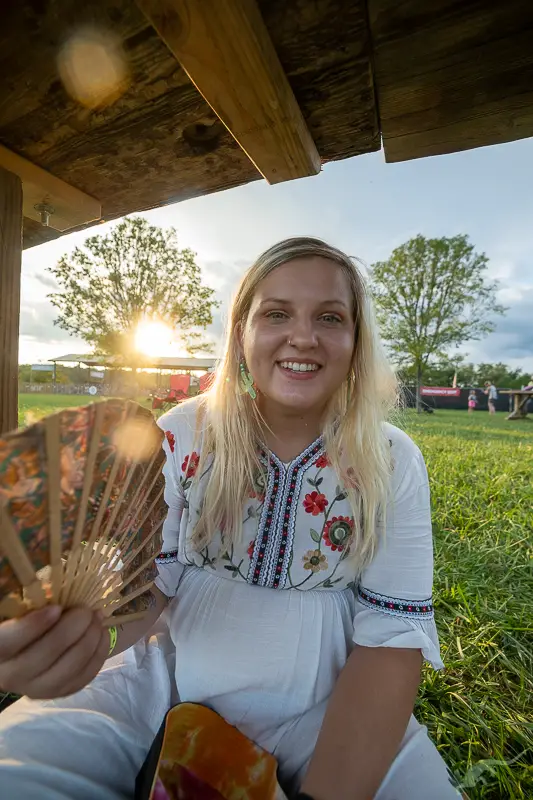 Many felt the undying support and safety of this familial bond. Conditions like these made it possible for some to consider seeing their own inner beauty. Fred was a safe place to consider possibilities like being more athletic, or to smile genuinely in a photo.
So Ready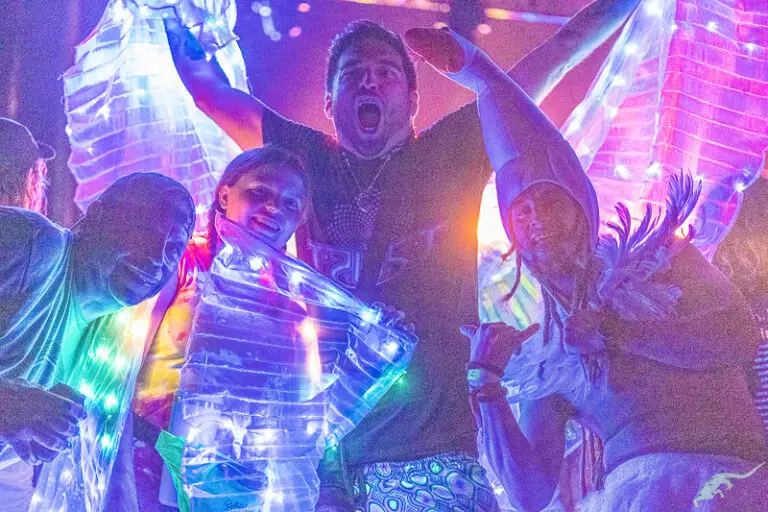 Fred the Festival was special because this time, it seemed like not only were most of the usual subjects present, but it was like some sort of family reunion. Those that were meeting for the first time appeared to connect through shared love for a mutual fan friend or their favorite show. The amount of streaming music Goose has put out over the last year has been a great unifier for fans.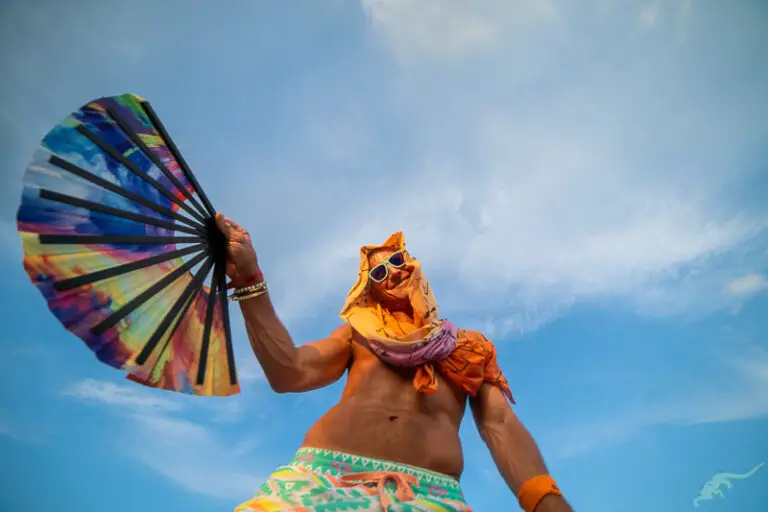 Attendees of Fred the Festival truly appeared to begin to reveal their true nature of filling familial gaps for those lonely or in need. Goose cane-wielding uncles were able to connect with grandparents of tie dye wearing sloth mayors.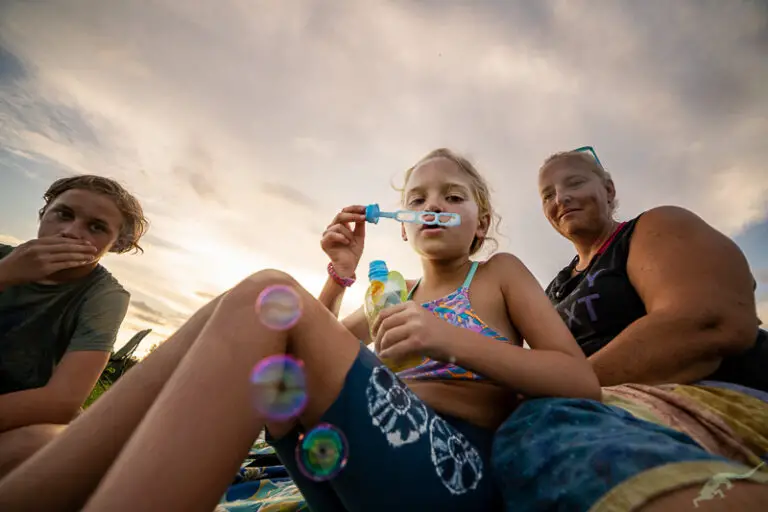 Children attended and parents were rejuvenated by remembering what it was like to see live music for the first time and connect with others that shared the same values. Walking the pathways during the day or night seemed like endless reunion after reunion. Grand reunions, quick catchups and then boogying down to a song seemed to be the pattern repeating over and over.
Take Your Troubles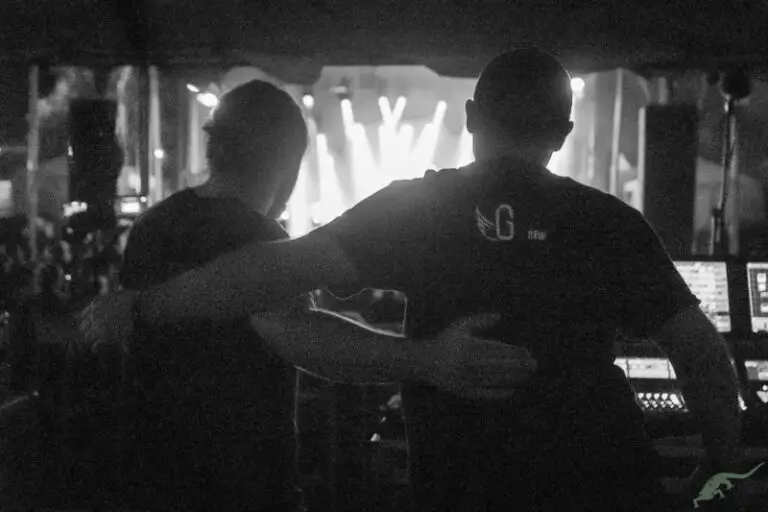 The complete synergy among the crew illuminated group flow with familial bonds stretching out further than the Goeddes. At front of house, the flow between Sam Bardini and Andrew Goedde was reminiscent of a synchronized wingsuit team. Sound and light existed as one and because Sam and Goedde can pivot and finesse knowing the other will by right there without having to speak. If they did take the time to talk about what adjustment they might make next, the moment would have been long gone.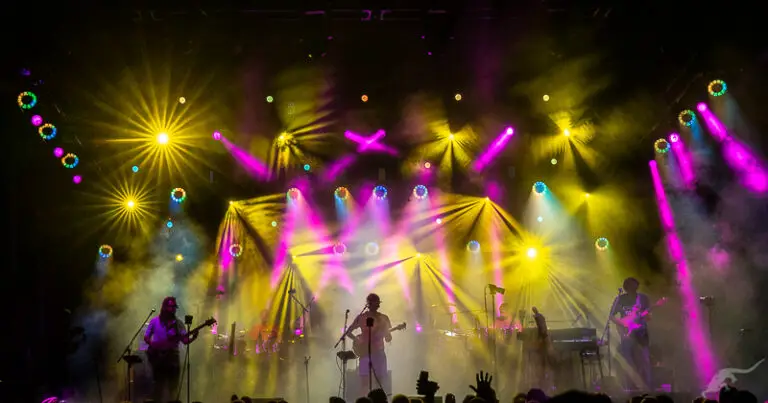 This healthy, family relationship atmosphere reflects in both the product as well as the constant inspiration and motivation for everyone on crew to push their craft to the next level. This transcends the band, the crew and the attendees. Everyone seemed to be excited for another's new venture as if they were a proud grandma.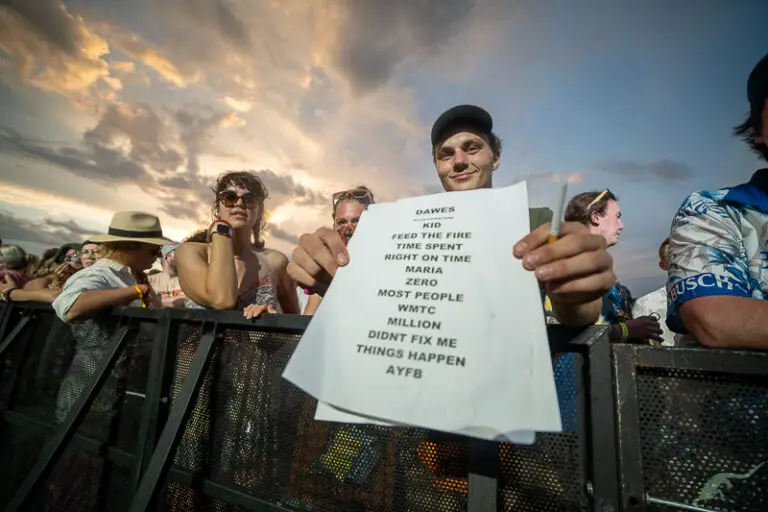 Having a chance to be away from "real life" created a new space for gratitude as well as a space to accept new music. Fred removed any stress that might disallow the space to give new music a try. Some attendees recalled a time where listening to one song or one set helped sooth anxiety during shutdown. The signs of curiosity indicated for many that their mental space was improving as the country began some semblance of a reopening.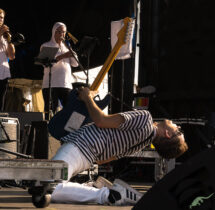 Stand out performer Cory Wong captivated the audience with attention grabbing musical know-how, a charismatic band and his charming personality. There were no still feet to be found because everyone seemed to be up and dancing for Cory's set. To win over an audience largely filled with fans that have only been out to see one act and one act only spoke volumes for those that took notice. One die hard "Gong Gang" member recalled giving Cory's set a few minutes because the nautical shirt was reminiscent of Jeff's sailor hat. That person ended up staying the whole set and could not wait to listen to more of Cory's music on the way home.
The Don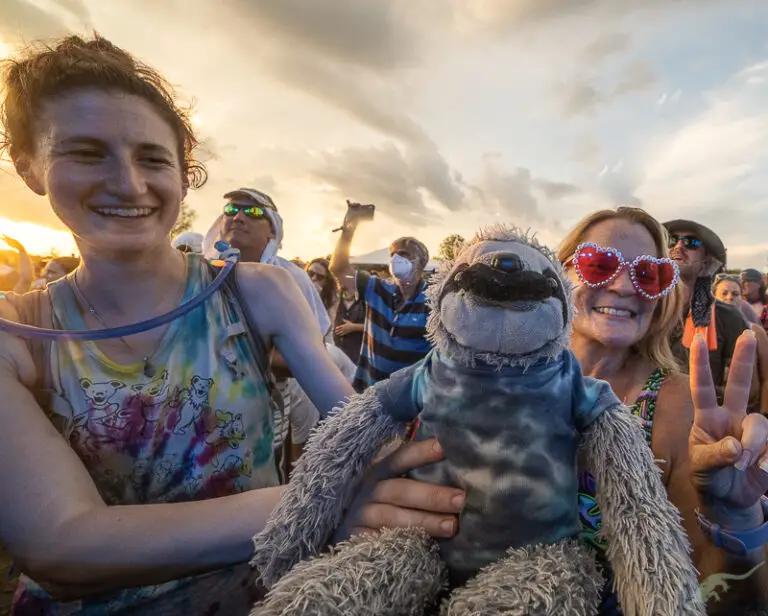 To travel far and wide to be with people that mean a lot and for one common connector, like Goose, had words like "family" and "vacation" being used a lot. It was rare to hear the words "music festival" because it felt like so much more than that.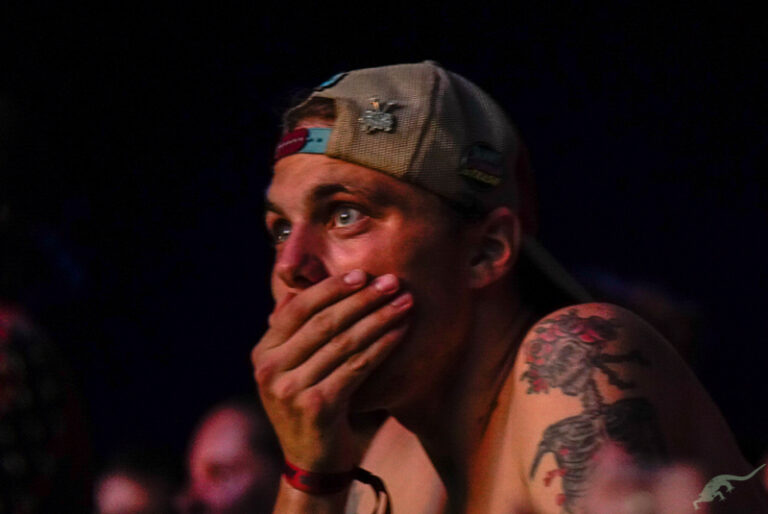 Fred the Festival was the result of the entire Goose community working hard over the last year to cultivate an atmosphere that is conducive to those that might not normally consider a music festival an option. The Hot Tea Party on Facebook had a showing of fans in recovery and made sure to provide support for anyone that might have been struggling.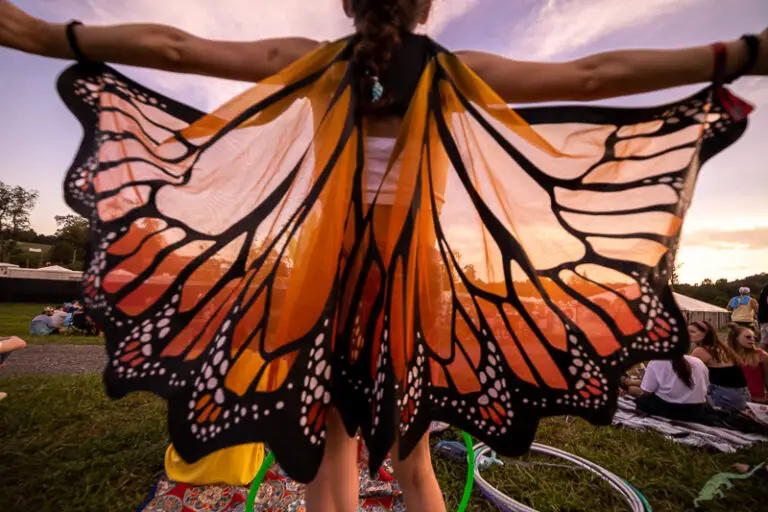 The festival allowed for participants to come together, play games, be themselves and have a safe space for contemplation. Led by a strong production and management team, the three-day music family vacation event felt extremely wholesome and like "pure happiness."
Aptly named "Santa Todd" on instagram, one outlier story must not be overlooked. One couple found at one of the cornhole stations admitted to never having heard Goose before and shared that they were attending to see Dawes.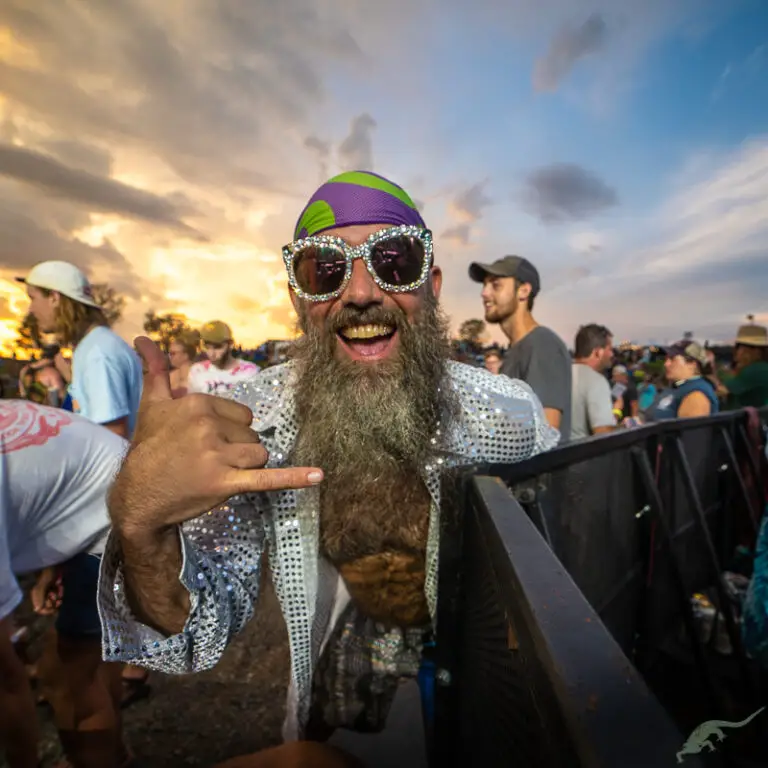 Santa Todd and Mrs. Santa (Michelle) ended up staying for both sets of Goose and quickly understood the draw.
Goose recently announced that their annual Goosemas show will be on December 12 at Mohegan Sun. Be sure to coordinate with Goose Family to get everyone covered for tickets. The presale lottery was reported to move slowly which is usually an indicator of a quick sell out.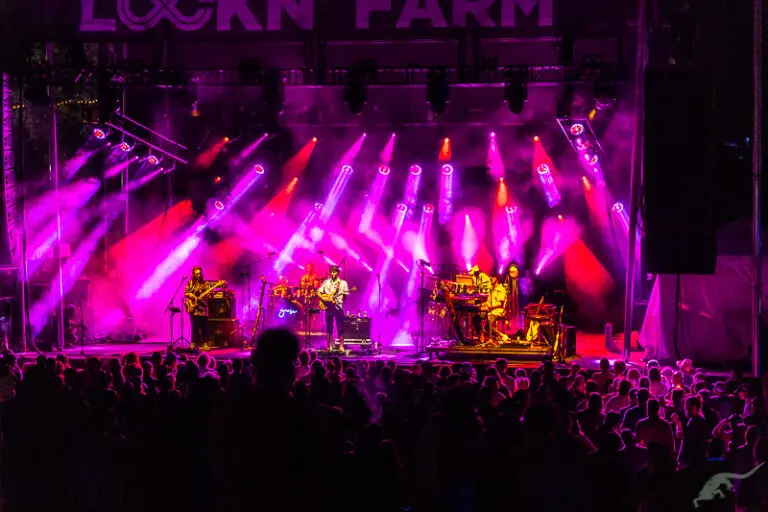 Click to read what happened to Trevor the last time Goose played under the full moon.