Sound Mind has announced "Un-Heard Mentality" benefit concert in honor of world mental health day. The concert will be hosted by comedian Tristan Miller and feature sets from Langhorne Slim, Fantastic Negrito, Aisha Bardu, and poet/artist Patrick Roche. The benefit will take place at the Brooklyn Bowl in Williamsburg on October 21, 2021.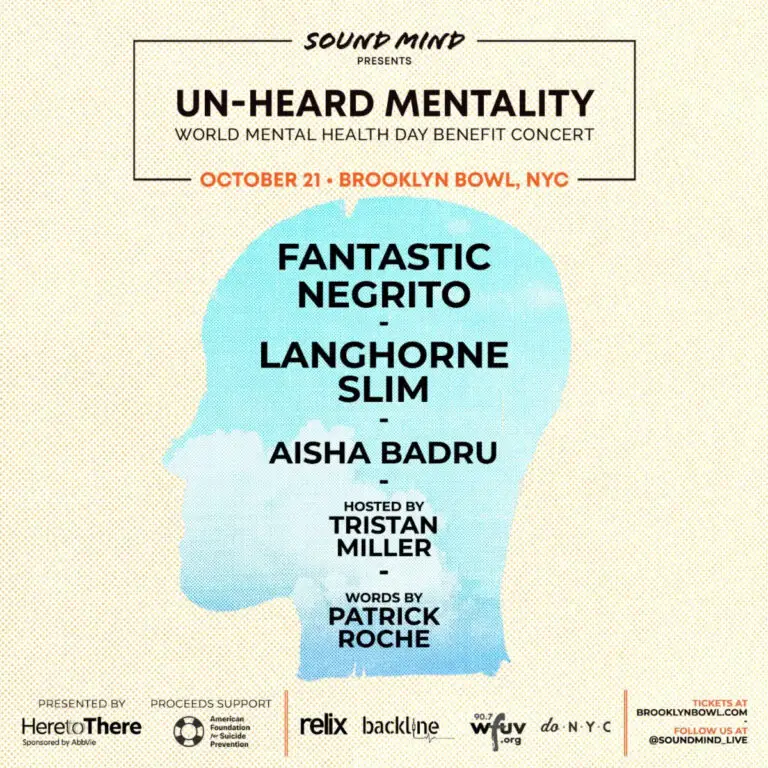 The benefit is taking place In partnership with American Foudation for Suicide Prevention (AFSP) and Relix. It will represent a collaboration across artists and organizations to support social change on mental health during a critical time. Experts from American Foundation for Suicide Prevention will provide information on mental health resources, support programs and best practices for self-care as we navigate these still challenging times. Proceeds will support the New York City chapter of the American Foundation for Suicide Prevention.
"The past year has reminded us all how we need a supportive community to survive," said Sound Mind Live Executive Director Chris Bullard. "Un-Heard Mentality is about fostering and celebrating community through great music and open, authentic dialogue on mental health – which can save lives and create a better world for all of us."
Leading up to the event, in partnership with TikTok, AFSP, and JED Foundation, a wide array of artists will be sharing about their own mental health in a first-of-its-kind #SongsThatSaveMe campaign. Beginning on World Mental Health Day which is on October 10, artists will share TikTok songs that have saved them in their own mental health journeys. Participating in the campaign include UPSAHLand Adelaine Morin.
Tickets for the event go on sale today. Prices start at $30 for General Admission, with VIP packages starting at $50. For additional event information and to purchase tickets visit here. The event will also be streamed live to Relix's Twitch channel and available free of charge. 
For more information on the "Un-Heard Mentality" benefit concert visit Sound Mind's website.