Imagine if you will, the Zac Brown Band's "The Come Back Tour" as a Phoenix rising from the depths of musical silence. The 2021 tour, running from August to October, incorporates a host of rotating special guests to help reinvigorate those who had fallen into the abyss of the last year. The stop at Bethel Woods Center for the Arts in Upstate New York featured Ashland Craft opening and Teddy Swims in the middle spot with Zac Brown Band headlining
Ashland, inducted into CMT's Next Women of Country Class of 2021, took to the stage with an "it's time to party and let's get it going" demeanor.  In shorts and knee-high boots, Craft and band reinforced the vibe with "I Smoke Weed" and the classic rocker "American Woman."
Teddy Swims opened his set strutting from one end of the stage to the other, deviating from a pure country sound to one with rap induce lyrics.  He is a performer who can traverse many musical paths.  At mid set, Karl Michael joined Swims on stage. The two performed their just released single "Liar." From this point on, Swims' vocal power became apparent.  Closing with the powerful and emotional anthem "Bed on Fire," Teddy solidified why he is part of the tour.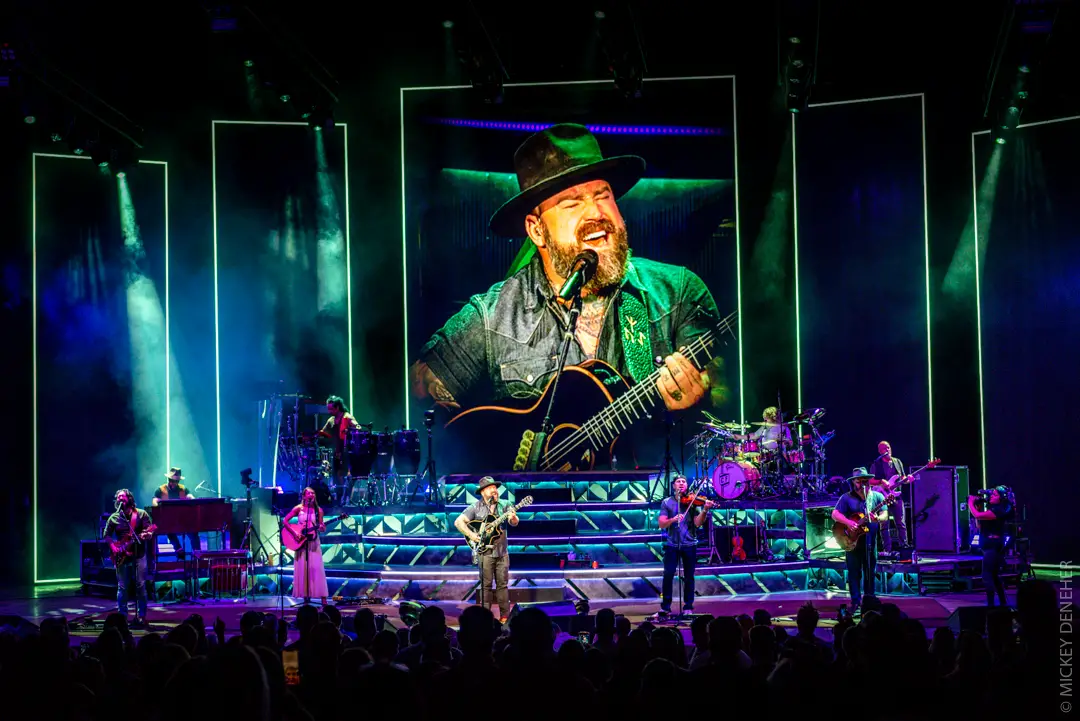 The Zac Brown Band offered the packed house a two-hour night of music that reached well beyond country.  Throughout the night, Brown introduced tunes from his upcoming album release The Owl, most notably "Same Boat." Classics such as "As She's Walking Away" and "Whatever It Is" were standouts to his extensive catalog and not left by the wayside.
Zac appears like a warrior onstage: big, bold, and defiant with his guitar strapped to his barrel chest, ready to take on anyone who would challenge him.  Mid-way through the night, he stripped down to a microphone for "Colder Weather."  That song found Brown opening himself up to the audience as if to expose his vulnerabilities.  The sold-out crowd reciprocated back with big love for this genuine gesture that found Brown tapping his hand over his heart in humble appreciation.  
To be clear, this is The Zac Brown Band and not Zac Brown supported by a group of musicians. Members of the band, affectionally called (musical) ninjas by Zac, stepped up front and center throughout the night sharing their musical abilities.
This was not a night devoted solely to country.  Not at all. The set included the Beatles "Blackbird," Adele's "Rolling in the Deep" (performed with Teddy Swims), Metallica's "Enter Sandman" to name a few, offering something for everyone and acknowledging the bands apperception for good music, no matter the groove. The encore proved entertaining starting with an eight-song medley (Black Betty / I Want You to Want Me / Two Tickets to Paradise / La Bamba / Come Together/ Jump Around / Love in an Elevator / What's Up), followed by Elton John's "Rocket Man."  Of course, no Zac Brown Band show could end without "Chicken Fried" filling the hall to take everyone home.  At the end of a hot night on the hollowed grounds of Bethel Woods, the musical horizon was once again ablaze with music, sweet music.
Zac Brown Band
Teddy Swims
Ashland Craft