Formed in 2014 by lead singer and songwriter Rob Morrison, The Booklights have cultivated a specific breed of futuristic Americana, equal parts orchestral and gritty. In addition to Morrison on guitar and mandolin, the band is made up of Lauren Molina (cello), Rachel Green (fiddle), and Benny Elledge (percussion). Their lofty vocal harmonies conjure up Appalachian psychedelia that speaks to the future of Americana and all facets of the genre.
When not playing with the Booklights, each member of the band can be found acting shows on Broadway, Off-Broadway, TV/film projects, composing scores, doing voiceover work, or playing in separate bands. The talented New York City-based group will release their debut EP, Into a Ball, on August 6 on all streaming and listening platforms.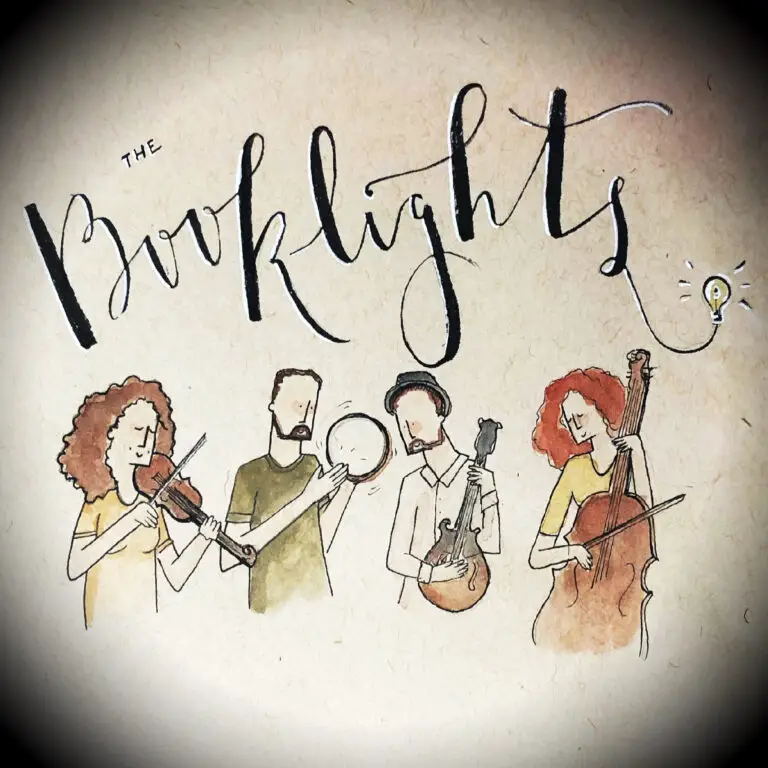 NYS Music recently joined the members of The Booklights in a lighthearted tell-all to get to know the artists behind a new wave of Americana. The band discussed their multitalented backgrounds, upcoming music, creative process, group direction, and a recent surge of musical inspiration around the globe.
Matthew Perez Gin: The members of this group seem to have extensive backgrounds in acting, theater, comedy, and much more. How do you think this impacts not only the way you create music together but also perform together?
Rob Morrison: The Booklights are a pretty lively bunch, and we're very instinctual. We know that as actors, it's really important to follow our artistic impulses, so that carries over into how we make music. It's not a judgmental group — we have a very encouraging vibe. I wouldn't consider myself a natural leader, but as the primary songwriter and lead singer, I'm sort of the de facto leader of the band. And to me, that means harnessing the "yes, and" energy we all naturally bring to the table, rather than trying to be too controlling of any aspect of the band. And thankfully, with such funny people onstage with me, I don't ever have to worry about coming up with good banter while I'm re-tuning my guitar.
Rachel Green: Being performers, we share a common language, respect and understanding. We've all had our fair share of amazing (and terrible) experiences as actors and musicians. I think that helps us be grateful for our time together, and makes working together fun and seamless. And we laugh a lot. Also our harmonies are sick. I love harmonies.
Benny Elledge: I think we all have a natural sense of play which helps in the creative process. We definitely all have similar performing backgrounds which makes for a lot of fun when we are together. It also helps because we aren't afraid to try and fail at different attempts while coming up with parts.
We are all a bunch of funny people. When we make music it's not just a gathering to make music, but make each other laugh. We enjoy the banter and the collaboration.

Lauren Molina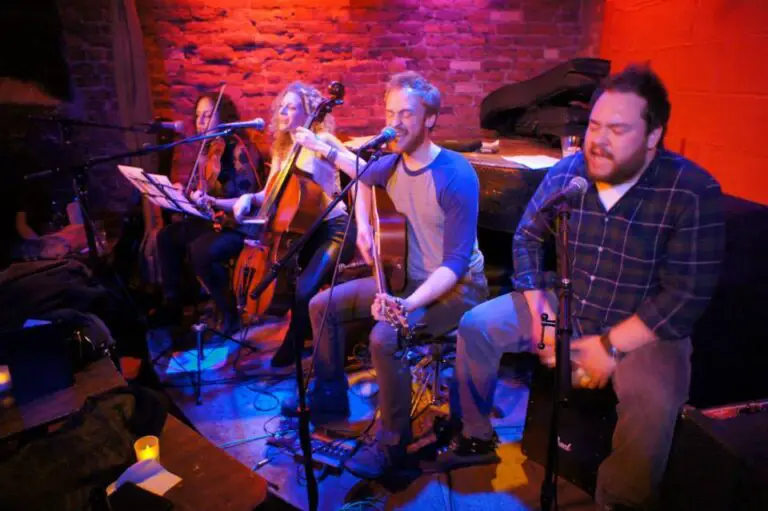 MPG: Who are some of your inspirations and influences?
RM: There are more influences than I can list…I always feel like I'm going to forget somebody important! For the Booklights' music, one of my biggest inspirations would be Gillian Welch and David Rawlings. Their music is hugely important to me, in not only in terms of how beautiful or haunting it can be, but because of their massive encyclopedic knowledge of folk music forms, the way they're able to, say, reference a Son House lyric in the middle of their own song, and what that does for the listener…for me, my brain flags the homage, but also feels transported to another time and place. And it makes their music feel timeless. That's a really powerful effect. Bob Dylan, Neil Young, The Band, John Prine, Bonnie 'Prince' Billy, Norman Blake, Lucinda Williams, Gram Parsons, and Townes Van Zandt are other big influences of mine from the world of (arguably) Americana. But I listen to a wide variety of music, a lot of which has shaped our music in more subtle ways. Some of my favorites include Radiohead, Soft Machine, Big Star, Fleetwood Mac, Randy Newman, the Kinks, the Bats, Tom Waits, Creedence Clearwater Revival, and of course the Velvet Underground.
RG: It really runs the gamut. I'm a huge fan of 90s hip hop and R&B, but I'm also classically trained on the violin and did musical theater for years. I love all kinds of soulful voices, from Aretha Franklin to Stevie Nicks. But also playing with bands and teaching myself to play in more of a fiddle style, I learned to really appreciate 70s rock, country and folk. The Band is iconic.
BE: My music tastes span a pretty wide range. As a percussionist, I love so much stuff from Buddy Rich to Neil Peart, Clyde Stubblefield, Carter Beauford. There are so many. I also grew up with drummers in my family, both my dad and brother are drummers as well so it's always been important to me.
MPG: When you look at the current presence of Americana within the music industry today, where do you see it going in the future? What are you excited about and how do you plan to be a part of it?
RG: Both bands I've played with considered themselves some version of Americana. I think Americana is moving in the direction of society's growth, where diversity is being more and more embraced. As an artist, for years I was told to "concentrate on one thing and get good at it. you're spinning too many plates." Nowadays, being a multi-hyphenate is accepted and encouraged. Humans are dynamic – why shouldn't their music be? Plus, combining multiple influences makes for some really cool music.
RM: I think we're at a really exciting time in Americana music…one of my favorite bands, Our Native Daughters, dropped one of the best Americana albums ever just a few years ago. And now all of those incredible women in that band (Rhiannon Giddens, Amythyst Kiah, Allison Russell, and Leyla McCalla) continue to release absolutely mind-blowing work, and are really making waves. I think the folk music scene is going through a lot of the same, necessary changes that our country is reckoning with. There have always been amazing artists of color, in every music genre. These traditions have been practiced by a wide variety of people, in some cases for centuries. I think the more inclusive the Americana/folk/country music scenes become, the better that is for everybody, and the better it is for the art form.
BE: I don't know if I can really speak to the presence of Americana. I am thrilled that artists like The Avett Brothers and Brandi Carlisle have come into the mainstream and people are excited about them. But honestly I'm just excited to be performing in any aspect, especially after this last year.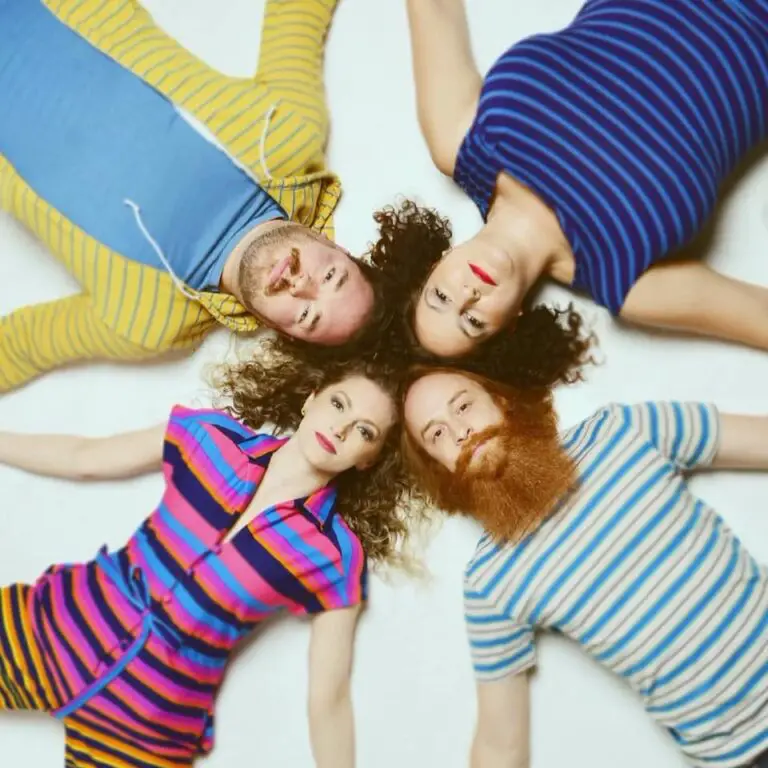 MPG: Clearly, Americana music has so many different musical facets, origins, and explanations behind it. What is "futuristic Americana" to you and how would you define it?
BE: Um… Rob?
RM: Well, I think "Americana" is a really intriguing term to start with. Imperfect, but intriguing. It's not "United States of Americana"…it's not even "North Americana." So it could be applied to music from so many regions! And I think that's lovely because so many of these musical forms that we might consider "Americana" are the result of so many groups of people interacting with each other — immigrants settling in a given area, and their music mingling with and being changed by music from other groups of people, either indigenous, or from other immigrant groups. A melting pot. As for "futuristic Americana," that term was coined by a friend of ours. I gave him an advance copy of the EP, and asked him if any words came to mind to describe our music, because I felt a little too close to the songs to be able to describe them. For me, "futuristic Americana" indicates a willingness to bend tradition, and mix in sounds and textures that your average listener might not associate with folk music. I have a lot of reverence for musical tradition, but none of the songs on the EP are traditional songs. So it's helpful to be able to dip into "traditional" or familiar sounds when we need to; it's also helpful to channel Radiohead or Low, and get spaced out and eerie at times.
RG: I think Americana in the past was associated a lot with country, folk, and bluegrass. We definitely have a lot of those influences but also incorporate some cool rock sounds and other ambient and unusual styles and effects.
MPG: The Booklights is such a unique name for a band, can you tell us the story behind it?
BE: Hahahaha! Um……Rob?
RG: That's you, Rob.
RM: Ha! So, funny story. At our very first live show (Spike Hill in Brooklyn, 2014) I played the first half of the set solo, then invited the band up onstage for the second half. I told the band in advance that I'd christen them with a surprise name at the gig, so when they joined me onstage, I said, "please welcome to the stage: The Booklights!" The response was hilariously underwhelming. But the name stuck! I realize it sounds like the object: a book light. That wasn't the inspiration, but I don't mind the connection. The inspiration for me was that feeling of writing a song, by myself, at night, with a candle or small bedside lamp throwing a little pool of light on my notebook, illuminating my ideas one line at a time. Writing is a very private experience for me; it's almost like the only witness to my process is whatever light source is near me. Definitely not something the average person would deduce from hearing our band name, but I'm okay with that. And on the plus side, there weren't a slew of pre-existing bands called the Booklights.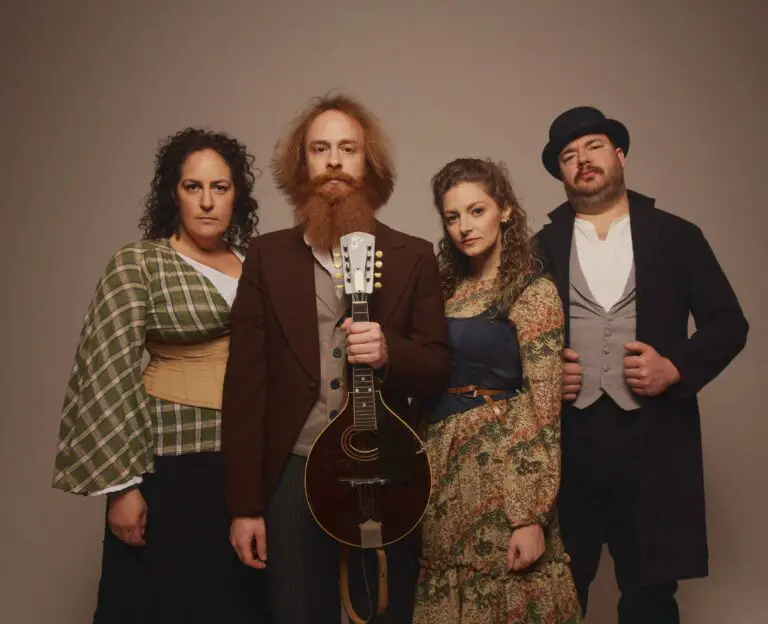 MPG: Your songs seem to invoke images, musical realism, and a strong ethos for so many listeners. What do you think is the importance of storytelling in your songs, and how do you go about finding that perfect story-song balance?
RM: There is a delicate balance between story and feeling. I think my approach to songwriting is to usually leave a lot up to the listener to decide; kind of a David Lynch approach to songcraft, if you will. It's not important to me for everyone who listens to "Waywiser" to have the same idea of what it means. Individual interpretation is so much more exciting! Lyrical details are important. I can't stand songs that say something like, "I love you, you're my desire, you're so hot, you're like fire." Oof. What do you love about that person? Can you find a way to say it without literally saying it? "My Woman, the Almanac" is about as straightforward a love song as I've written, but it doesn't come right out and say much about love. There's a lot of specific imagery, poetry in that song. The language hints at that feeling of romantic love. The listener goes on the journey, with the speaker of the song, and maybe they get something totally different from what I intended when I wrote it. Again, that's really exciting to me, not a bad thing.
MPG: Your new EP Into A Ball comes out on August 6, would you mind delving into the creative process that went behind developing this, perhaps some of your starting points musically or lyrically?
RM: The Booklights were an active gigging band in 2014 and 2015…I broke my wrist in 2015, we took a little break while I healed, and then we all got pulled in so many directions as artists, so the band was on an unofficial hiatus until the pandemic hit. Like so many people, I lost employment opportunities, and of course we were all quarantining in our apartments, and it was a really hard time. I started looking back at all the projects I've been lucky enough to be a part of, and I thought, "gee, why didn't the Booklights ever record anything? We've got so many great songs!" So I started talking with Lauren, Benny, and Rachel about making a record remotely. We tapped the wonderful James Frazee to produce, mix, and master the EP. James is incredible…I had a really great time incorporating his adjustments and ideas, things like adding or removing a chorus, layering in new overdubs that had never existed on a song before, that kind of thing. The whole process was honestly one of the few bright spots of 2020 for me. As for the creative process for the songs themselves, many of them date back to our time as a gigging band, some even before that. "Waywiser" was inspired by a trip to the Ben Franklin Museum (a waywiser is essentially an old-fashioned odometer, which Franklin built), and "My Woman, the Almanac" was written during a solo cabin retreat I took in the Catskills in 2011, inspired by my relationship with Lauren as well as all the nature I was taking in. I had the melody for "Slingshot" in my head for a while, but was having trouble with the lyrics, so Lauren and I collaborated and wound up with a playful song about summer flirtation. "Sweeter on the Vine" doesn't sound anything like the 1930s blues and novelty songs I was listening to at the time, but it was definitely inspired by the work of folks like Bo Carter, the Memphis Jug Band, and the Dallas String Band. And "All Tomorrow's Parties" …well that's just one of my all-time favorite Velvet Underground songs. It works perfectly with the droney, space-folk approach we gave it on the EP.
BE: It was very interesting to record an entire album alone in our apartments without the others being there. And with no "in the moment" directions. But it was a great experience to learn that that was possible.
Rob is the major force behind the music, these songs are his creations. He comes with melody, lyrics, chords and vision, and then trusts us to build the "house" around it. All of our harmonies (instrumentally and vocally)

Rachel Green
MPG: What does this debut EP mean to you and what kind of mark do you aim to leave on fans listening to it?
RM: I'm honestly in awe of the end result. I'm so proud of everybody who came together to make this record. That includes our special guests Jay Julio (viola on "My Woman, the Almanac") and Hilary Hawke (banjo and backup vocals on "Slingshot") as well as our incredible visual artist, Elanor Gabriela. Making a record during the pandemic was challenging, but not making a record would've been even harder! Into a Ball is an apt title, because the EP rolls together all these genres, sounds, and emotions that we as musicians like to play with, and collects them into one, succinct 5-song statement. Working on the EP was a wonderful escape during a time when I really needed to be somewhere other than in the confines of my apartment; I hope it provides listeners with an aural escape too!
LM: I'm so proud of everyone involved in making this album. I love the songs and how each one takes you to a different place. I hope people feel something when they listen to it.
BE: I'm just really proud of us for getting something done during Covid and more proud of Rob for spearheading it and writing such amazing music and being such a great leader. I'm very happy the world gets to finally hear his music. I think people will really dig his unique style and his take on the "Americana" genre.
I really love how each of our songs tells a different story and has a different sound. I think fans will be taken on a journey, from breezy chillaxin' to rockin' out.

Rachel Green
MPG: You have also recently released a music video for the track "My Woman, The Almanac" on the EP, how was that experience for everyone? Can we expect to see more music videos in the future?
RM: Making the music video was such a joy. I want to give major kudos to our team Varya Rootwood (director), Yura Makarov (DP), Mackenzie Jamieson (key PA), David Withrow (wardrobe), and our hosts, the Big Victorian in Chester, NY. That shoot was a leap of faith; a few days earlier, we had lost our director and location, so Varya and Yura were brought on at the last minute. And they absolutely nailed it. I couldn't have asked for a more professional team. It was also the first time our full band had hung out together in quite a while, so the camaraderie was through the roof! We hope to have another music video in the near future; I've been really interested in doing a stop-motion version of "Waywiser."
LM: Shooting the music video was a blast. It was such a beautiful place with bucolic imagery. We shot it at an old Victorian mansion that had a dilapidated and beautiful feel. It was set upon a green hillside with a red barn and a swing on a tree. Our music fit so perfectly with the setting. It was magical. I hope to make more videos. It's always fun to put a visual with a song.
RG: Working on the music video was a wonderful experience, from the amazing location to the costumes to the creative team. It was also the first time we got to hang out as a band (and friends) in 6 years! It also gave me a deeper connection to the song and its meaning or what it could mean. It was a truly beautiful day all around.
MPG: Does Into A Ball mark a new aim and direction for the band?
RM: Well, the Booklights had never recorded any of our songs before this EP, so in that way it's a very new direction for us! We played a lot of shows in 2014-2015, so that was always our focus; putting together exciting sets of live music. It was a very different experience to take each song apart, role by role, or sound by sound, and decide what belonged in a recording, and what songs wanted a little extra juice. In the Booklights' live shows, I usually play a resonator guitar, acoustic guitar, and mandolin. Having the flexibility to record on our own schedules, in our own homes, opened up a lot of possibilities. At James' suggestion, I added some electric guitar overdubs to "Waywiser" and "All Tomorrow's Parties," tipping my hat a bit to British folk bands of the 70s like Fairport Convention, Pentangle, and Steeleye Span. Lauren layered several cellos on top of each other for "All Tomorrow's Parties" and Rachel did the same with fiddle for that song. We created all new harmonies; "All Tomorrow's Parties" had always been a solo vocal song for me, but we went all out with some strange, modal group vocals for the album. And adding wonderful outside musicians like Jay and Hilary also opened things up. It became less about replicating our live shows, and more about sculpting a cohesive, transportive sound for the whole record. So that was a really unique experience, to look at these songs in a whole new way.
LM: I'd say this was definitely a new aim as the debut album. The pandemic brought us back together after not playing for a few years due to people's schedules. This new music feels like it's blossoming into the world as it reopens.
This new music feels like it's blossoming into the world as it reopens.

Lauren Molina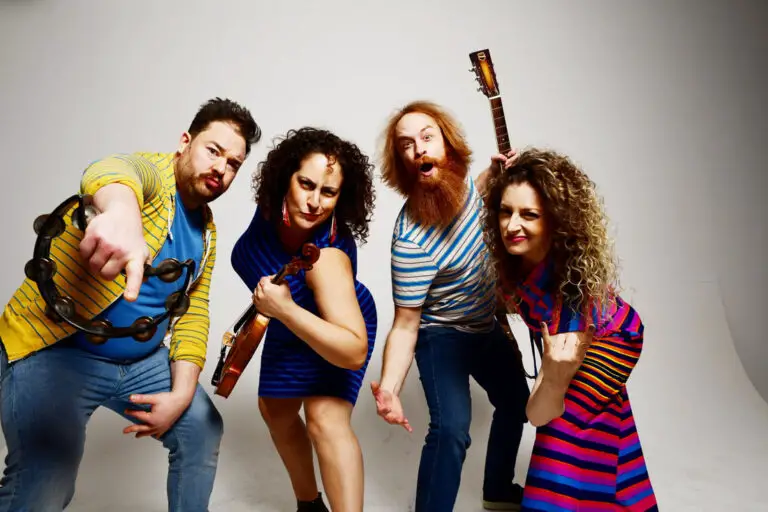 MPG: What is one message you would like to give to your fans and listeners?
BE: We know it's been a tough year for everyone and this album is a great representation of pushing through and making something good come out of a bad situation. So thank you to everyone for listening! We hope you enjoy it as much as we enjoyed making it!
RG: Do what you love, follow your own path and don't let anyone tell you otherwise.
LM: Be good. Be kind. Keep others on your mind.
To anyone who listens to this record, I want to say thank you, from the bottom of my heart. We made this EP at a time when I wasn't sure at all about what the future held, for live musicians, as well as for the world. But we still somehow created something, in spite of all that uncertainty. So, if anyone feels inspired by the music on the EP, that would be the greatest reward.

Rob Morrison
---
Tracklisting For Into A Ball: EP By The Booklights
1. Waywiser
2. My Woman, the Almanac
3. Slingshot
4. Sweeter on the Vine
5. All Tomorrow's Parties