Jazz was back at Fort Adams State Park last weekend as the Newport Jazz Festival staged their 2021 program at reduced capacity and with only two stages of performances. Spirits were high, on stage and off, making for a thrilling three days of non-stop music. The playing was top-notch across the board, highlights abound, there was barely time to catch your breath. What follows is a chronological list of our absolute favorite moments.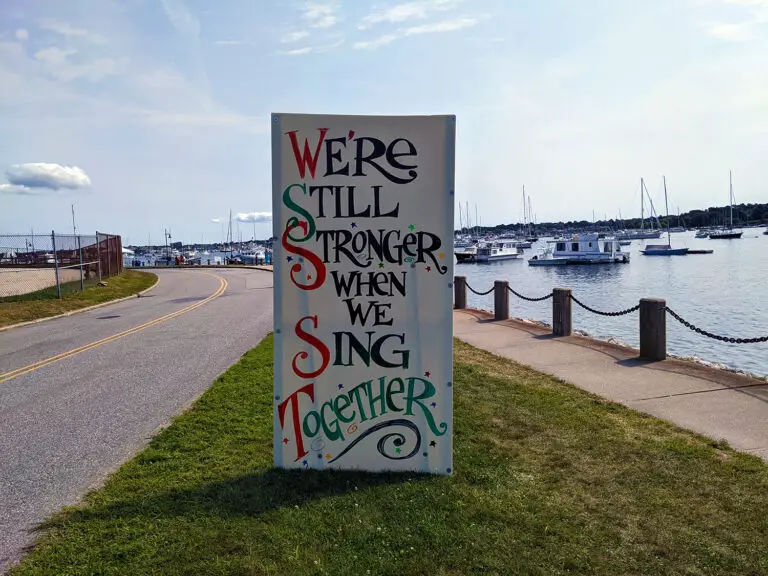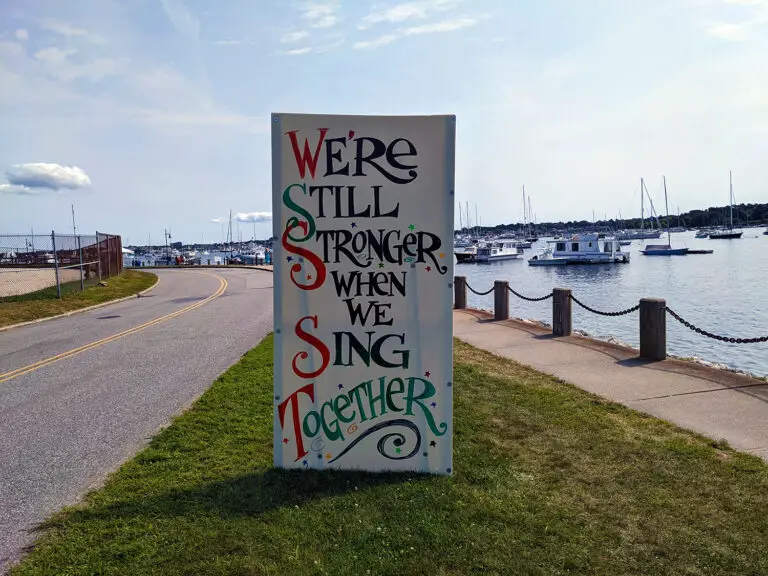 Makaya McCraven at the Quad Stage, Friday
Drummer Makaya McCraven brought his quartet, including Marquis Hill on trumpet, Matt Gold on guitar and Junius Paul on bass, to the Quad Stage on Friday afternoon. McCraven often let his band form the rhythm between them while he danced within and around it, using his kit as more of a lead instrument. He was in constant motion, rarely settling into a groove, yet somehow managing to push and pull the quartet through multiple changes, from fusion to swing to funk to more freeform. They previewed an upcoming album re-imagining the work of Gil Scott Heron that featured some singing from Paul and spoken word recordings of Heron's. "Misplaced That Place" gave McCraven's kit the full workout while a cover of Tony Williams' "There Comes a Time" allowed the band to stretch out while he established a hard grooving beat. Between the quality and diversity in his playing, we didn't see a better drummer at the festival.
Robert Glasper Acoustic Trio at the Quad Stage, Friday
In his first of three sets for the weekend, artist-in-residence Robert Glasper presented his acoustic trio, with Justin Dyson on drums and Vicente Archer on bass. They were also joined by DJ Jahi Sundance on the "ones and twos" during a set that was heavy on improvisation. The hyper-tight quartet nee trio danced around themes of both pure invention and some more familiar, like Cyndi Lauper's "Time After Time" or an extended riff around "Happy Birthday" played for Glasper's young daughter Lola who was hanging with mom side stage. Glasper took some long piano breaks, sang along with some of Jahi Sundance's spoken word samples, and also gave his bandmates plenty of space to shine. The set closed with Glasper's 2021 Grammy-winning song, "Better Than I Imagined." The set was certainly some of the strongest improv we saw all weekend. It seemed that the trio had enough ideas to go another hour, but unfortunately they ran up against the end of their set time and had to cede the floor.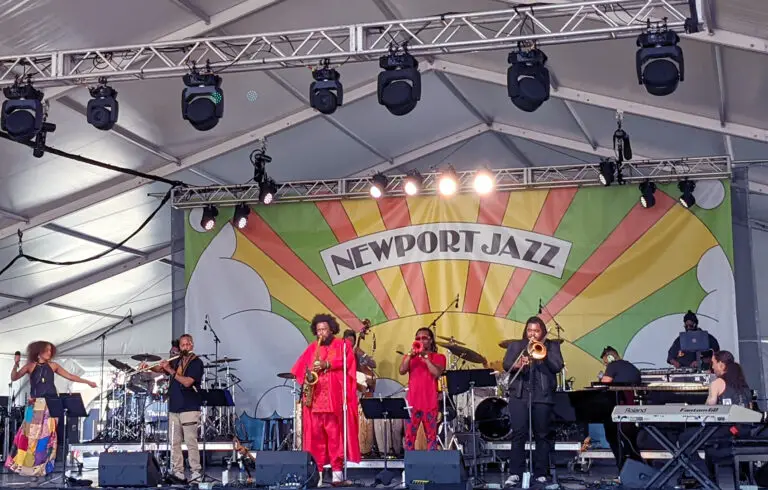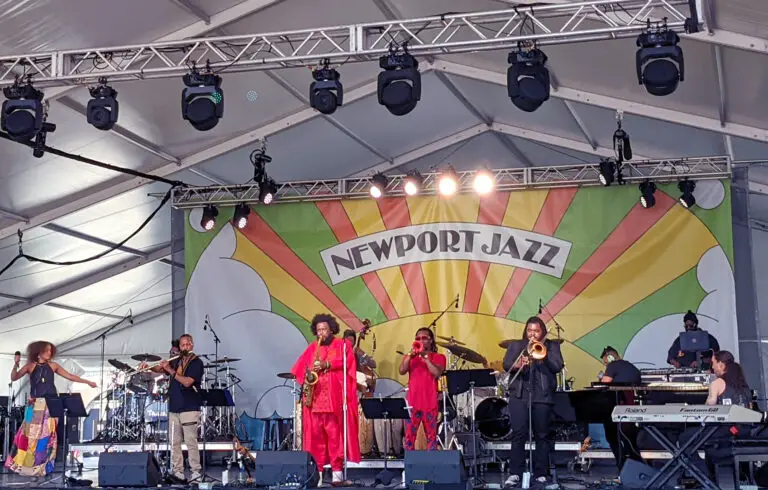 Kamasi Washington at the Quad Stage, Friday
Kamasi Washington and his big band overpowered the Quad Stage in their appearance late Friday afternoon. They closed out the stage for the day, fortunately for anyone who would have had to try and follow them. Festival artistic-director Christian McBride summed up Washington in his introduction from the stage as "A hurricane … of music." It was an apt description! Washington's large band featured a horn heavy front that came blasting forth while a massive rhythmic swirl was generated from the back. It sucked you in and spat you out before you realized what was happening. Whether playing the gently melodic "Announcement" from the soundtrack he made for Michelle Obama's "Becoming" or the racial justice anthem "Fists of Fury," the music is powerful and moving. The set peaked midway through with "Sun-Kissed Child," a new piece written after Washington became a father that featured his most fiery playing of the afternoon. Washington created music you experienced as much as heard.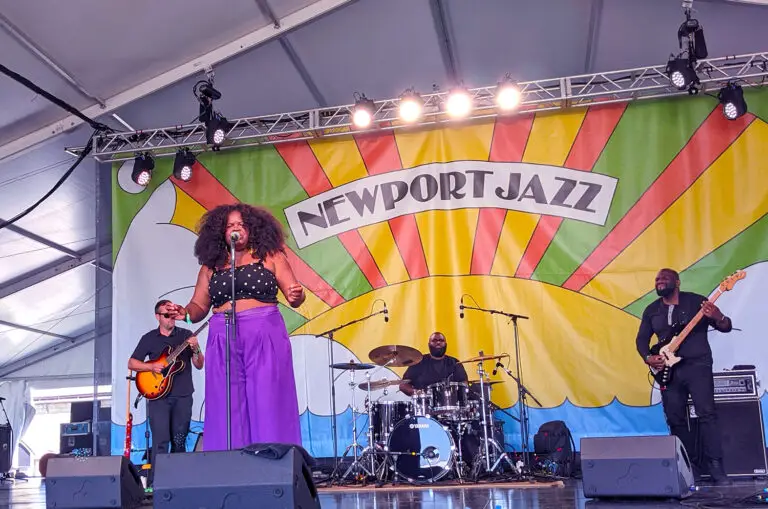 Danielle Ponder at the Quad Stage, Saturday
Rochester soul singer Danielle Ponder emerged from obscurity and quickly won over the early day crowd on the Quad Stage. She was admittedly nervous for what was likely the biggest show of her career so far, not to mention in front of a jazz crowd fixated on minutia. It didn't show from the get-go. She commanded the stage like someone who was performing most of her life, which she has. She mixed together love songs like "The Only Way Out" and "Holding Me Down" with songs of social and environmental justice like "Poor Man's Pain" and "Look Around," constructing a set that took the unknowing audience on a journey establishing a clear picture of Ponder's immense talent and m.o. Using Nina Simone as a compass, she called an audible from the stage and lead her band through an unplanned cover of Radiohead's "Creep." It was already midway through the set, and she had already received a standing ovation, but she played it as a comfort to calm her nerves. The repeated lyric, "What am I doing here, do I belong here?" was incredibly apt though was answered with a resounding "Yes!" as the audience provided a second standing ovation in a row. For the set closing "Darker Than Blue," Ponder had the entire crowd standing and singing along, "Can't you see us rising, higher!" Thousands of new fans eager to buy whatever comes from the record deal Ponder announced she had just made.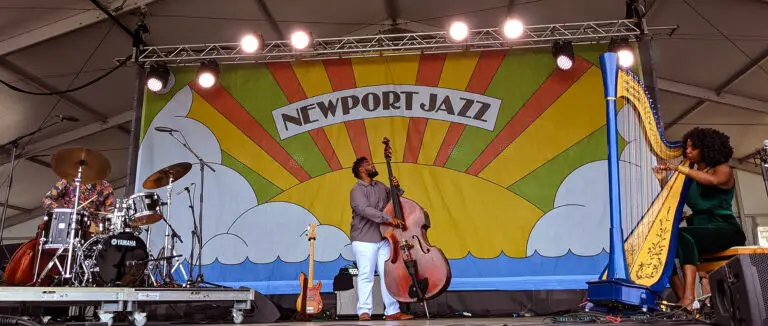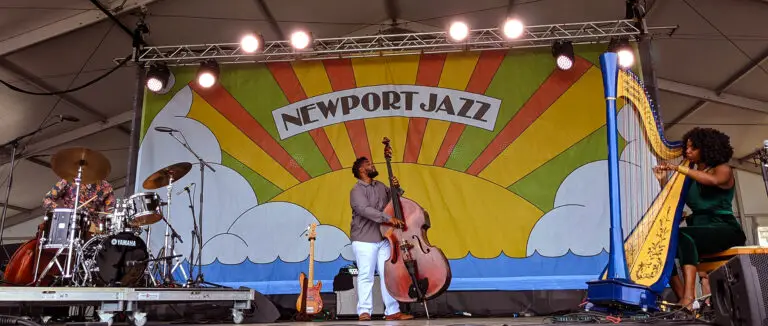 Brandee Younger at the Lawn Stage, Sunday
The last piece of the lineup puzzle was placed just weeks away from the event, and it ended up being one of the very best sets we saw all weekend. Harpist Brandee Younger and her trio, with Dezron Douglas on bass and Allan Mednard on drums opened the proceedings at the Lawn Stage on the final day of the festival. The harp was the lead instrument but each player was superb and at their greatest moments were equals within the music, a place that was reached often. There were very little established solos. One piece ended in a short drum solo which gave Younger a laugh, since Mednard had told her, "No drum solos." on the ride up to Newport. "In Love and Struggle," written for the play of the same name, exemplified their penchant for three-way improvisation as it built with each instrument establishing an individually fantastic sound that meshed together to form something beyond. Younger invited Rochester's Mikaela Davis on stage to help pay tribute to harp visionaries Dorothy Ashbee and Alice Coltrane, each celebrating August birthdays. Davis lead the trio through Ashbee's "Action Line" showcasing the range of the harp, as each artist had their own unique style. Younger followed with a Coltrane medley to complete the harp history lesson beautifully. The set closed with a humorous nod to the pandemic with a piece titled "Toilet Paper Romance," written during her and Douglas' live stream events from their living room. Live music is better in person, and this was a thrilling set.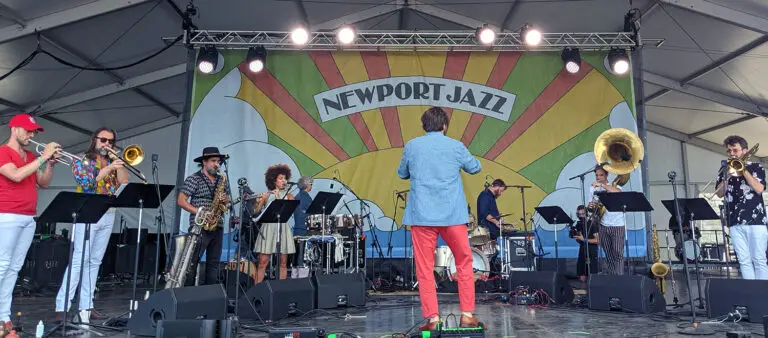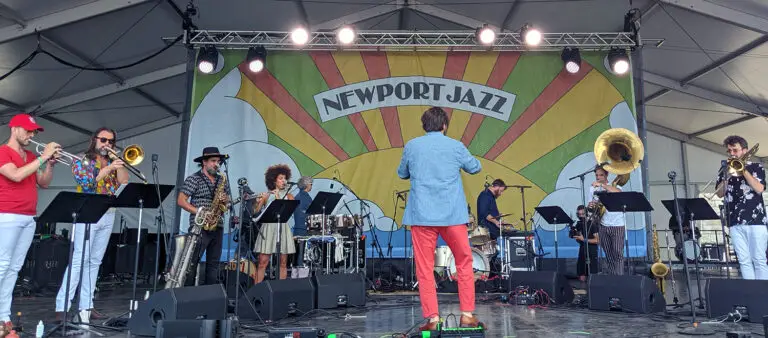 The Bogie Band featuring Joe Russo at the Lawn Stage, Sunday
The big band format got shuffled, blended, and mixed up when saxophonist Stuart Bogie brought his band to the main stage Sunday afternoon. The band was nearly a mirrored double quintet, with two trumpets, two trombones, two saxes, a flute, sousaphone, percussionist and drummer all standing in lines across from each other. The music had a New Orleans brass flavor played with a Lounge Lizards or Frank Zappa controlled chaos with a little Beastie Boys groove thrown in. Rhythms could be established by a repetitive flute or xylophone melody, from Joe Russo's incredible drumming or multiple percussionists. Bogie played the part of band leader, frequently stepping out from his mic to stand front and center and conduct the 11-piece band. The band grew exponentially when he employed the audience to scream "Hey!" on command, which he used beyond the confines of one song. Russo was given the opportunity to play more of a lead role on "We Organize" as the rest of the band laid down a multilayered groove for him to explore regions beyond the beat. What a joyous set of music, keep an ear out for The Bogie Band.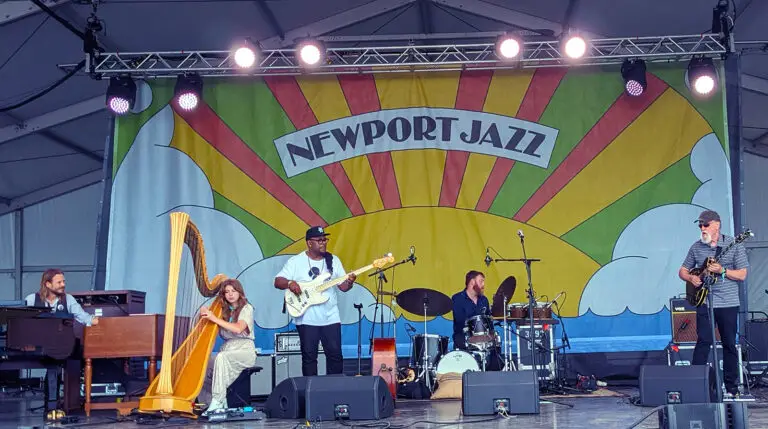 The Jam Jawn at the Lawn Stage, Sunday
There were some great only-at-Newport ensembles at the festival, including the Vibe Summit and Jazz Gallery All-Stars, but one stood above the rest. The Jam Jawn, with Christian McBride, Joe Russo on drums, Marco Benevento on piano and keyboards, John Scofield on guitar, and Mikaela Davis returning to the stage, again uncredited, on harp. True to their name, the Jam Jawn used songs as a mere blueprint from which to start. An electric Miles Davis groove, likely "Miles Runs the Voodoo Down" turned into a free form session with the quintet eyeing each other from across the stage, either searching for improvisational cues or more often flashing recognition of great playing. Davis formed tight bonds with Benevento and Scofield, weaving harp lines enmeshed perfectly into their soloing. Festival artistic-director McBride also ably directed traffic from the stage, holding down the grooves whether on electric or upright. Russo continued his masterful drum work from the previous set with The Bogie Band. On a set-closing loose version of "Get On the Good Foot," the band invited up a literal lineup of players from both David Ostwald's and Stuart Bogies' bands. Horn solos eventually became a horn backline and just like that the set was over. The hour went all too quickly, and as special as it was, we have to hope these five make music together again, it was just too good.
The Audience, Everyday
One of the key elements to live music is of course the audience. Some have expressed concerns about returning to crowded concerts and the common annoyances they can bring. But the people out enjoying the 2021 Newport Jazz Festival proved their own importance to the music. The artists fed off the crowd's energy, it simply isn't the same as playing to a virtual audience or half-filled room. Even at reduced capacity, it felt like the space around both stages were quite crowded the whole weekend and their excitement was infectious.
And the people came to listen. During quiet moments you could hear a pin drop. Keep in mind that at this venue the pin is falling onto grass. Then during more exuberant sets, like Khruangbin's Friday night closer, a dance party broke out all over the lawn. Whatever the music called for, this audience was at the ready. When crowd participation was requested, everyone was at the ready to provide extra voices, hand claps, or perfectly placed "Heys!"
The weather was perfect each day and people were out in their Friday, Saturday and Sunday best. The typical concert attire of band t-shirt and whatever shorts were next in rotation was mostly dismissed in favor of a variety of fashionable dresses, button downs, pants and a very strong hat game.
It was simply a pleasure to be a part of this audience, the excellence of the music was only enhanced by being amongst like-minded music lovers who provided encouraging woos and whoops or slapped the ground or beamed a huge smile in recognition of great playing. Here's to hoping the relationship between performer and listener can continue on unfettered, and grow to what it was not so long ago, and even stronger. We're still stronger when we sing together.