With his 2004 book, Elevator Music, Joseph Lanza laid out a lovingly comprehensive history of the much-maligned, mood-altering musical genre also known as Easy-Listening.  Lanza's treatise was ballsy in that it made the entirely logical connection between the background music pumped into shopping malls, restaurants and, yes, elevators, and the soothing experiments of ambient artists like Brian Eno and The Orb. Now with Easy-Listening Acid Trip, Lanza is digging deeper into a very specific niche of moodsong. He is showing how the psychedelia-informed hits of The Beatles, Donovan, The Rolling Stones, The Doors, Procol Harum, Jefferson Airplane and others inspired easy-listening arrangers to reinterpret them as instrumentals that were sometimes more surreal than the originals.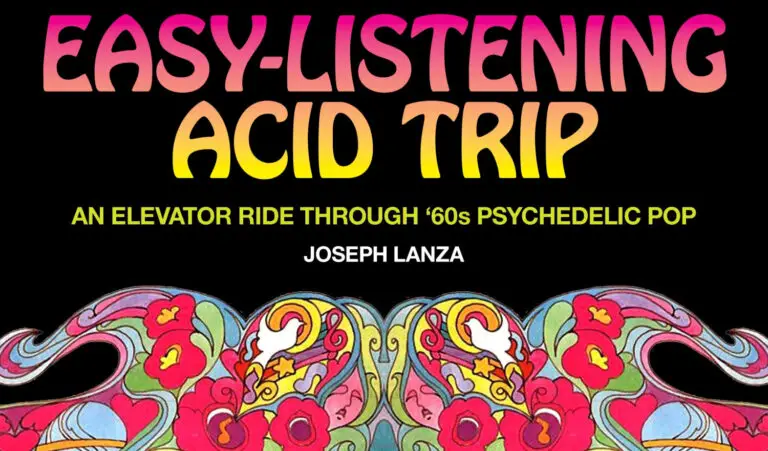 But first, a quick primer on easy-listening music. Easy-Listening was a style most popular in the '50s – '70s, when large orchestras recorded lush instrumental versions of the vocal standards of the '30s and '40s and, ultimately, the hits of the day. The most obvious trademark was their soaring string sections.  It was something that gave name to some of the idiom's most popular artists, like the 101 Strings and the Percy Faith Strings, which also launched one of the most popular formats on FM radio. 
Easy-Listening was an outgrowth of Muzak©, a patented brand of scientifically modeled background music that originated in 1934. The Muzak Corporation created thousands of hours of music that was deployed into offices, shops and the like to alter mood – to either increase the pace and productivity of workers/shoppers or, as with NASA astronauts and bored suburban housewives, to calm and reduce stress.  The music was programmed into playlists designed to "lift" the spirit of the listener (hence, the term Elevator Music). And though these works were designed to be lightweight, inobtrusive sonic wallpaper, it's important to remember that they were crafted by many of the best arrangers, conductors, engineers and session musicians in the business.
Lanza's Easy-Listening Acid Trip is a journey through the countless reimagings of psychedelic pop standards by the swamis of orchestral schmaltz – from Mantovani and Henry Mancini to Ray Coniff and Jackie Gleason (yes, the mucho excitable guy from The Honeymooners TV show).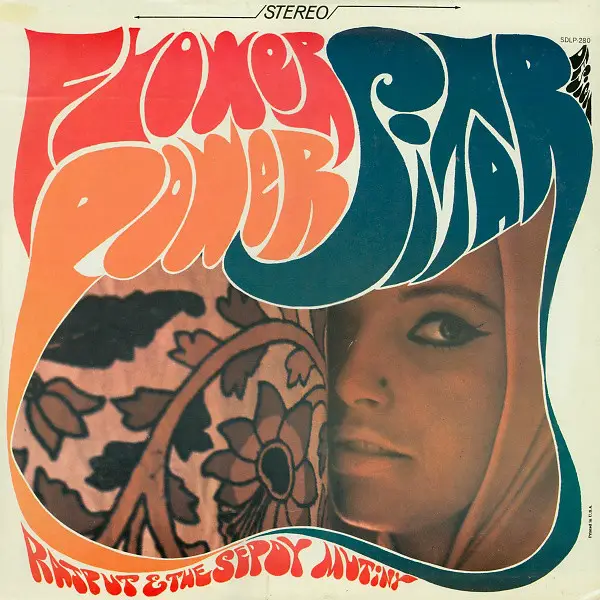 Lanza kicks-off with a chapter providing a pocket history of easy-listening and a delineation between the two types of psychedelic music: the concise whimsical, effects-laden pop songs (ones which ready-made for good moodsong remakes) and the aggressive, jamming of bands like the Grateful Dead (that were not).  The author then dedicates individual chapters to the different psych tentpole that arrangers took to reimagining. This includes St. Pepper's Lonely Hearts Club Band, "A Whiter Shade of Pale," "Light My Fire," The Lemon Piper's "Green Tambourine," Donovan's slew of mystic hits and the musical Hair.  There's also a chapter dedicated to that brief shining moment in 1968 when easy-listening artists like Paul Mauriat and Mason Williams scored chart-topping hits with their own originals, "Love Is Blue" and "Classical Gas."  Lanza also shows how the exotica instruments and arrangements of easy-listening  ultimately infiltrated original rock on string heavy offerings like Love's orch-pop masterpiece, Forever Changes, and The Left Banke's "baroque pop" hit "Walk Away Renee.
Lanza spends a good deal of time on the Hollyridge Strings, Capitol Records' own studio orchestra. They waxed well over a dozen "Songbook" albums smoothing out the hits of their psych-minded label mates, The Beatles and The Beach Boys, which included haunting versions of "Strawberry Fields Forever," "I am The Walrus" and "Good Vibrations" to name a few. He also tells how the otherwise hard rocking Lemon Pipers came to record psych-pop's most confectious song, "Green Tambourine," and the saga behind 13 easy-listening versions, from the likes of Trombones Unlimited, Mariano and the Unbelievables and even Lawrence Welk. 
Read (and YouTube your ears through) 16 elevator-informed versions of "Light My Fire," most of which took the lead from the bossa nova flavored cover by guitarist/singer Jose Feliciano rather than the original.  Lanza also details the 21 lush interpretations of Scott McKenzie's "San Francisco (Be Sure to Wear Flowers in Your Hair)" by 101 Strings, Big Ben Hawaiian (cool steel guitar on this one!), Italy's Caravelli and his Magnificent Strings, Living Guitars and more.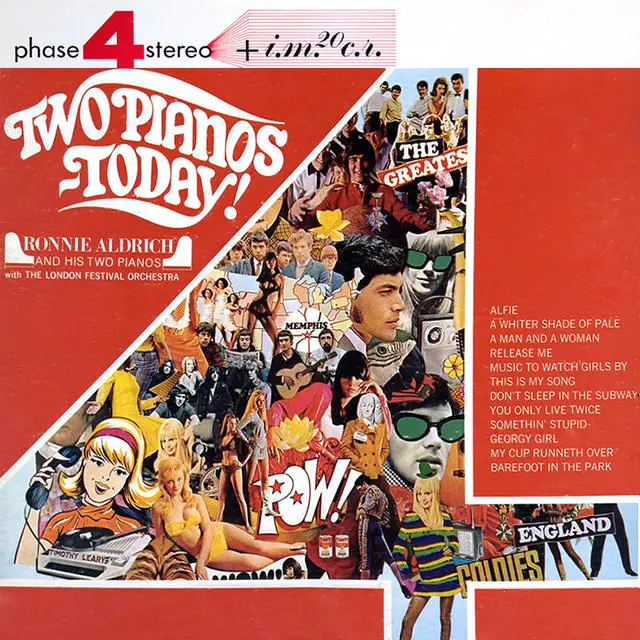 My favorite chapter is "A Wail of Illusion." This explores how the sitar/raga fad came to hugely color easy-listening. This started right after Beatle George introduced the Indian stringed instrument into pop with the 1965 recording of "Norwegian Wood (The Bird Has Flown)." 
Two men, English session guitarist Big Jim Sullivan and American Vinnie Bell, were responsible for the finest (and I mean that!) sitar-driven covers around.  Big Jim left a lucrative recording and TV gig with crooner Tom Jones to record the album Sitar Beat (1967), then coronate himself Lord Sitar on the self-titled follow-up.  On them, Sullivan adds an Eastern twang to covers of psychedelic pop stands like "A Whiter Shade of Pale," Donovan's "Sunshine Superman," "I am the Walrus" and "Eleanor Rigby."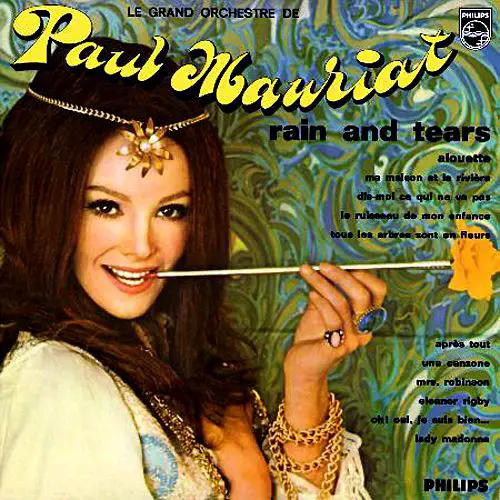 Brooklyn-born Vinnie Bell was not only a monster session guitarist but an inventor, who played an important role in the creation of the Danelectro 12-string electric and the Coral Electric Sitar, still the choice of prog musicians like Yes' Steve Howe.  His 1967 album, Pop Goes the Electric Sitar also covers "Eleanor Rigby" and Bell would also lend his sitar talents to other artists' covers of "Lucy in the Sky with Diamonds" and "Within You, Without You."  More widely known are his sitar star turns on chart-toppers hits The Lemon Pipers' "Green Tambourine," B.J. Thomas' "Hooked on a Feeling," Redbone's "Come and Get Your Love," Freda Payne's "Band of Gold" and The Box Tops "Cry Like a Baby".
Lanza also serves up numerous hilarious anecdotes. One regards how just weeks after the Strawberry Alarm Clock released their hit, "Incense and Peppermints," Muzak recorded an instrumental version by Charles Grean and His Orchestra, one that kept the electric guitar but re-contoured the tune with harps, horns, flutes, a tambourine, and other effects for offices, supermarkets, and of course, elevators.  My favorite tale may be from 1989.  This is when gonzo rocker Ted Nugent made an offer/publicity stunt to buy Muzak for $10 million, with a promise to wipe out its entire library of master tapes. Muzak responded by recording an odiously fey version of his psychedelic whirlwind, "Journey to the Center of Your Mind," with woodwinds and a sonic meadow of strings replacing his screaming guitar.  Point and set, Muzak!
If you are a musician who wants to learn more, especially about arranging, you should check out this genre, with Lanza's two great books serving as your guide. 
You think easy-listening is not worth your time? 
Maybe John Lennon can change your mind. 
In the early '70s, Lennon disparagingly called his partner Paul McCartney's solo work "Muzak." But by 1980, in one of his final interviews, he was humming a different tune. 
When asked about his favorite listening choices at the time, Lennon said: "Muzak or classical. I don't purchase records.  When I was a housewife, I just had Muzak on, background music, because it relaxes you." 
If it's good enough for him, it should be good enough for you.