He went to Woodstock '69… and he took the brown acid.  Fifty years later, veteran music journo Mike Greenblatt decided to put it all down in a book, one of the most personal, soulful and informative chronicles of this once-in-a-lifetime smorgasbord of sound, spirit and myth.
Greenblatt's Woodstock 50th Anniversary: Back to Yasgur's Farm offers a front-row seat to what many believe was the most important live event in rock history (well, the Boomers at least).  It forever changed the lives of the 500,000 who attended and the business of music. 
Half of Greenblatt's book is memoir. It's a compendium of his own colorful recollections and those of many other young people who found their way to Max Yasgur's dairy farm in remote Bethel, NY  for three days of "nothing but fun and music."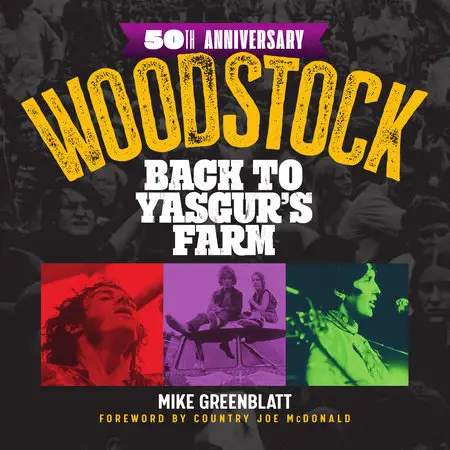 Greenblatt was a music- and pot-loving 18-year-old who made the trek from the Jersey suburbs with his straight-arrow best friend Neil.  He survived losing all the food and supplies he carefully packed and made it through almost all of the three-plus days of sun, sounds, rain, mud, skinny dipping and, oh yes, a wooly trip courtesy of the legendary brown acid attendees were repeatedly warned not to consume by the concert's stage announcers. 
The book also provides an in-depth view of the making of the festival. This comes from the event organizers, the musicians who played as well as many of the good-hearted volunteers and locals who somehow surfed an unending chain of chaos to make it happen, all without a single reported incidence of violence. 
Greenblatt has also sleuthed out many never-before-heard stories from backstage and put a good deal of the focus on some of the quiet giants of the festival, like sound guru Bill Hanley and festival booker/logistics man/stage announcer John Morris, whose contributions have tended to get short shrift in earlier telling of the Woodstock '69 story.  Did you realize that Woodstock creator Michael Lang wanted Gene Autry, the singing cowboy from 1930s movie Westerns, and not Jimi Hendrix, to close the festival?  Or that Iron Butterfly were disinvited, at the last minute while at a NYC airport, for unreasonable demands?  Fun trivia like this abounds in the book.
Music fans will drink up the blow-by-blow of the 32 performances, including the career-making ones of Santana, Melanie and Ten Years After and the derailing ones of Bert Sommer, Tim Hardin, Sweetwater and Quill.  The 224-page book is lavishly illustrated with some of the best-known photos from the fest.  It also covers the aftermath, from the legal battles over rights to the riches it would generate in films, recordings and off-shoot festivals to the museum and concert venue that now stand at the site.
As the 52nd anniversary of New York State's most mythic musical event draws near, we could think of no better person to provide context.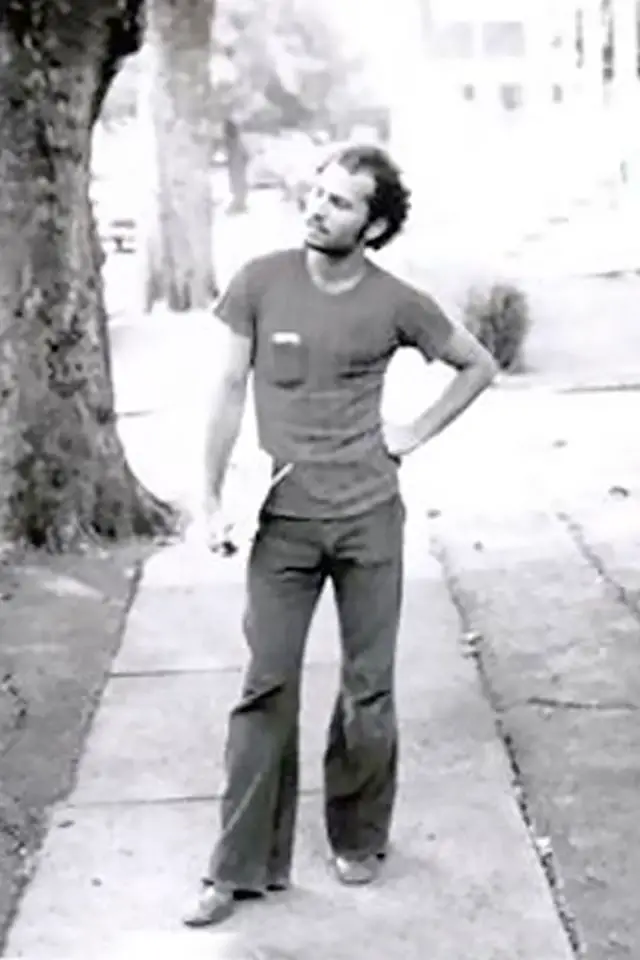 Sal Cataldi: What inspired you to write this book, and why did you wait 50 years to do so?
Mike Greenblatt:  I never intended to write a Woodstock book. I was working on my memoir of all my rock star interviews ironically entitled "Nobody You Know" (that's me), but my good friend Pat Prince, editor of Goldmine magazine, always loved my Woodstock stories. The Goldmine owners had a book wing that had put out a 40th Anniversary book that sold well so when the 50th Anniversary came, Pat suggested me. They made me an offer and I stopped working on my memoir.
SC:  Who were some of your favorite performers at the festival, the ones who really connected with the audience.  And who disappointed you and the audience most?
MG:  Best was Sly & The Family Stone, Mountain, Johnny Winter, The Band and Canned Heat. Worst was Grateful Dead, Incredible String Band and Tim Hardin.
SC:  Why do you believe that Country Joe McDonald was the true soul of the festival?
MG: Because he performed solo on the spur of the moment and nobody was listening at first. Then he did the fuck cheer and had us shout out those letters over and over and he yelled "What's that Spell? Five times. You don't know how liberating, hilarious, revolutionary and communal yelling FUCK at the top of your lungs with hundreds of thousands of others can be!  It represented pure unvarnished FREEDOM.
SC:  Creedence is an interesting story. They were the first major artists to sign on to the bill yet weren't represented in the album and movie. Why?
MG: Because John Fogerty refused. He thought they sounded bad. He was wrong.  
SC:  There were some other artists who did great sets like Johnny Winter who did also weren't included in the film?  What was the reason with these?
MG:  Johnny Winter's manager, Steve Paul, forbade it, for some reason. He was wrong.
SC:  You have a special affection for the performance by Bert Sommer.  What was his story and why didn't Woodstock catapult him to fame?  And what other performers suffered a similar fate, folks who didn't get a big boost from playing the event.
MG:  Bert should have been propelled to fame if only for his tear-jerking version of Paul Simon's "America." Woodstock was so quiet during his set. We were listening. He was transcendent. Not making the movie sent him into a downward spiral which he never recovered from. Sweetwater and Quill just weren't good enough. Tim Hardin was so damn high on heroin, he was awful.
SC:  Your book is interesting because it puts a good deal of the focus on Bill Hanley and John Morris?  Why do you think they were the real unsung heroes of the festival, from the organizational side?
MG:  Hanley isn't known as "The Father of Festival Sound" for nothing. He had to make sure the people way up high on the hill could hear without blasting those of us in front and he did! John Morris persuaded Gov. Rockefeller not to send in the troops to disburse us after the stories of drugs and nudity reached his office Saturday morning.  Morris persuaded diva Sly to get the hell onstage. Morris soothed our fragile eggshell minds during the storm Sunday with his avuncular stage presence. Morris put out so many fires during the course of those 5 days that he alone is the MVP.
SC:  Your book spends of good deal of time talking about your own experiences at Woodstock and those of other attendees.  What are some of the best stories, from the audience perspective, covered in your book?
MG: Well, taking the Brown Acid of course and falling in love, twice!  Also, the realization that we were all in this together and we damn well better help each other and realizing that the whole world was watching.  Also getting excited over the rampant rumor that Dylan would show up and finding people who were also anti-war, pro civil rights, pro women's lib, anti-Reagan and anti-Nixon. Most importantly, the concept that as long as the music was playing, everything will be alright. That has stayed with me my whole life. The toughest part was when the music had to stop for four hours during the rainstorm and we were tired, wet, freezing, hungry, thirsty and had to go to the bathroom.
SC:  Anyone who has listened to the album or watched the movie knows that there were lots of warnings not to take the brown acid. But you did!  What was that like for you?
MG: I loved it. It made the Sunday monsoon exciting like a disaster movie. Had I not taken it, I would have been most likely bumming out as my friend left me alone for what amounted to hour after hour looking for a phone booth to call our moms and I started to panic. But tripping, I became "everyman" and talked a blue streak to my friendly neighbors. When the announcement came warning about the brown acid, I shouted, 'OH NO, I JUST TOOK IT" And it never wore off. I did it at the start of Joe Cocker's afternoon set and by the time we left at 2:00 a.m. the next morning, I was still tripping.
SC:  I never heard the conspiracy theory that Woodstock was really just a way to gather all the hippies in one place for some kind of possible attack.  What was the rationale and how widespread was this belief?
MG:  It was a fringe conspiracy theory that had no merit. I don't remember it being a real fear. I never even heard anyone speak of it there that weekend. More real was the fact that we knew when we got home, we could be sent against our will to fight in an immoral and illegal war halfway around the world in Southeast Asia. We were all living with that fear in the back of our minds. I was planning to go to Canada.
SC:  The rainstorm at Woodstock was legendary.  But you say there was some concerns that it might be the biggest mass electrocution in American history? 
MG:  Yeah, the topsoil frayed during the monsoon Sunday. That's why the music stopped for so long. There were live wires underneath us. NYU Professor Chris Langhart, another behind-the-scenes hero, checked it out during those four silent hours and concluded that it wouldn't have been fatal, but it would've been quite the shock! Power was reverted to another source and the music continued. But John Morris, at one point, did indeed think he might be responsible for the biggest mass electrocution in American history and even thought if it happened, he would have killed himself.
SC:  Jimi Hendrix's performance of "The Star-Spangled Banner" was an epic moment. But your book tells how his agreement to move to a Monday morning slot enabled four other acts to perform, acts who would've been told they couldn't if he went on at midnight Sunday as planned?
MG:  Yeah, Johnny Winter wound up with the prime-time Midnight slot. Had Jimi taken that offer, Blood Sweat & Tears, CSNY, Paul Butterfield and Sha Na Na would never have played. The concert would have ended with Jimi. That factor was a main part of Jimi's decision to close no matter what time it was. 
SC:  You say Woodstock changed the music business forever and even made Bill Graham decide to close the Fillmores. How did it change the concert game?
MG:  Bill Graham was sitting on the stage looking at the massive crowd. He instinctively knew right then and there that the years of small theaters like the Fillmore would give way to stadium shows and gargantuan tours. He was right. He closed Fillmore East within two years after that.
SC:  The story of Max Yasgur, the man who lent his dairy farm as the site of the festival, is both celebratory and sad.  How did he go to bat for the concert and how did he suffer as a result of it?
MG:  The townspeople did not want us at all. We had already been kicked out of Wallkill just weeks prior. He stood his ground and told the town fathers at a big meeting that we had a right to put on our concert because of the freedoms Americans fought and died for were at stake. He was a lifelong conservative Republican but he knew in his heart to let us play on his property. The cops couldn't believe how well-behaved we were. 500,000 stoned-out semi-naked hippies with not enough water, food or bathrooms? There was not one reported instance of violence. That's improbable. Impossible even. But we proved our peace'n'love credentials. Afterwards, Yasgur was ostracized. No one would buy his milk. He had to move to Florida where he died from a heart attack at 53. He is the Patron Saint of Woodstock. 
SC:  What did you think of the other Woodstock Festivals and the efforts to do a 50th anniversary event, one that didn't come to be?
MG: Attempts to emulate Woodstock in the '90s were miserable failures. Arson, rape, violence, all occurred. The 50th actually was held at the site of the original fest at the Museum and had some great acts on a much smaller scale. 
SC: Will there ever be another event like Woodstock?
b: You cannot ever replicate Woodstock. It was a cosmic accident. Imagine getting that many people together nowadays? It's a different world now. It will never happen again. It was a moment-in-time wherein all the elements conspired to make it a disaster, but we fed each other, kept each other high, warm and happy. Back then, the longhair sitting next to you was your brother. No longer. The girls bared their breasts and nobody got molested. Hard to believe. Guys I would be scared to meet on a dark street corner wound up building fires and feeding me. The sense of communalism that permeated the weekend is long gone.