Chicago prog/jam stalwarts Umphrey's McGee will make a few stops in the Empire State this June on their 2021 Summer and Fall Tour. Apple Valley Park in Lafayette will host the group on Friday, June 25th and Saturday, June 26th, while Levon Helm Studios in Woodstock will have a special one night show on Sunday, June 27th.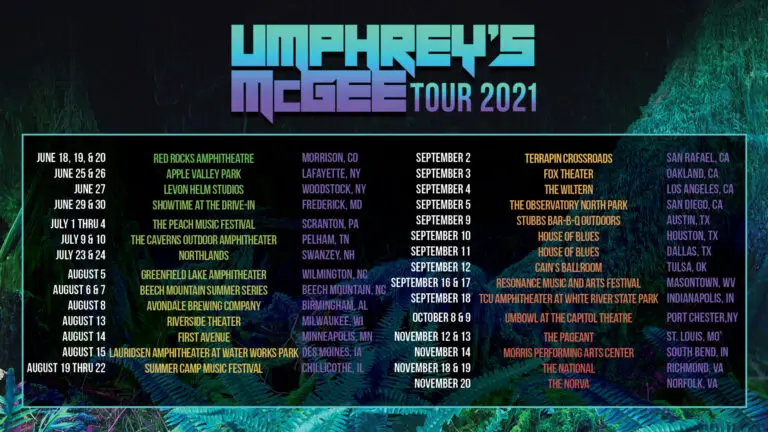 Later this year, they'll make a two-night stop at The Capitol Theatre in Port Chester, bringing with them their unique fan-engagement experience, UMBowl.
Like previous events at Apple Valley Park, events will be socially distanced, with fans being able to purchase tickets in roped-off PODS for parties of 2, 4 or 6. In an effort to create a safe experience for guests, a carefully throughout site plan has been developed allowing for temperature screenings and surveys to be conducted upon entering the event grounds. To adhere to social distancing guidelines, all PODS are spaced a minimum of six feet apart. A variety of food and beverage options will be available for purchase. Site map and FAQ for the venue can be found here.
Tickets for Apple Valley go on sale to the general public this Friday, May 21st at 12pm at applevalleypark.com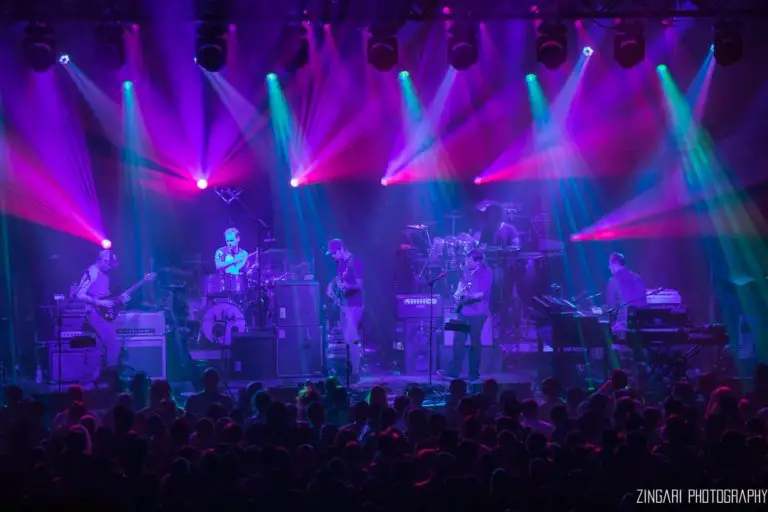 At Levon Helm Studios, proof of completion of a full COVID-19 vaccination (+2 weeks) is required for entry, and masks are required. The gates will open at 6:30pm on Sunday, June 27, with doors at 7:30pm and show at 8:00pm. Reserved Seating tickets are $100 and standing room are $75 each.
Tickets to the Levon Helm Studios performance are available here, and are non-refundable and non-transferrable.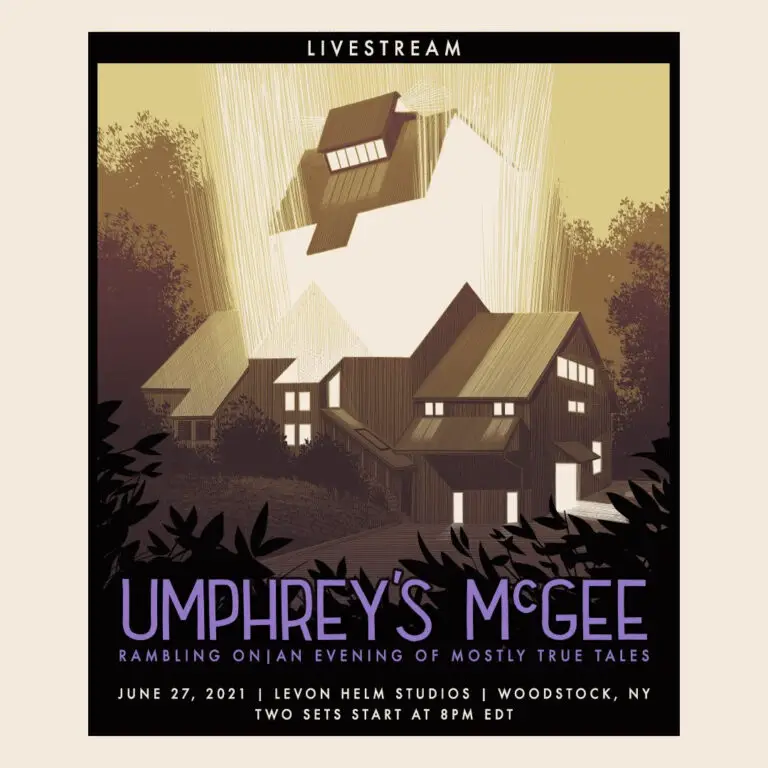 June 27th will mark UM's first appearance at Levon Helm Studios in Woodstock, New York. The iconic studio and performance space has played a starring role in many legendary nights of music. Home to the famous Midnight Rambles, the Barn has a "if these walls could talk" quality that has inspired musicians for nearly 50 years, all of us included. 
To honor the legacy of community and camaraderie that Levon fostered, Umphrey's McGee will present Rambling On, an evening of mostly true tales live from Helm Studios. Interspersed throughout the show, the band will share recollections from the road, stories of the studio, tales of tunes, and other alliterative shenanigans.  
If fans have a question or (likely untrue) rumored story that you're curious about, try them out here. 
Umphrey's McGee Summer-Fall Tour
June 18-20 – Red Rocks Amphitheatre – Morrison, CO
June 25-26 – Apple Valley Park – Lafayette, NY
June 27 – Levon Helm Studios – Woodstock, NY
June 29-30 – Showtime At The Drive-In – Frederick, MD
July 1-4 – The Peach Music Festival – Scranton, PA
July 9-10 – The Caverns Outdoor Amphitheater – Pelham, TN
July 23-24 – Northlands – Swanzey, NH
Aug. 5 – Greenfield Lake Amphitheatre – Wilmington, NC
Aug. 6-7 – Beech Mountain Summer Series – Beech Mountain, NC
Aug. 8 – Avondale Brewing Company – Birmingham, AL
Aug. 13 – Riverside Theater – Milwaukee, WI
Aug. 14 – First Avenue – Minneapolis, MN
Aug. 15 – Lauridsen Amphitheater At Water Works Park – Des Moine, IA
Aug. 19-22 – Summer Camp Music Festival – Chillicothe, IL
Sept. 2 – Terrapin Crossroads – San Rafael, CA
Sept. 3 – Fox Theater – Oakland, CA
Sept. 4 – The Wiltern – Los Angeles, CA
Sept. 5 – The Observatory North Park – San Diego, CA
Sept. 9 – Stubbs Bar-B-Q Outdoors – Austin, TX
Sept. 10 – House of Blues – Houston, TX
Sept. 11 – House of Blues – Dallas, TX
Sept. 12 – Cain's Ballroom – Tulsa, OK
Sept. 16-17 – Resonance Music And Arts Festival – Masontown, WV
Sept. 18 – TCU Amphitheater At White River State Park – Indianapolis, IN
Oct. 8-9 – UMBowl At The Capitol Theatre – Port Chester, NY
Nov. 12-13 – The Pageant – St. Louis, MO
Nov. 14 – Morris Performing Arts Center – South Bend, IN
Nov. 18-19 – The National – Richmond, VA
Nov. 20 – The Norva – Norfolk, VA