Jim Furlong is the owner of Last Vestige at 173 Quail Street in Albany. A native of Albany, Jim opened up a mail-order business that also has a storefront, just over 30 years ago. He has moved locations once (across the street) and has had to expand his store further into his backyard.
He stands just over six feet tall wearing a graphic T-shirt, stylishly old jeans, and sneakers to match his thick grey hair that is a bit shaggy at most. He leans back with comfort in his store and folds his arms over his chest as he thinks back to different times when his hair wasn't so grey, and he was living a bit more of a wilder and freer life; whether it was working odd jobs, going to school, drawing, or moving to NYC with his band.  Jim shares his story with NYS Music.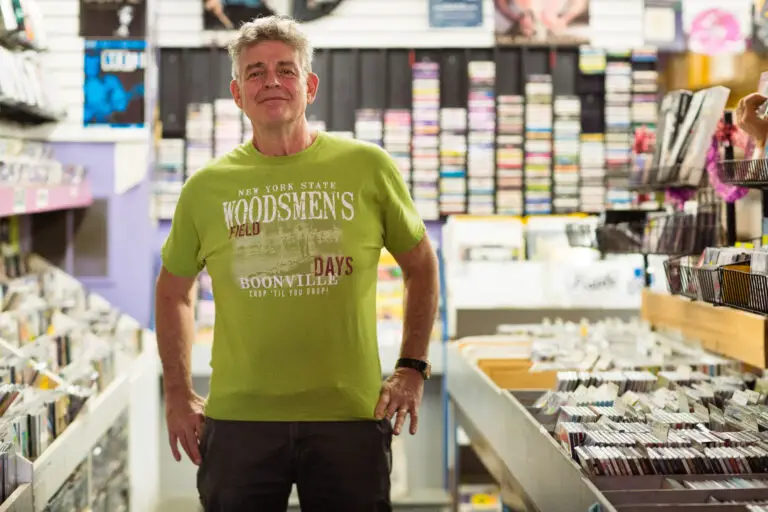 The man behind Last Vestige
I grew up in the South End off of 2nd Avenue. It was a good mixed neighborhood, German and Irish, African American, Italian 1950s through 60s early 70s. When I got old enough and I moved out when I was out of high school. I worked factory paper mill, construction, loading trucks. And then I went to SUNY for fine art for a couple of years. Went to New York City with a program through SUNY to study art for a semester in the city. Then I came back and was bouncing around. 

Worked at a pizza place called Albany Campus Pizza, which was over in Westgate. Every dorm room had a party. I mean I delivered pizzas there with the Albany campus. I mean, I'd get tipped with bongs and joints. And you got to the room and everybody back then all these Long Island kids that they had these massive stereo systems that they moved up with speakers and you just get to the room, and you'd be hearing Aerosmith blaring from the room. You bang on the door and the door would open up and there's smoke there's, there's beer baby. Yes Sir, no problem. OK, I gotta go back to this pizza place now get another eight more pies that come back up for the next batch. 

Then I went to junior College of Albany, which is Russell Sage. Considered now over on New Scotland Avenue and Academy that was Russell, now I think it's four years but I went there, and I got a two-year degree in commercial art. And then I was working at record stores doing my own artwork. 

In 1980. We formed a punk rock band here in Albany when I was in my mid-20s and I was in a group called the A. D'S."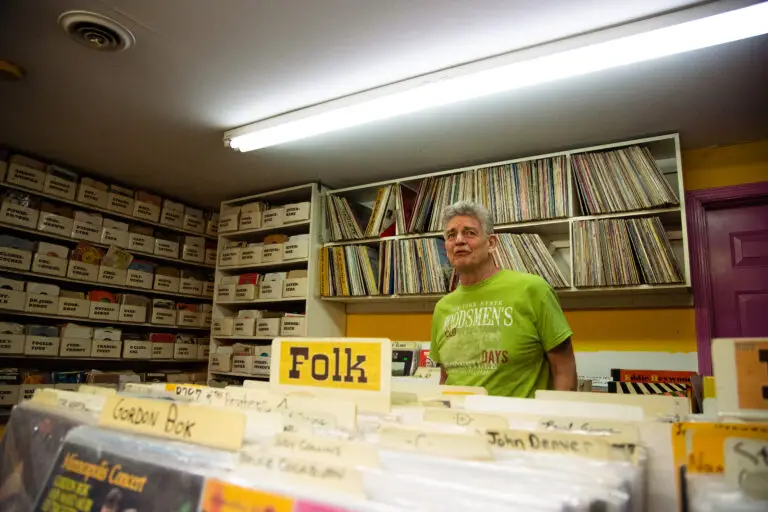 A Unique History
Anyways we played in Albany for, well throughout most of the 80s moved to New York City with the band. We tried our luck down there for a while, didn't work out, of course, but it was a good time.  

This fella in Manhattan, who had tons of vinyl from his loft apartment over to this shop on West 23rd that we opened up, so I worked for him for a couple of years. 

In 1984, I moved back from the city, and I decided to start a Mail Order business based on what I had learned working in New York. And then around 1987 or 1988, like three years into it, I was doing well enough that I just couldn't do a day job anymore. I was just selling records all through the Mail, all over the world, US, overseas. I built up a good clientele and while a lot of guys were getting rid of their records and because of the CD thing over here plus a lot of the record stores were going out of business or and a lot of guys were buying records. People would walk in with amazing collections and the guys were putting them out at these various stores I travel around the state. You could get albums that were two and three bucks, and I could sell for twelve or fifteen online. So that was a fun gig. 

In 1986, when (Governor Mario) Cuomo senior made the drinking age 19 and then a year later, they went to 21 that essentially killed college drinking bars in Albany area and New York State for that matter. In 1987 a friend of mine purchased the building that's no longer across the street, Frank's Living Room. It was a famous SUNY college bar. It was a notoriously crazy bar. I went in a couple of times because I was a townie, but I mostly went to other places, but I went in there. Place was so small, and people were sitting, and people are shooting darts. I mean, it was insanity. 

Frank closed up and I was rehabbing that for her doing some carpentry work on the side with the Mail Order and then she said you want to open a store. I said well I don't know, you know, I'm doing good with the Mail Order, I don't want to drop a whole bunch of money on rent because all I got is records. She said, well, you can rent my store out. I'll do it like a really cheap rental for one year and we'll see how it goes and all I had to do is remodel it so it was pretty much a wide-open space because they took the bar out before I even got there.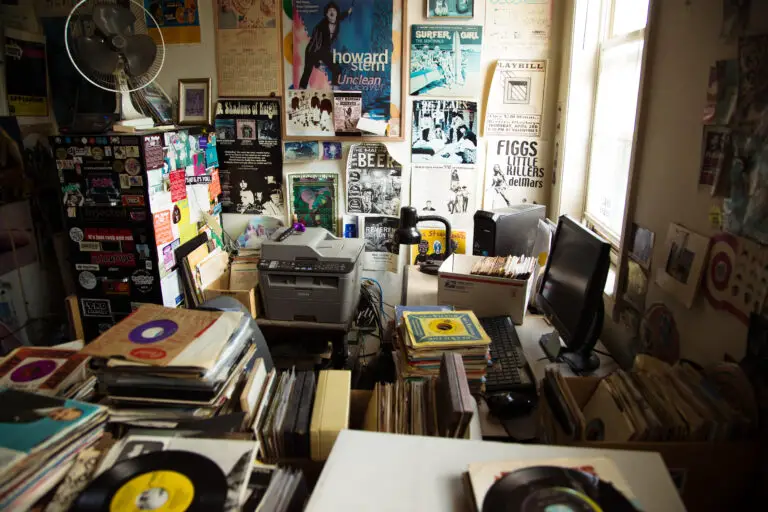 I opened on Halloween of 1989. And then the store started building up and getting more popular, and I ran out of space.

This was a laundry mat for college kids, but the guy who owned it was a freak and he was a drug addict, and he was kind of a weirdo. But in 1992 it came up on the Albany County auction block because taxes the guy hadn't paid $60,000 he owed on the building, so they took it from him. I went to the auction. First time I went they wanted to open the bid at $60,000, so nobody bid on it. Then I went back three months later they put it back on the next auction for only $40,000 to start and I was told by somebody that there was a family that were thinking about grabbing it for a restaurant.

The guy said "OK coming up to 173 Quail Street, opening bids is $40,000 and I looked over at them and they just sat there. So, I raised my hand and said "I'll take 40" and they never countered it, so I was the only guy who bid on it.

By New Years' of 1993, I opened. In this part here (the main room upon entry), this floor and the one above is added on about six years later, because I needed more space. 

My overseas business was spectacular, but the price of postage now is kind of tough. One Greek guy coming twice a year and he would, he would like me. "Hey, Jim! I love your records!" He's pulling out, you know all the heavy metal Black Sabbath albums. "Looking good! Good!" He'd tell me. But those days are gone now because it's harder to get that stuff.
Selling Your Records
Their really good stuff goes quick and like I said, I used to have 20 Pink Floyd Dark Side of the Moon in my backup, you know if I sold one boom. Now there's none and if one comes in, it's like '"Thank you God!" You know same with Led Zeppelin, Beatles, Stones, all the classic rock guys like that all your punk rock or your stuff from the 80s. Any of those albums that come in, I'm lucky if I have one or two in a backup at any given time.

I love when someone walks in with a great record collection to sell and I love getting a phone call from people who say, "You know, I've got this big collection, a couple 1,000 albums. Can you come to my house to look at it?" Sometimes you go there and it's amazing stuff, and sometimes it's almost all garbage.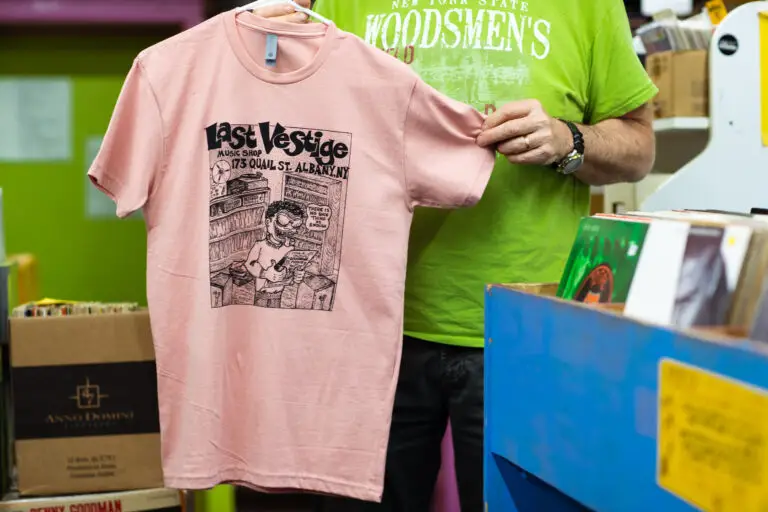 Being The Boss
It's been a rollercoaster ride. You know sometimes there's a year or years where the business was lean, you gotta just juggle and balance and do what you can and can't get by. Then there are other years where it's killer and you're just thank God you can keep the door unlocked because you know there are certain things that no matter what you do, or how bad, or goo, dit is the prices go up. Nothing cheapens. 

You know, I've been pretty fortunate. I pay all my bills and everything. I don't owe anybody any money which is a good thing, but you've gotta know what not to buy and what to buy because people, as far as everybody is concerned, they got the best stuff in the world.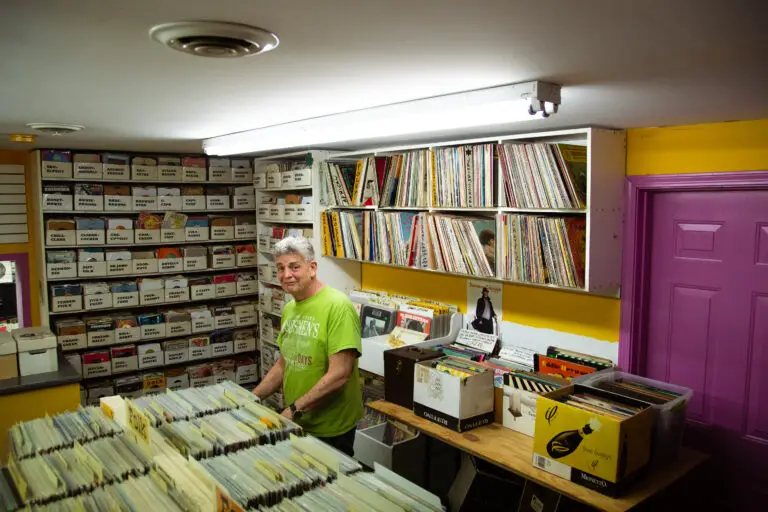 I'm either the worst boss or the greatest boss in the world. The two guys at the counter have been with me for at least 25 years. The other guy has been with me close to 20. Kim works up in the mail order department, she's been with me since I was across the street the year after I opened.

I didn't know in 1989 that I'd still be here in 2021. I wasn't sure. But here I am, and I own it so.

Yeah, it's still fun.