Wondering where and how you can get your 2021 Pride on throughout New York this summer? With COVID-19 ever looming in the background, NYS Music has you covered. Between in person events and virtual celebrations, celebrating Pride with live music in 2021 will be a highlight of the summer across the State of New York.


New York City and Long Island
New York City Pride will be kicking off with 50 events across the 30 days of June, known as Pride month throughout the LGBTQ+ community. Between the NYC Pride march, Pridefest, and Pride Island. The NYC Pride March broadcast special will return for its fifth consecutive year.
Featuring live performances, on-air interviews, and exciting street-side marching activity, the broadcast will air on ABC-7 from 12PM to 3PM EST on Sunday, June 27 as well on ABC7NY.com and ABC7 New York's Connected TV Apps on streaming platforms Amazon Fire TV, Android TV, Apple TV and Roku. All in-person elements will be produced in accordance with the most current guidelines for public events in the city.  DJ Lina Bradford will be performing at the online virtual Pride Island party. Details on the event can be found on their website. Musical performances across NYC Pride are waiting to be announced.
Long Island Pride is taking place on June 13, 2021 at Eisenhower Park's landmark Harry Chapin Lakeside Theatre from 12PM-4PM. The festivities will take place in person and will follow New York State Department of Health and CDC guidance, all attendees will be required to present proof of full COVID-19 vaccination, or 72-hour negative PCR test. This year's Long Island Pride is a pre-ticketed event only and there will be no same day entry.  The event may sell out quickly with sponsorships, VIP tickets and a limited number of general admission tickets now on sale due to COVID-19.  Almost Queen, The Lesbian and Gay Big Apple Corps, and DJ Disco 2 House will all be performing.  Details on the event can be found on their website.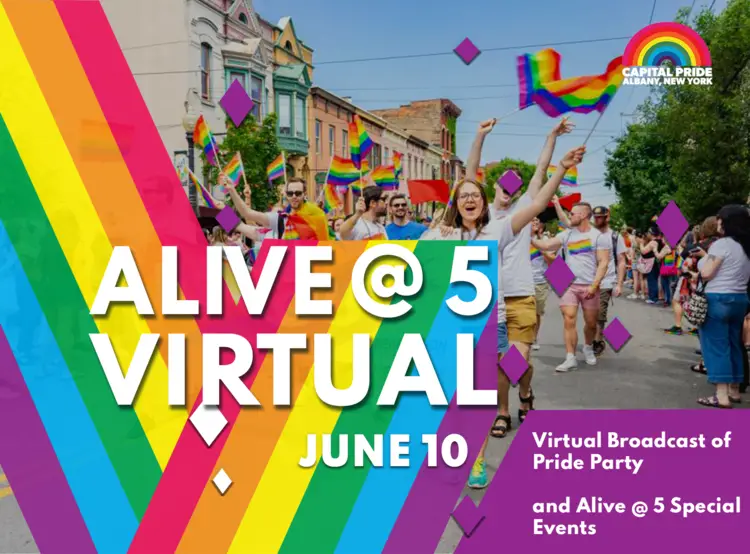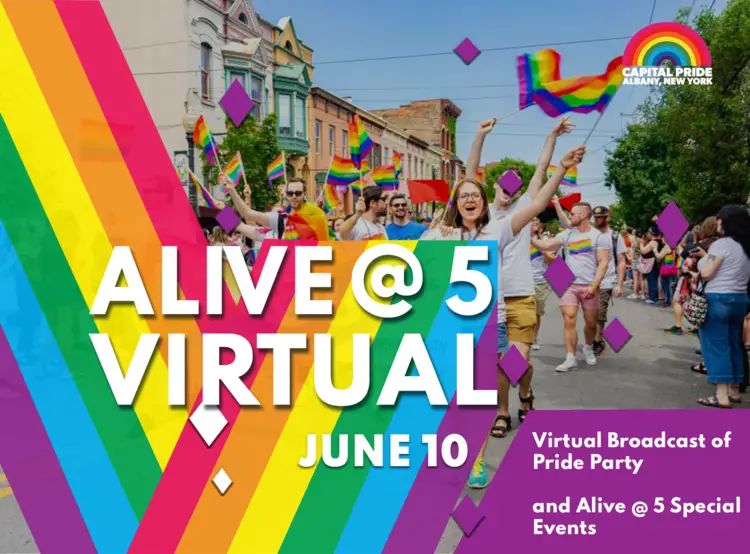 Capital District
In Albany the Pride activities will span out across the month with plenty of events. People can catch local artists performing on the Virtual Alive at 5 event. It can be found on Albany Events on YouTube and the Pride Center of the Capital region YouTube. Join the online party for the Virtual Pride Alive at 5 on Thursday, June 10, 2021 at 11AM  to 12PM. Details on the event can be found on their website.
Schenectady Pride will be hosting a 'Day of Visibility' event at the Gateway Plaza. The event will host DJ RVMBA at 3PM, Community Stage (special guests including SLOC Musical group, Planned Parenthood at 4PM, and Drag Spectacular starring the Legends of Drag at 5pm on Saturday, June 5, 2021. Details on the event can be found on their website.
Buffalo
Buffalo won't be having an official live pride event this year due to COVID-19 but is promoting different events throughout Buffalo in celebration of Pride. The R&B and Hip-Hop Pride Event is taking place on June 5 from 9PM to 1AM at 522 Elmwood Ave Buffalo. The event is $7 and focuses on Recording Artists of the LGBTIAQ+ Community that dwell in the genres of R&B and Hip-Hop music. Hosted by an Actress/R&B and Hip-Hop Artist named Aqueira Oshun. Loncé thee Starr, Disprettymofo, Incense, Paris Glenn, Charlie Bae, C4W2, and Jay Aquarious will all be performing. The music for the show will be spun by a DJ named Trav1sTw1n. The maximum capacity is 40 people and please be asked to wear a mask at the event. Details on the event can be found on their website.
Rochester
Rochester Pride isn't taking place until September 25, 2021 at Mayo Park from 12-5 PM and hasn't released information yet.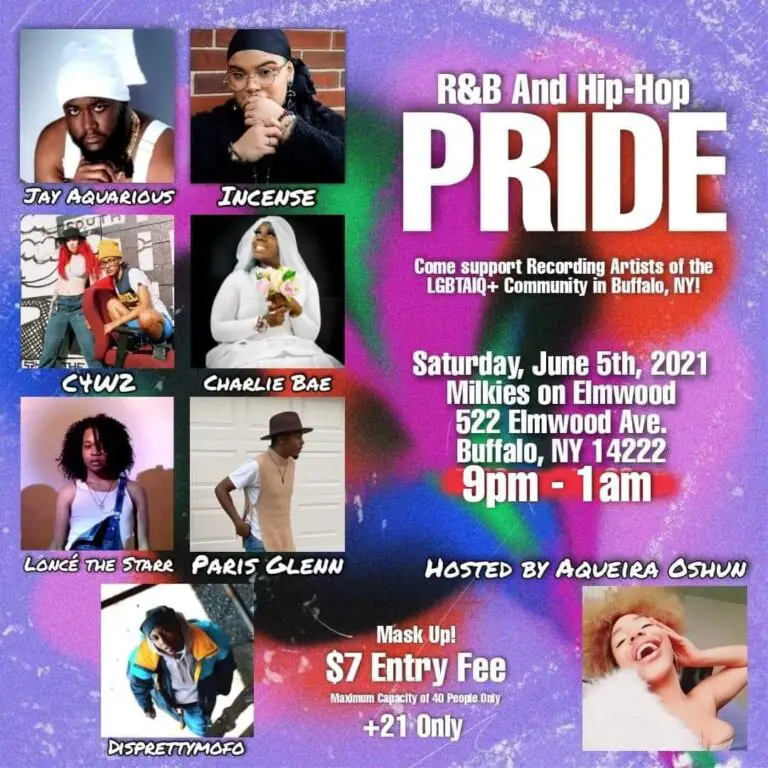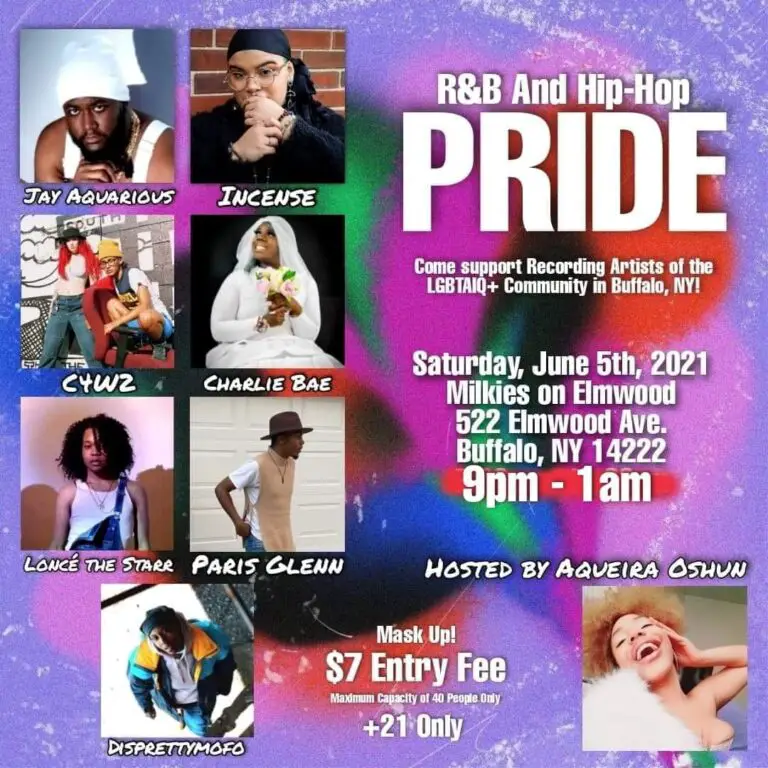 CNY
Central New York Pride will be taking place on June 26, 2021 for CNY Pride's "Virtual Edition" Pride Festival, presented by Equitable. The festival will be featuring performances by Deviant Dance Tribe, Jason Ngo, Felipe Panama, Kitschy Scoflow, Koy Adams, Frita Lay, Sparkle Royale, Rea Listic, Tayler Mayde, and Natalie Taylor, and hosted live by the fabulous Samantha Vega, this digital festival will be streaming online June 26 and will be free and open to the public. Details on the event can be found on  their Facebook page.
Keep checking back for more updates on when and where to get your Pride and dance moves on in 2021 throughout New York State.