From the post-industrial hellscape of Syracuse, New York comes Trauma Cat, who have delivered to the world their first full length LP entitled Prepare to Apologize which was released in April 2021. This irreverent and ecclectic gem that was co-produced by the band and the elusive St. Julian P. Dingusand, sports 15 tracks (3 tracks including "Joshua," "Fire in the Jail," and "Freaks with Wings" are re-issued singles) that span rock genres that include pop, alternative, electronica, and prog rock.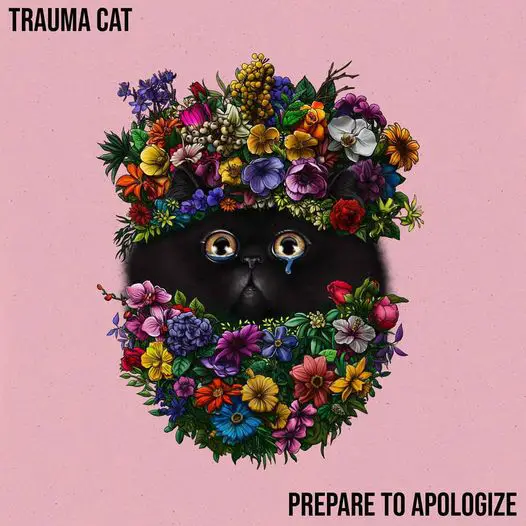 The band has cheekily branded their special brand of musicial gumbo on their website, "Though critics speculate on the band's true origin and the meaning of their existence, Trauma Cat are widely credited as the founders of "cuck rock," an indeterminate school of music indebted to incessant apology and shameless cross-genre appropriation. Others have described Trauma Cat's sound as "uncomfortable art rock," and their politics as "alt-wrong."
The Trauma Cat roster is comprised of the musically talented and fashion forward Ralph Kojig (guitar and vocals), Roman Pando (bass and vocals), and Rutger DiBoyere (drums). Together they comprise a wonderfully creative power trio that has been successful in creating a personau that is reminicent of a combination of punk pioneers Devo and Saturday morning cartoon favorites Josie and the Pussycats. The glorious result of this concoction is the band's demonstrable irreverance and hilarious comedic take on the music biz, and yet despite this silliness, they have created an enjoyable record and that is fun, fresh and creative.
Trauma Cat has released the following "documentary" to introduce listener's to their own distinct brand of "Cuck Rock" and to "apologize for their new LP."
The record starts off with title track "Prepare to Apologize," which is initially a short verbal rant between members Kojig and Pando, that leads into a short but sonically pleasing acapella number. The track seamlessly transitions into the second song on the LP "Indivisible," reminiscent in musical style to a mash up of Rage Against the Machine and Tool. Heavy on bass and sporting great vocals that are both provided by Kojig, "Indivisible" illustrates why Trauma Cat won the 2021 Syracuse Area Music Award for Best New Artist.
Prepare to Apologize's third track is "Trauma Cat." This is a fun and upbeat tune that has all the makings of the band's offical theme song if they ever decide to create their own must see reality TV series (look out Kardashians). Kojig provides just the right amount of heavy guitar and along with DiBoyere percussion this track will get the listener's blood pumping.
Another highlight on the record is fourth track "Joshua", which was originally released as a single by the band back in November of 2020. Trauma Cat deftly released a remarkably professional music video for "Joshua" that was animated and directed by El Salvadorian sensation Lincktendo back in January 2021. Lyrically the song describes a daliance into bisexuality that ends up in a bad breakup which then ultimately ruins a friendship. "Joshua" is a strong tune with loads of pop sensibility which makes it ideal for radio play. It features songwriter Kojig's hypnotic chorus, "It came over me like a wave", which is a catchy and memorable hook that will stay with listeners.
"Fire In The Jail" is the eleventh song on Prepare To Apologize. This anti-social anthem promtoes dissent against the world's demanding vapid conformity. Breaking out of the prision of these imposed expectations. Kojig sings, "I just can't believe that these people…content to live like sheep following the crowd." Living on your own terms without worrying about other people's perceptions an expectations is the core message of this rebellious song, which utilizes a good amount of vibrato on guitar and reverb on Pando's vocal to evoke a distopian landscape.
Although this trio of self-depricating muscians does not take itself too seriously, the musical craftsmanship and production value of Trauma Cat's debute LP shows passion and commitment that these Jester's of "Cuck Rock" have for their craft. Prepare To Apologize is a great album that hopefully will be the first of many that these denzians of musicial mayhem produce for an ever increasingly bleak world that is crying out for more mirth and humor.
Key Tracks: Joshua, Trauma Cat, Lob A Grenade, Fire In The Jail