Live music returns to Saratoga Springs this June, and the concert announcements just keep getting bigger. Trey Anastasio will perform solo at Saratoga Performing Arts Center (SPAC) for three nights, June 18-20, with tickets pre-sale starting May 5 at noon. Read our review of the weekend of shows here.
Anastasio was originally supposed to play at Tanglewood on June 18 with the Boston Pops, but cancelled the show in March.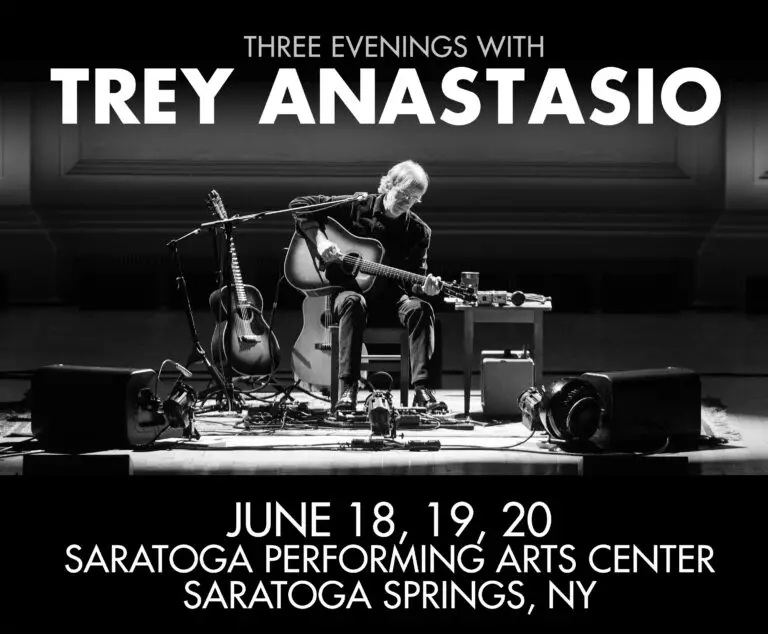 Aside from the Beacon Jams this past fall, these shows mark the first live performances for Anastasio since January 2020 at The Capitol Theatre in Port Chester. Trey last performed solo shows in the Fall of 2019, closing out the run at Carnegie Hall.
The timing of the shows follows the recent passing of longtime Trey Anastasio Band bassist Tony Markellis, a Saratoga Springs resident for more than 40 years, who passed away last week.
Saratoga Performing Arts Center (SPAC) has announced the following guidelines for the three Trey Anastasio shows:
Social Distancing
For our upcoming Trey Anastasio events June 18-20, capacity will adhere to state guidance. Currently, all seating will be sold in "pods" and each group of seats must be purchased together.
COVID-19 Testing Or Vaccination Requirements
Guests have three options to demonstrate they are eligible to attend an event. Please note the required timeframes associated with each option so you can plan ahead accordingly:
1. Proof of a negative antigen COVID-19 test taken within six hours of the event start time OR
2. Proof of a negative PCR COVID-19 test taken within 72 hours of the day of the event OR
3. Proof of vaccination. To ensure you fully vaccinated, the day of the event must be at least 14 days after your second dose of the Pfizer-BioNtech or Moderna COVID-19 vaccine or at least 14 days after your single dose of the Johnson & Johnson's Janssen COVID-19 vaccine.
On your way to SPAC, don't forget that Stewart's Shops is your ice cream shop! With over 345 shops in 31 counties across New York and southern Vermont, the convenience store chain is known for their fresh &local dairy products. With dozens of choices at the cone counter, you're bound to find something you love! Try a shake, sundae, or cone today,  What's Your Flavor?