Grey Fox Bluegrass Festival and the Ziontific Music Festival are postponing their events until 2022.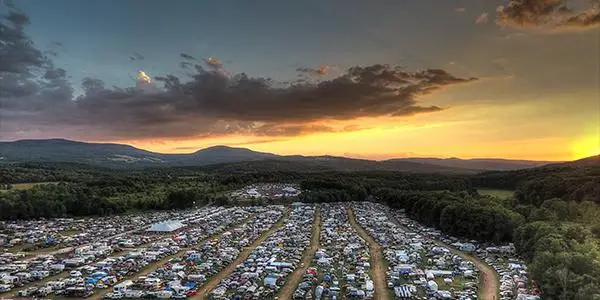 Both Grey Fox and Ziontific seek to prioritize the safety and well-being of everyone attending. Moving the festivals to next summer allows more time to counteract the negative consequences of the pandemic.
Grey Fox Bluegrass Festival will take place July 14-17, 2022. The Grey Fox Staff is hoping to get beyond COVID-19 with extended vaccinations, social distancing, and standard health regulations. Updates for Grey Fox 2022 will be on their website as well as other social media pages.
Last year, the team and artists joined together to create a virtual Spirit of Grey Fox 2020. Fans and musicians were able to come together to raise $25,000 for the IBMA Trust Fun for COVID-19 Relief. With this generosity and spirit of the community, the momentum pushes forward as live shows become a reality again.
Similarly, the Ziontific 10th-year celebration is postponed to June 2022. All 2020 tickets and glamping packages automatically roll over to 2022. However, anyone looking for a refund can do so by contacting Ziontific by May 19, 2021.
While fans eagerly wait for the festivities, a ZTFamily Facebook Group is open to help bring everyone together. Feel free to share Ziontific throwback photos, videos, or even write about memories there.