With inspiration from the Grateful Dead, Hiouchi Jewels, in partnership with Warner Music Artist Services, has debuted the officially licensed, hand-made Rose and Bolt jewelry collection, giving life to Sarah Lewis' dedication to her craft.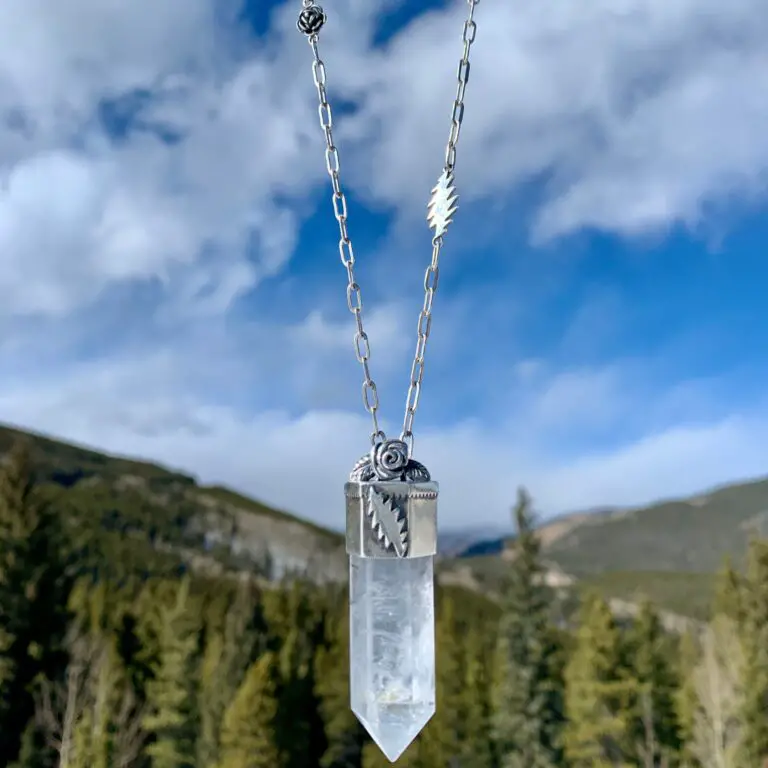 A native New Yorker from Schenectady, Lewis attended Furthur Festival at SPAC in 1997, which led her to catch Ratdog, Phil Lesh and Friends, and later on, Dead and Company, among the rest of the side projects. When Gathering of the Vibes was held in Mariaville, NY, you could find Sarah among the 1000's of attendees.
The Grateful Dead is so much more than music, it's home. It's always been a part of my life. My friends and the music have gotten me through some really tough time.

Sarah Lewis, Hiouchi Jewels
In the summer of 2015, Lewis moved from Philly to California, making a stop in Chicago for the three night of Fare Thee Well at Soldier Field. Now based in Evergreen, Colorado, Lewis is the heart & soul of Hiouchi Jewels. She's been making jewelry all her life, and earned her BFA in Metals & Jewelry at the Savannah College of Art & Design.
Sarah's career began designing for boho-chic brand Free People, before she launched her own brand, in 2009.  Today, the collection is designed and curated by Sarah in her Colorado studio, and handcrafted by her, and by fair trade artisan partners.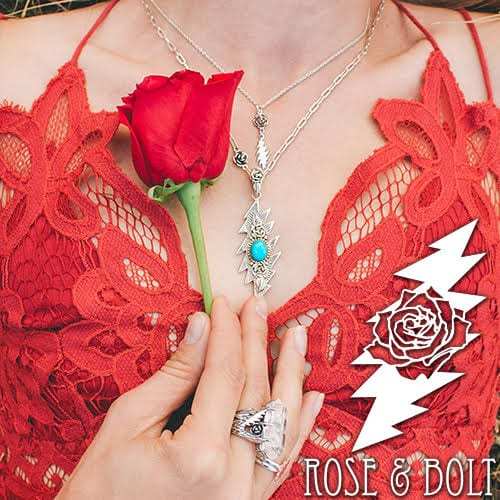 The Rose & Bolt collection features handmade rings, necklaces, bracelets and earrings, all featuring roses and the classic 13-point lightning bolt. Elegant, delicate styles come in sterling silver, rose gold, and 16k yellow gold. Bolder, statement styles feature turquoise stones and quartz crystals.
Although Rose & Bolt carries similarities to Sarah's classic Hiouchi Jewels Collection, many aspects are new. This marks her first time using rose gold, appropriate for the rose motifs in the collection. Sarah has typically made jewelry for women, and is excited to debut her first unisex/gender neutral collection.
The Grateful Dead's music has been an important part of my life and an inspiration for all of my creative work, so this collaboration is a dream project for me. I've carried my modern bohemian aesthetic from Hiouchi Jewels into this collection, adding the iconic Grateful Dead Roses & Bolts to each piece. The Grateful Dead is so much more than music- it's a lifestyle, a community, a vibrant, unique culture. It's truly an honor to have my jewelry join the rich lineage of licensed Grateful Dead artwork and merchandise.

Sarah Lewis, designer
Hiouchi (pronounced Hi-You-Chi) is the name of a wilderness area in Northern California, where Sarah lived and created for 3 years.  She re-named her business to Hiouchi in 2018, to honor the time that she spent in this special place in nature, and to carry the magic of the Redwoods with her.
Both an artisan maker, and fashion jewelry lifestyle brand, Lewis sells her wares at HiouchiJewels.com, and through over 400 boutiques & companies internationally.
It took years of persistent outreach to bring a Grateful Dead jewelry line together. Lewis' drive and perseverence, and especially her passion, drove her to bring this to fruition. "You gotta send a bunch of emails sometimes and magic can happen." This puts Sarah in good company – she is one of only two officially licensed Grateful Dead jewelry makers.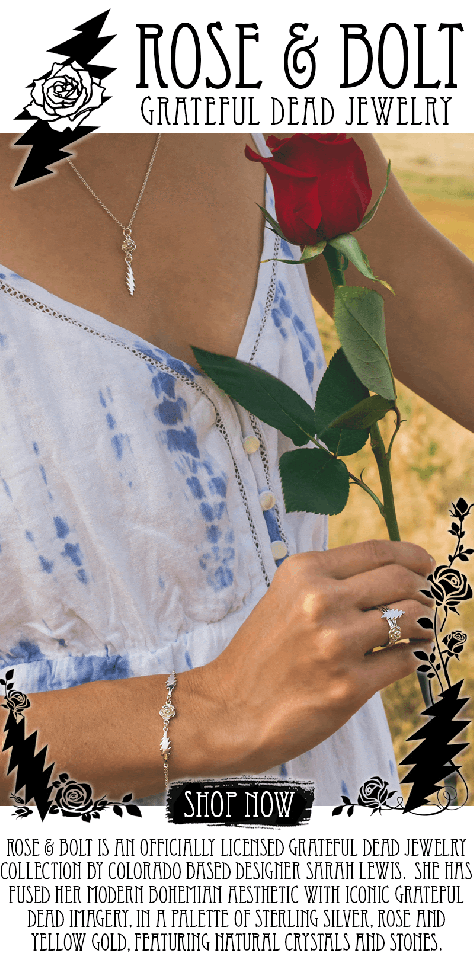 For Rose and Bolt, Lewis uses rose gold. The reason for this she explained was that rose gold is trendy and new, and the same process in working with yellow gold. Rose gold is an alloy that has a little more copper. Thus, Rose and Bolt is made with rose and gold.
Rose & Bolt Jewelry is sure to attract fans of all ages. Each piece comes in beautiful, collectors boxes and microsuede drawstring pouches. Classic styles can go from day to night, office to dance floor, from formal events to Zoom parties. Rose & Bolt jewelry will prove to be coveted pieces in any Deadhead's collection.
Watch a video of Sarah showing a few pieces from the collection, the packaging and free gifts that come with each order, as well as a tour of her studio in Evergreen, Colorado. She is currently running a promotion of 20% off at Hiouchi Jewels with code 'spring.'
Check out more photos on Instagram @HiouchiJewels and @RoseAndBolt.