New York City synthpop trio January Jane excitedly stake their musical claims with their with their debut EP Your Drug. The band consists of lead vocalist Pat Via, guitarist Mitch C. Mitchell, and keyboard player Peter Scialla. The EP is planned to be released on June 18 via Whiskey Vinyl/BGM.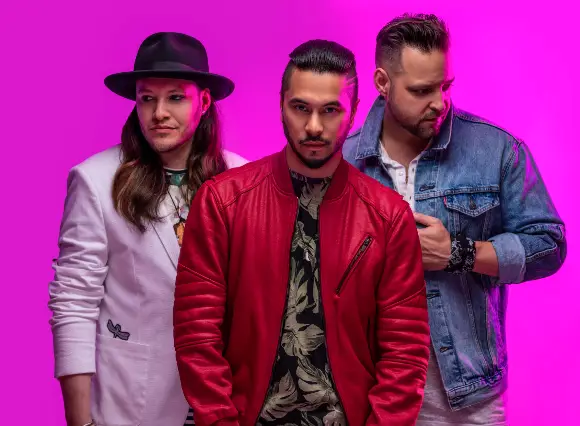 Your Drug borrows from a diverse array of influences ranging from modern day pop to 80's pop rock in the style of songs like "Your Love" by The Outfield. The EP can be broadly categorized as pop but the band takes inspiration from several different decades and styles of pop. The soaring upbeat choruses that many of the songs offer can be directly tied to the styles of millennial pop of acts like Walk The Moon and Imagine Dragons. The band differs from many of its contemporaries by adding a 80's rock edge to its songs. Via's voice has a much more distinct gruffness to it which pairs nicely with the moody synth and guitar tones of the verses.
Songs like "Addicted to The Night" offers a deceptively simple but extremely sticky hooks that that refuses to leave your head hours after you've listened to it. Paired with a verses that build the tension of the song with its dueling electric guitar creating a song that would go off well at any party. The edge added by Via's voice sets many of the songs of the songs off from their contemporaries. The versatility in Via's vocal inflections allows him to pull of the clear shimmery pop hooks as well as the more 80's-eque moody verses.
The infectious grooves on these tracks display their influences and love for '80s rock and pop while sounding undeniably modern and perfect for the '20s.

Matt Pinfield, DJ
The consistent infectious energy is certainly the strong suit of Your Drug. The band doesn't miss a beat with any song, offering an EP that has a signature sound throughout but still switch up the style between each track. The 80's throwback sound dose not come off as a gimmick, rather a new completely new direction for modern electro pop.
The EP is also an extremely easy listen, toping out at just under 17 minutes. The exciting mixture of sounds act as perfect soundtrack for the dancefloor and exciting midnight drive. Overall, Your Drug is extremely likeable and is suitable for just about any kind of pop fan – no matter the age.
Key Tracks: Addicted to The Night, Versions of You, NYC