Heavy rock supergroup The Limit, consisting of former The Stooges and Pentagram members, release new single "Death Of My Soul" accompanied by a video in preparation for their upcoming album Caveman Logic – releasing April 9, 2021.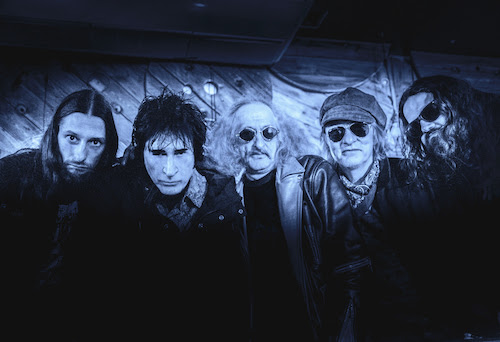 The Limit is an astoundingly fresh and hot-blooded shot to the veins that heavy rock needs in this day and age. "Death Of My Soul" sees the band go straight to the heart of rock to deliver a electric performance accompanied by some eerie visuals. The gothic mood of the track conjured forth by the intersection of all the various sounds from the band members background helps deliver a song that does the legacy of these rock mainstays justice.
This song and video is not something warm and fuzzy you can wrap your arms around and feel good about. It represents a deep feeling of alienation, loneliness, a sense of an unchangeable and Doomed timeline of life and world events.

Sonny Vincent, Musician
The Limit consists of several high profile members such as Ex-Stooges member Jimmy Recca on bass, Sonny Vincent an early NYC punk scene legend and member of Testors on guitar and vocals, Bobby Liebling from Doom Rock originators Pentagram on vocals, and Hugo Comin and Joao Pedro on guitar and drum from Portuguese band Dawnrider. The diverse range of musical influences come together and create a sound that respects the band's Punk and Doom Rock origins while creating a whole new sound entirely.
The upcoming album Caveman Logic is set to be released on April 9, 2021, the album can be pre-ordered here.