NYS Music today announces The Rochester Groovecast Podcast as a returning partner and will be publishing all the major episodes starting February 2021. Since releasing their first episode in 20016, Rochester Groovecast has published over 100 episodes and counting. 
To get started, check out this playlist of their most popular episodes:
At Rochester Groovecast, the mantra "We're Fans First!" harnasses the belief that the best businesses are built by fans. Rochester Groovecast is deeply dedicated to playing an active role in the culture of its local scene.
The brainchild of Rochester native Ben Albert, Ben created Rochester Groovecast in 2016 to serve as a portfolio of the city, and nowadays, the entire region.
Rochester Groovecast believes in the artistic brilliance abundant in Rochester, NY, and the surrounding regions. Ben seeks to play a pivotal role in our community by helping give Rochester a well-earned voice. Having seen first hand the abundance of talent, character, creativity, innovation, and beauty the Flower City has continuously offered. Albert is confident that the Rochester scene could be the next great music scene in America, akin to Austin, Chicago, New Orleans, or Nashville.
The Rochester Groovecast Podcast help bring this vision to life with interviews, reviews, previews, and audio journeys to good to ignore.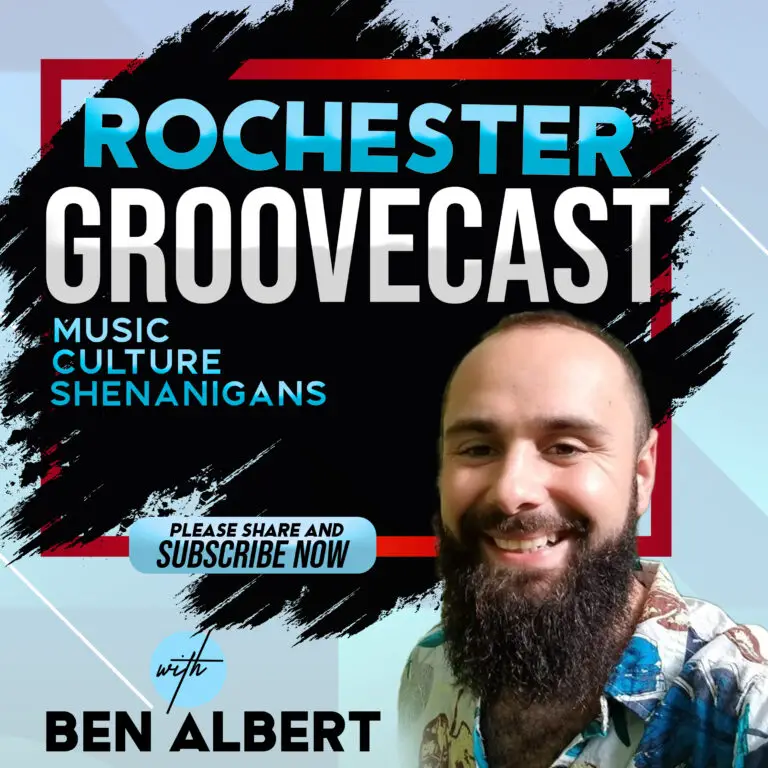 Previous guest testimonials praise Rochester Groovecast: 
Siena: "Ben Albert at Rochester Groovecast is ambitious, kind, and community-oriented. He truly cares about the Rochester community and actively lifts up voices that add value and strength to our culture. Most of all, he cares about music and the people that create it. He's the guy to go to if you're looking for someone who understands both music AND business, creating AND marketing. He knows the right questions to ask you to dig deeper into what your brand is and who you are as a musician. I'm grateful to know Ben as a human and grateful to have had the opportunity to be on his Rochester Groovecast podcast, which makes me proud to live and work in Rochester." 
Amanda Ashley of The Amanda Ashley Trio, Afternoon Cocktail: "Ben is an amazing host and a true asset to the Rochester Music Community. His love, dedication, and support of creativity is beyond apparent in his broadcast. He is a genuine soul, and that truly comes across in his interviews." 
Charlie Lindner of The Pickle Mafia: "Rochester Groovecast does an excellent job at building awareness for our brand! Using interactive multimedia we were able to obtain new customers and engage with them directly." 
Kevleb: "I have had the chance to work with the Rochester Groovecast for my album release. During the COVID confinement, it was a great relief to be able to share my music on this platform. Ben suggested a few strategies to widen my audience and make the content accessible on social media. It felt productive and well prepared and allowed me to share my vision in an ideal setting. It is great to have the Groovecast support the local scene." 
Once again, NYSMusic is excited to feature The Rochester Groovecast Podcast. Keep your eyes open for many more episodes to come. 
Rochester Groovecast is made possible by Balbert Marketing LLC.