Many bands have found it difficult to find ways to connect with fans in new and interesting ways during the COVID-19 pandemic but the alt-rock band PVRIS has found a way to do with it's live performances of it's albums in their entirety. They took to the virtual stage to perform AWKOHAWNOH on January 9, 2021 in its entirety for the first time including performing two songs off the album that had never been performed live before broadcasting live from Arizona.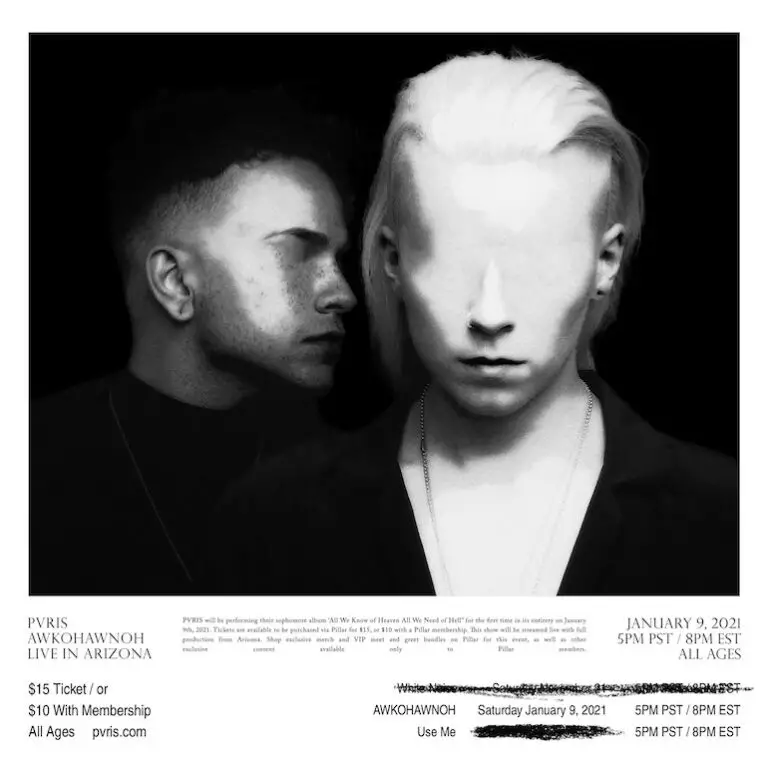 PVRIS is an alternative rock band from Lowell, Massachusetts. The band formed back in 2012 under the name to Paris and eventually changed it to PVRIS for legal reasons. They got their big start in Warped Tour's battle of the bands finalists in 2013 and have since grown into the the band that's known today.
Before this virtual concert I personally have seen PVRIS perform twice in person and once virtually for their previous album White Noise. Every time they have killed it. As a big fan of listening to full albums in their entirety the bands decision to perform all of their albums in their live was extremely exciting and intriguing for me and the performances have lived up to the hype.
AWKOHAWNOH, also known as 'All We Know Of Heaven, All We Need Of Hell' is PVRIS second album and was originally released on August 25, 2017 and included 10 tracks. The live-stream series is being presented by Pillar which is the platform that is hosting the series. PVRIS is selling tickets either for $15 for a one time ticket or a monthly subscription for $10 a month which gives special insights and allows the viewer to re-watch the live-streams. They are also selling merchandise specialize for each album and meet and greets with the band for each show. A part of the proceeds from the AWKOHAWNOH live-stream went to The Ally Coalition to benefit mutual aid organizations in the US.
The performance featured original members Lyndsey Gunnulfsen or more commonly known as Lynn Gunn and Brain McDonald and newcomer Denny Agosto Vega. Lynn Gunn is the powerhouse behind the band and is it's lead singer, guitarist and is also known for playing keys, bass and being the main writer behind the bands discography. Brain McDonald is the bassist and is also known for his photography as well as his guitar and keys skills. Denny Agosto Vega has been standing in as the drummer and also performed with the band during their live version of their White Noise album back in November of 2020. The noticeably missing member was EX-guitarist Alex Babinski who parted ways with the band earlier this year after Sexual Misconduct Allegations were made against him and the band made a statement saying he would no longer be associated with the band. 
The show was supposed to start at 8PM EST but as people waited on the stream to start as 8PM came and went. The anticipation grew in the group chat that accompanied the stream. Music videos from PVRIS' newest album Use Me played and then eventually everything went dark. The stage appeared with a floor full of fog and iridescent lights. Lynn Gunn on Keys, Brain McDonald on Bass, and Denny Agosto Vega on drums opened with "Heaven, the first song on AWKOHAWNOH. It opened with Lynn's Voice and keys for the first half of the first verse and then the rest of the band came in. Although it was just streaming onto my TV it felt just as strong of an entrance at any live show I have been to and brought the same adrenaline and excitement. 
Throughout the album Lynn Gunn and Brain McDonald continually switched playing bass and guitar taking turns and highlighting their musical abilities. With Alex Babinski no longer playing lead Brian McDonald filled in that position for some of the songs which was different than the last stream. On the White Noise live stream Brian McDonald stuck to bass the entire time as well as playing on the keys occasionally with Lynn Gunn playing keys and guitar. Most of the lead guitar parts were pre recorded in the last live stream though so having a fuller live sound was great during this performance. 
One of my favorite moments was when they performed "No Mercy" which is a fan favorite and Lynn Gunn introduced the song saying, "We got a one-way ticket to shred-ville, this is your captain speaking." The band were really in their element with this song and just having a good time jumping around and playing and dancing together. Denny Agosto Vega was even standing while playing drums and Lynn Shredded on the guitar like her life depended on it. 
Another one I really enjoyed was when Lynn Gunn performed "Separate" stripped with just her vocals and keys. Coming after all the hyper-ness of "No Mercy" it was the perfect way to follow up a song that would be hard to follow with another upbeat song. It slows everything down and brings the focus back to Lynn Gunn's unique and powerful lyrics. 
Maybe one of the biggest high points of the show was when they performed "Walk Alone" and "Nola 1" for the first time ever. Both songs have been heavily anticipated by the PVRIS fandom known as the CVLT. Both songs lived up to the hype of being performed live for the first time. "Walk Alone" was one of my favorite's off the album so hearing it live was a dream come true. "Nola 1" closing out the show was perfectly fitting somehow being one of the most widely anticipated songs to be performed live to wrap up a great night. After the show the band came and "sniffed" everyone watching in their goofy joking way of trying to connect to the audience and said to stay safe and that they loved them. It was a great way to spend a night during COVID-19. 
The last album Use Me's live stream performance is yet to be announced but when it is will also be available to stream on Pillar. For more information visit PVRIS website or their Pillar page.