Eleanora Fagan was born on April 7, 1915 in Philadelphia. As a child, she started going by Billie Holiday, Billie from Billie Dove and Holiday from her dad. She began listening to records by Louis Armstrong and Bessie Smith. Her mother Sadie cleaned houses, but could not make a living, so moved to New York City.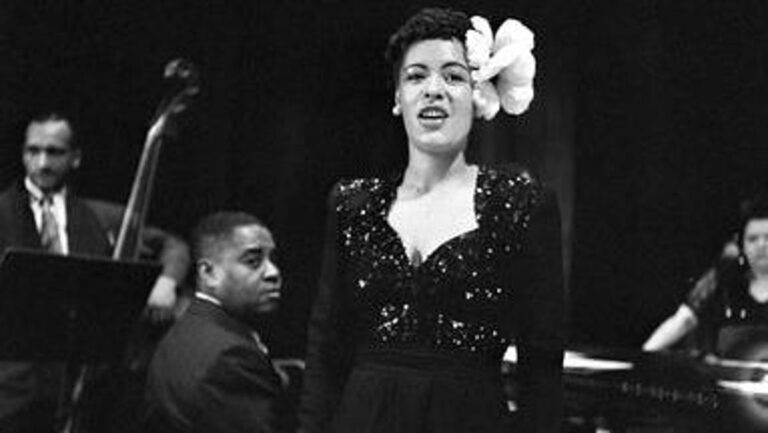 As a teenager, Holiday began singing in nightclubs. She teamed up with saxophonist Kenneth Hollan, performing at numerous clubs in Harlem. In 1932, Holiday replaced Monette Moore at a club where John Hammond, a producer, heard her and signed her to a record. At the age of 18, she made her first recording with Benny Goodman.
The Depression Era
In 1935, Holiday recorded pop tunes with Teddy Wilson. Holiday was allowed to improvise; her improvisation of the melodies to fit the emotion was revolutionary. Their first collaboration, "What a Little Moonlight Can Do" became Holiday's 'claim to fame'.
Holiday soon achieved the title of big-band vocalist with Count Basie. She was able to choose her own songs, often opting to portray herself as a woman unlucky in love. "Summertime" a hit from Gershwin's Porgy and Bess became a hit for Holiday. Basie soon accepted Holiday'w involvement in the band, saying "When she rehearsed with the band, it was really just a matter of getting her tunes like she wanted them, because she knew how she wanted to sound and you couldn't tell her what to do."
Soon, Holiday found herself in competition with Ella Fitzgerald, the singer for the Chick Webb Band, the direct competitor of Count Basie's. On January 16, 1938, Basie and Webb's bands had a battle at the Savoy Ballroom. Metronome magazine declared Webb the winner while DownBeat magazine pronounced Basie the winner.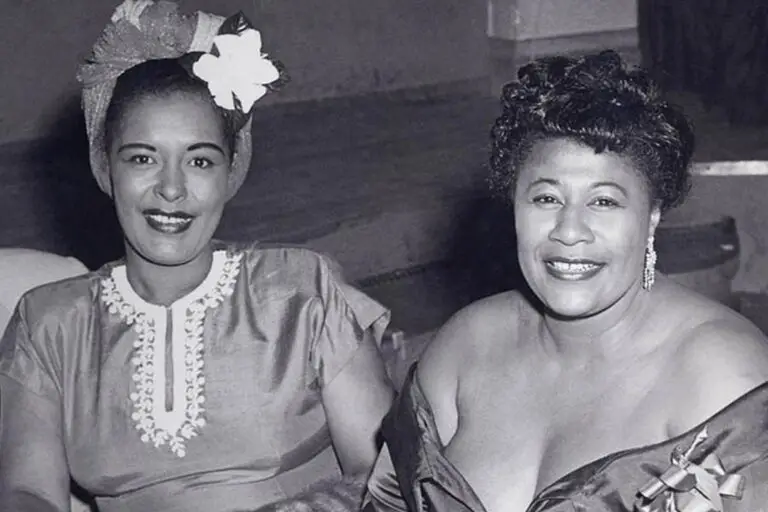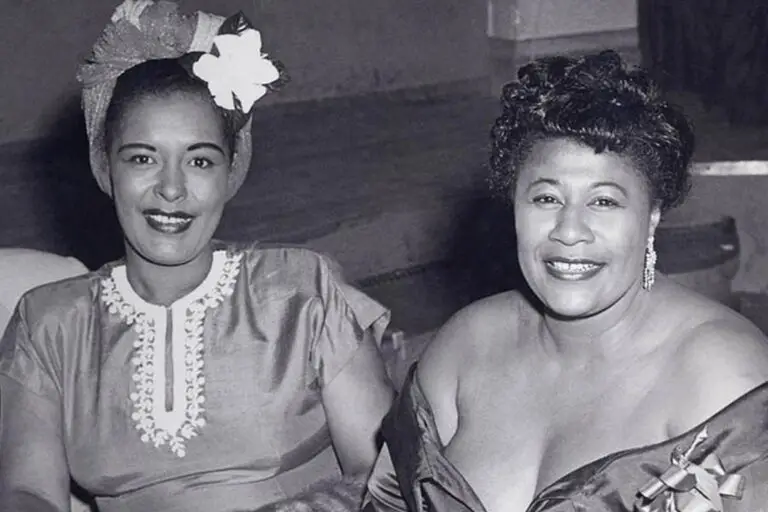 Holiday left Basie in 1938 and was picked up by Artie Shaw. This put her in a unique situation in that she was a black woman singing in a white orchestra in the segregated South. With Shaw, Holiday achieved notoriety, but could not sing as often as with Basie. Additionally, Shaw was pressured to hire a white singer with whom Holiday had to share time. In November 1938, Holiday was asked to take a service elevator at the Lincoln Hotel which may have caused her to leave the group soon after.
Columbia and Commodore
Holiday was recording for Columbia Records and when she was introduced to "Strange Fruit," a poem about lynching. She performed it in 1939 with trepidation, later saying the song reminded her of her father's death. He was denied medical treatment due to racial prejudice.
For her performance of "Strange Fruit" at the Café Society, she had waiters silence the crowd when the song began. During the song's long introduction, the lights dimmed and all movement had to cease. As Holiday began singing, only a small spotlight illuminated her face. On the final note, all lights went out, and when they came back on, Holiday was gone. Columbia Records found the subject matter too sensitive to record, so Holiday recorded it with Commodore Records. The song remained in Holiday's repertoire for twenty years.
Commercial Success
Holiday got into an argument with her mother Sadie that ended in the daughter storming out, shouting, "God bless the child that's got his own." She then wrote "God Bless the Child," her most popular and most covered record.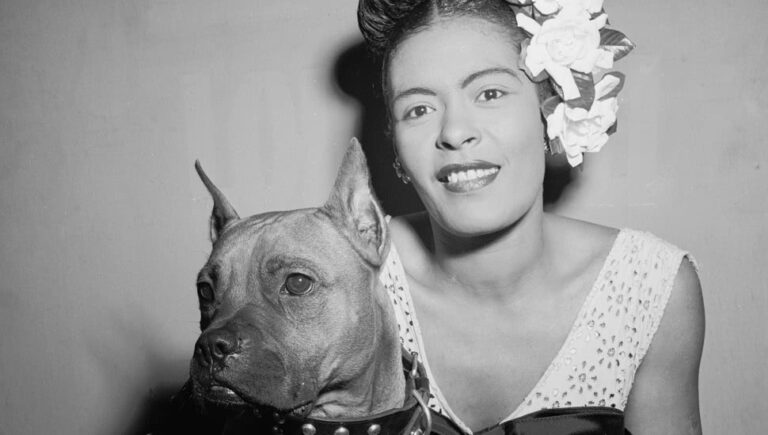 In 1942, Holiday recorded "Trav'lin Light" with Paul Whitman for Capitol Records, reaching number 23 on pop charts and number 1 on R&B charts. Holiday signed with Decca Records in 1944, recording "Lover Man", another hit. In September 1946, Holiday began her only major film, New Orleans, in which she starred opposite Louis Armstrong and Woody Herman. Plagued by racism and McCarthyism, producer Jules Levey and script writer Herbert Biberman were pressed to lessen Holiday's and Armstrong's roles to avoid the impression that black people created jazz.
Legal Trouble and Drug Use
On May 16, 1947, Holiday was arrested for possession of narcotics. During the trial, she heard that her lawyer would not come to the trial to represent her. Dehydrated and unable to hold down food, she pleaded guilty and asked to be sent to the hospital. She was sentenced to Alderson Federal Prison Camp in West Virginia. The drug possession conviction caused her to lose her New York City Cabaret Card, preventing her working anywhere that sold alcohol' so she performed in concert venues and theaters.
After her release in 1948, her manager, Ed Fishman, thought she should sing a comeback concert at Carnegie Hall. On March 27, Holiday played Carnegie Hall to a sold out crowd. A record number of tickets were sold in advance, a feat made more impressive since she did not have a current hit record. Holiday was again arrested on January 22, 1949 in San Francisco. That October, she recorded "Crazy He Calls Me".
The loss of her Cabaret Card hurt Holiday financially. This problem worsened when Holiday's records went out of print in the 1950s. She seldom received royalties in her later years. In 1958, she received a royalty of only $11.
By the 1950s, Holiday's drug abuse, drinking, and relationships with abusive men caused her health to deteriorate. She appeared on the ABC reality series The Comeback Story to discuss attempts to overcome her misfortunes. Her later recordings showed the effects of declining health on her voice, as it grew coarse and no longer projected its former vibrancy.
In early 1959, Holiday was diagnosed with cirrhosis. She stopped drinking on doctor's orders, but soon relapsed. She quickly lost 20 pounds. On May 31, 1959, Holiday was taken to Metropolitan Hospital in New York for liver disease and heart disease. The Federal Bureau of Narcotics had been targeting Holiday for the last twenty years. As she lay dying, they raided her hospital room, placing Holiday under police guard. Holiday died on July 15, 1959 at 3:10 a.m. due to heart failure caused by cirrhosis of the liver.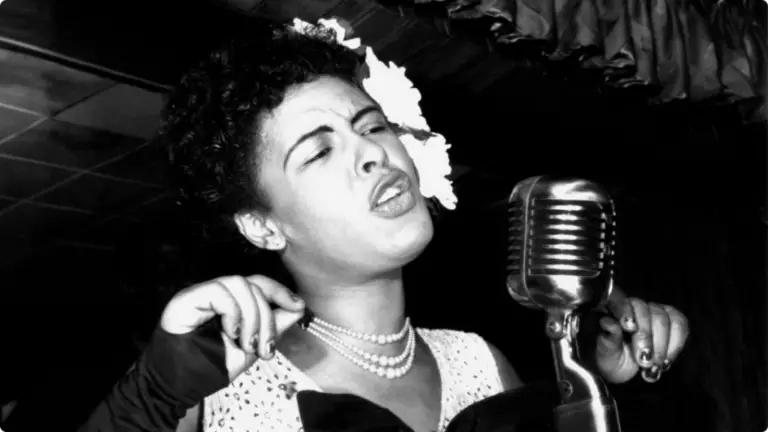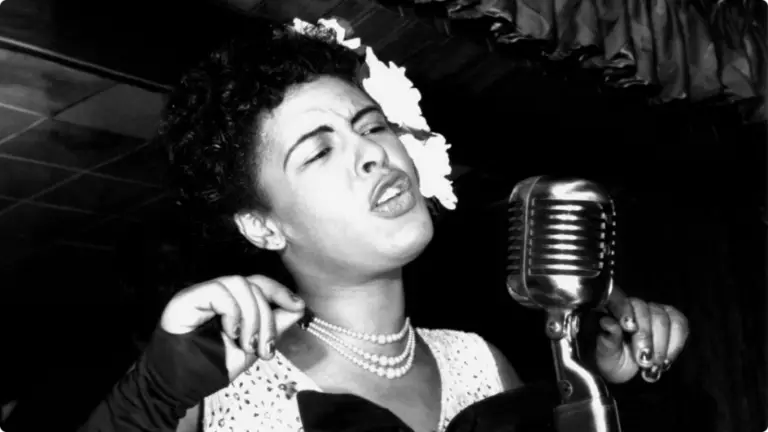 Legacy, Awards, and Accomplishments
Holiday's improvisation made up for a lack of training and was quoted saying that she wanted her voice to sound like an instrument. Frank Sinatra called her "the greatest single musical influence on me."
Billie Holiday and eight of her recordings have posthumously been inducted into the Grammy Hall of Fame. Holiday received a Grammy Lifetime Achievement Award (1987). "Strange Fruit" is also listed in the National Recording Registry by the Library of Congress. Four of her albums were awarded the Grammy for Best Historical Album. She is a member of the ASCAP Jazz Wall of Fame (1997), Rock and Roll Hall of Fame (2000), and the Ertegun Jazz Hall of Fame (2004).