October 20, 2010 was Phish's first performance in Utica, and they made it as memorable as possible. Having never played in "Sin City," Phish had plenty in store for fans in Utica, amid a Fall 2010 tour that fans flocked to, selling out nearly the entire tour and making tickets for the 5,700 person capacity room the highest in demand of the tour, short of Halloween.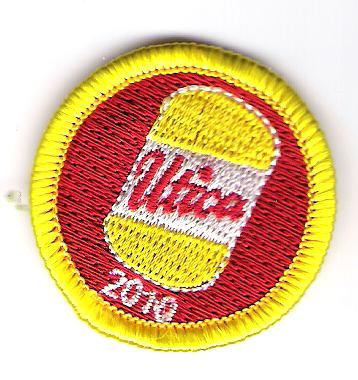 Phish had never played Utica before, although Trey Anastasio was no stranger, having performed thrice previously, once with Oysterhead in 2001 and twice with Trey Anastasio Band in 2002 and 2005. Returning to the Utica Auditorium, Anastasio blended Phish's "Guyute" with Utica for "GuyUtica," which many fans dubbed the unofficial name for the show, and led to a memorable weaving in and out of "Guyute" over the night.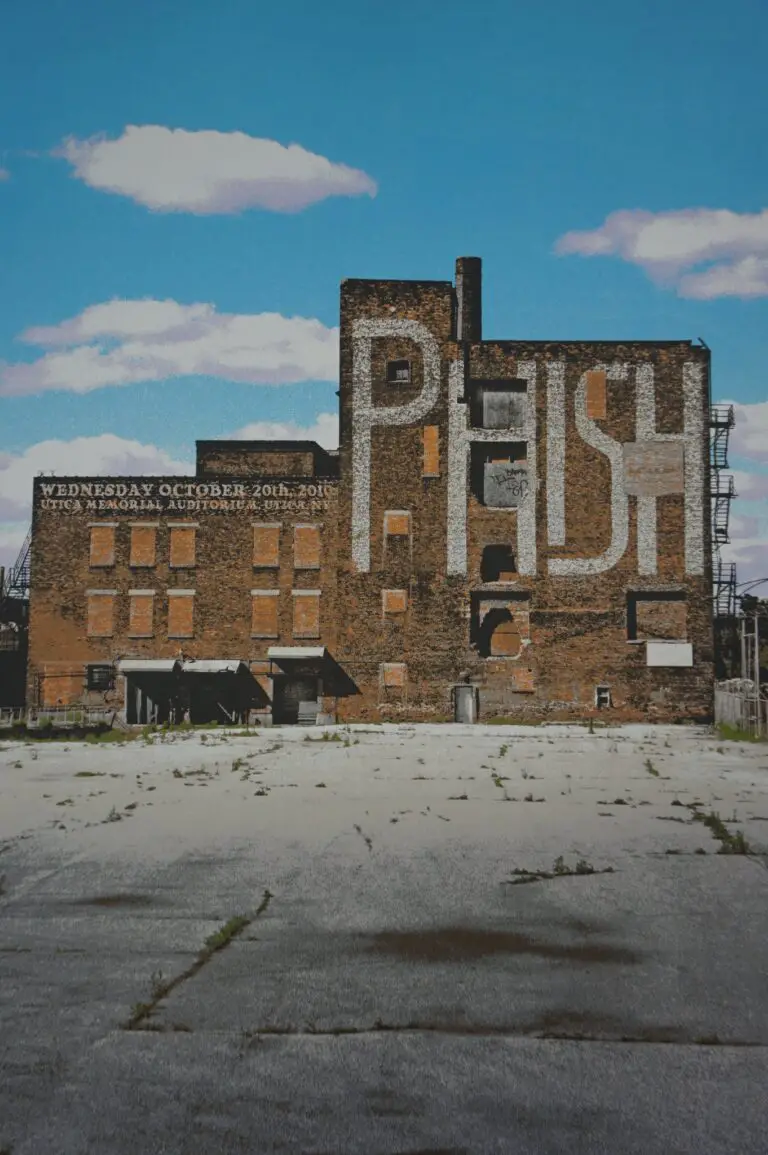 If you were hanging outside ahead of the show, you saw an ample Lot scene, with a nice breakdown of the evening here from Coventry Phish. Fans celebrated outside, with Utica native Amy Fischer celebrating her 100th Phish show, and what a show it was. A delectable set that reference "Guyute" all night, thanks in part to fan Jesse Feitel, who rode the rail with a homemade 'Guy-Utica' sign that hung on the rail facing the band.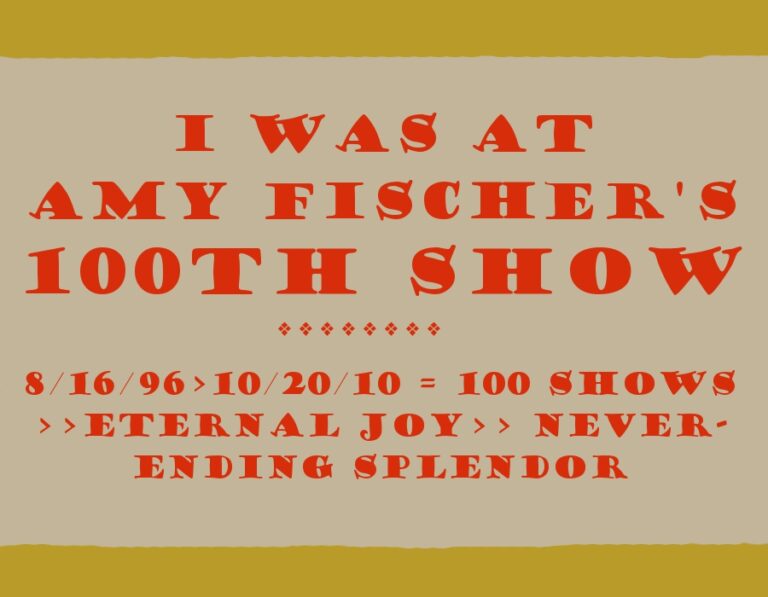 The energy was alive and palpable in the tiny auditorium this evening, giving it all the feels of an old school show. The band seems to pick up on this right away and launches into "My Soul," a blues cover that fits nicely in the opening slot. The tone shifts from blues to rock with the "Stealing Time From The Faulty Plan," still a fairly new tune at the time, that comes next. A typically rousing Trey Anastasio guitar solo puts the finishing touches on this one. Then comes only the second "Vultures" of the year to date, with the additional "potato to the throat" lyric thrown in for good measure.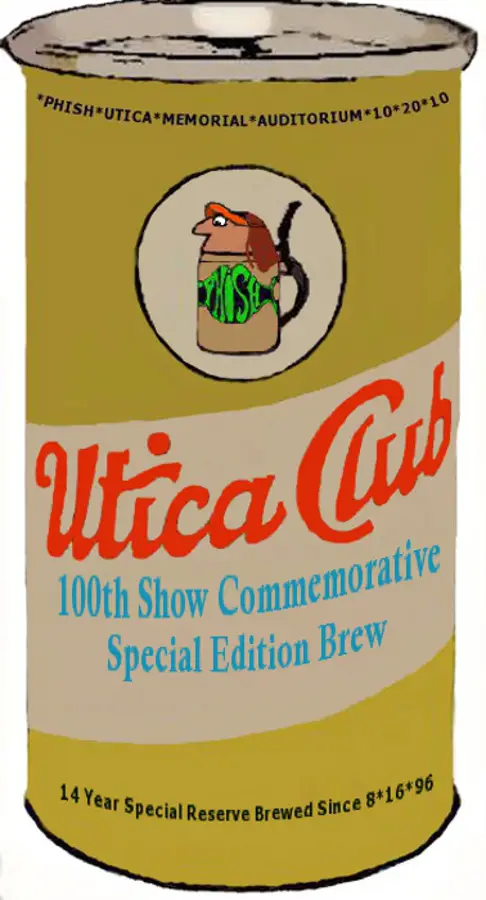 While "Vultures" does yield a somewhat brief "Type 1" jam, things don't seem to really stretch out until the "Wolfman's Brother" that follows. A brief vocal jam transpires at the end of the composed section before giving way to the first real extended improvisation of the night. Keyboardist Page McConnell makes his presence felt on the clavinet early and often throughout this one. Trey even finds space to fit in a "Streets of Cairo" tease as the jam progresses before immediately shifting to another cover song, this time The Talking Heads' "Cities." This produces the first hometown reference of the night as the "dry ice" is changed to a "Genesee" factory. Much of the funk established in the preceding "Wolfman's" carries right over into this one with another bass and clav-heavy jam. Now that the table has been set, so to speak, what comes next is one of the true highlights of the Phish 3.0 era, a sure sign to many that the band was finally "back" from its near five-year hiatus.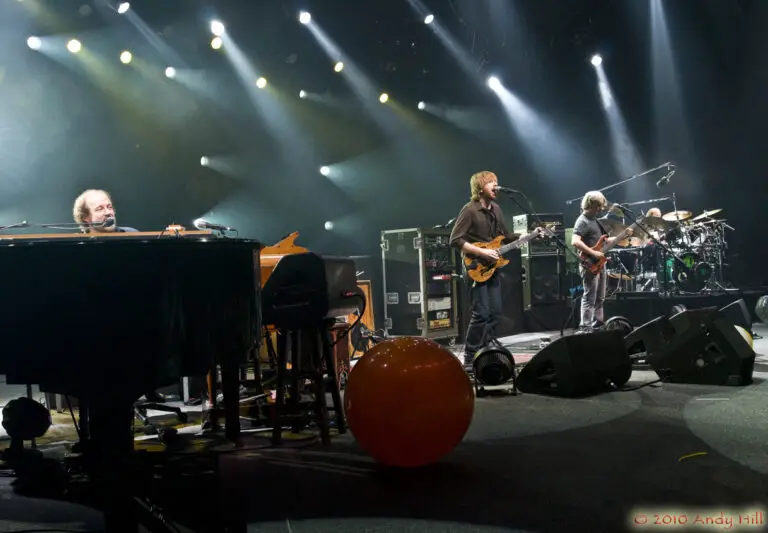 Anastasio begins strumming the opening melody, soon joined by drummer Jon Fishman, and the band is off and running with the show's namesake, "Guyute." The early, lightning quick pace and frenetic lights bouncing around the small auditorium seemed to create a verified frenzy in the room, leading to a raucous cheer at the end of this one. Even before the "David Bowie" that comes next, Anastasio is already teasing the main "Guyute" melody repeatedly and eventually bassist Mike Gordon joins in too. It's fairly clear early on that this is no standard "Bowie."
After a flawless run through the composed section, Anastasio drops one more "Guyute" tease before the music comes to a near standstill and the band collectively starts teasing "Wilson." It only takes the crowd a measure or two before they begin the customary "Wilson" chants with Anastasio then singing lines from "Guyute" in response. They would do this one more time as well, jumping out of the "Bowie" jam to go back and tease "Wilson" briefly before reentering right where they left off.
Naturally, "Wilson" proper is the next selection, giving the amped up crowd one more time to chant. More teases and quotes abound in this one as well, it's as if "Wilson" is being played in the key of "Guyute." Finally, a reprieve of sorts comes through in "McGrupp and the Watchful Hosemasters" that produces a fairly mellow keys-driven jam that's free of any nonsense. "I Saw It Again" sees even more "Guyute" teases in a feedback heavy outro jam that Anastasio eventually steers into a phenomenal set closing "Run Like An Antelope" with, you guessed it, even more "Guyute" quotes.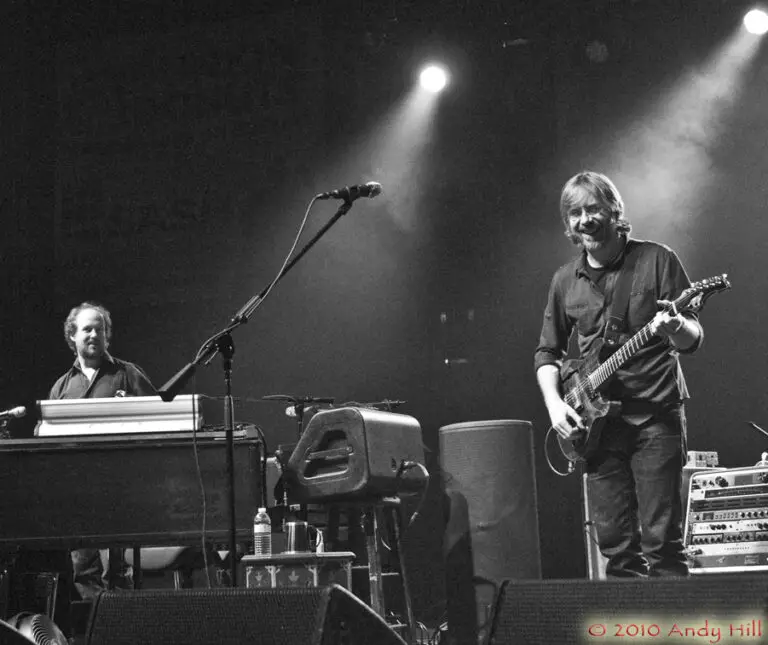 The show could have ended right then and there and there would have likely been little resistance. Instead, Phish follows it up with a set that may not be as memorable as the first one, but certainly does nothing to diminish this Utica show's legacy. Just like the first one, the second set begins with a cover selection, this time The Who's "Drowned" in its only performance of the tour. McConnell takes the reigns on this relatively brief jam before Anastasio seamlessly nudges it towards "Sand." The pulsating, driving rhythm supplied by Gordon on bass fuel this one throughout in what's really the most extended jam of the second set. In fact, it almost sounds slightly ripcord-ed as instead of exploring further, they shift gears into "Theme From the Bottom."
"Axilla" and then "Birds of a Feather" follow, each doing their part to raise the second set energy back up. "Birds" especially produces a brief yet fierce jam with more splendid interplay between Anastasio and McConnell. Afterwards, the band lets Page sing "Tela," only its fourth performance since their return last year.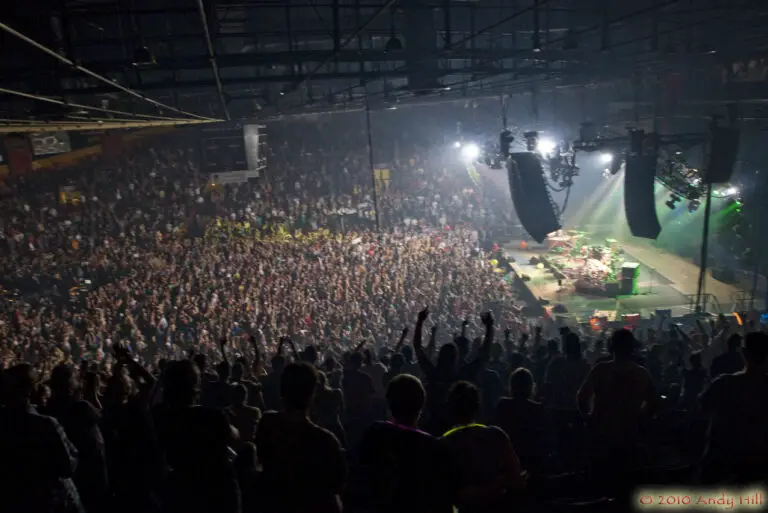 "Axilla" and then "Birds of a Feather" follow, each doing their part to raise the second set energy back up. "Birds" especially produces a brief yet fierce jam with more splendid interplay between Anastasio and McConnell. Afterwards, the band lets Page sing "Tela," only its fourth performance since their return last year.
The closing sequence to this show is quite something too. It begins with "Split Open and Melt," a song that certainly has the capability of getting dark and deep. After a few early minor hiccups, it appears to be going in that direction. But instead, the music begins to take on a lighter tone with Anastasio singing something else lightly over the top of it. It takes the rest of the band a little while to join in, but before long, they veer into a quick version of "Have Mercy." This is all but a quick pit stop as after one verse, Phish switches back to improv mode and begins the jam anew, taking it into a blissful new direction. After this peters out, Anastasio begins the (quick) into to "Piper" for one last dive into the unknown. One more relentless jam ensues, replete with a "Birds of a Feather" tease. Slowly but surely, the closing drum beat to "Split Open and Melt" soon arises from the end of this, finishing up the sequence in grand style.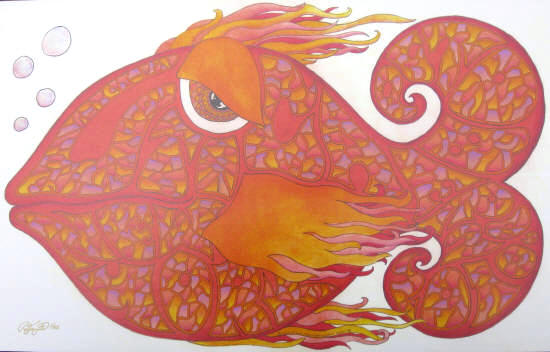 They waste no time before jumping into a grandiose and beautifully patient "Slave to the Traffic Light" that then closes the set in fitting fashion. As for an encore selection, Phish went back to cover well for another longtime favorite in Led Zeppelin's "Good Times, Bad Times" and a version that near blows the roof off the Utica Memorial Auditorium. And with that, a show for the ages was born.
Phish Utica Memorial Auditorium – Utica, NY 10/20/10
Set 1: My Soul, Stealing Time From the Faulty Plan, Vultures, Wolfman's Brother[1] -> Cities[2] > Guyute, David Bowie, Wilson[3] > McGrupp and the Watchful Hosemasters > Saw It Again -> Run Like an Antelope[4]
Set 2: Drowned -> Sand > Theme From the Bottom, Axilla > Birds of a Feather, Tela > Split Open and Melt -> Have Mercy > Piper -> Split Open and Melt > Slave to the Traffic Light
Encore: Good Times Bad Times
[1] Vocal jam.
[2] Alternate "Genesee Factory" lyric.
[3] Lyric changed to "I must inquire Guyute."
[4] Trey teased Guyute instead of saying "Marco Esquandolas."