William James "Count" Basie was born in Red Bank, New Jersey in August 1904. Both of his parents played instruments: his dad on mellophone, his mom on piano. He dreamt of traveling, heavily inspired by touring carnivals. However, he spent most of his free time working at the Palace Theater in Red Bank where he eventually received free admission for performances.
Although he was more proficient on piano, his real love was drums. However, another drummer, Sonny Greer, also grew up at the same time in Red Bank, and Greer eventually became Duke Ellington's drummer. Therefore, Basie stuck to the piano.
Harlem
In about 1920, Basie moved to Harlem where the Harlem Renaissance was beginning. He lived down the street from the Alhambra Ballroom, a staple of the Renaissance. Soon after his arrival, he ran into Greer, who was already playing with Ellington. In addition, Basie ran into numerous Harlem musicians including James P. Johnson and Willie "The Lion"" Smith.
Basie soon began touring with various acts as both a soloist and accompanist. These tours took his to future homes of Kansas City and Chicago as well as St. Louis and New Orleans. The touring also allowed Basie to create connections with other musicians, including Louis Armstrong.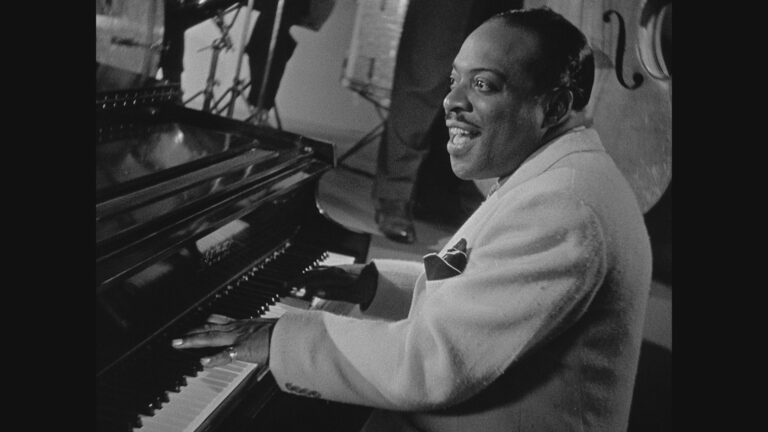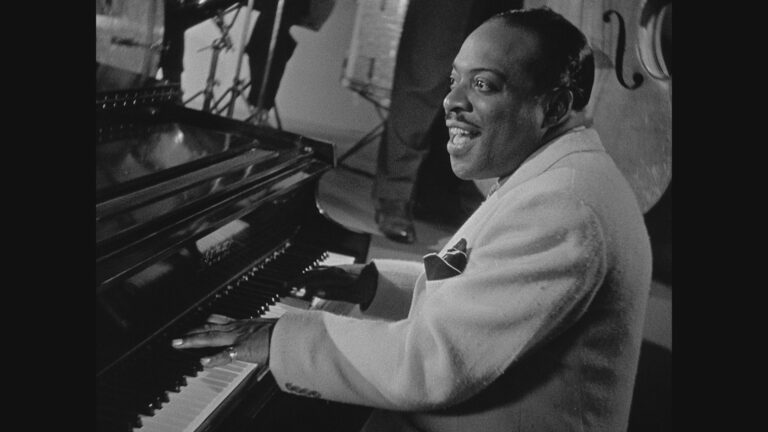 Basie was located in Harlem again in 1925, receiving his first steady job at a Leroy's a place known for its piano players. There he met Fats Waller, another jazz pianist who was also proficient at organ and was playing it accompanying silent films. Waller taught Basie the organ, and Basie would go on to play it in Kansas City.
In 1928, Basie was invited to join Walter Page and his Oklahoma City Blue Devils. At this point, he began to be called "Count" Basie.
Kansas City
In 1929, Basie began working with the Bennie Moten band, located in Kansas City, Missouri. Basie joined with the intention of achieving the level off success seen by Duke Ellington. The Moten band was well-respected, playing in the 'Kansas City Style' of jazz which was the precursor to bebop. The band's "Moten Swing" paved the way not only for the band, but swing music as a whole.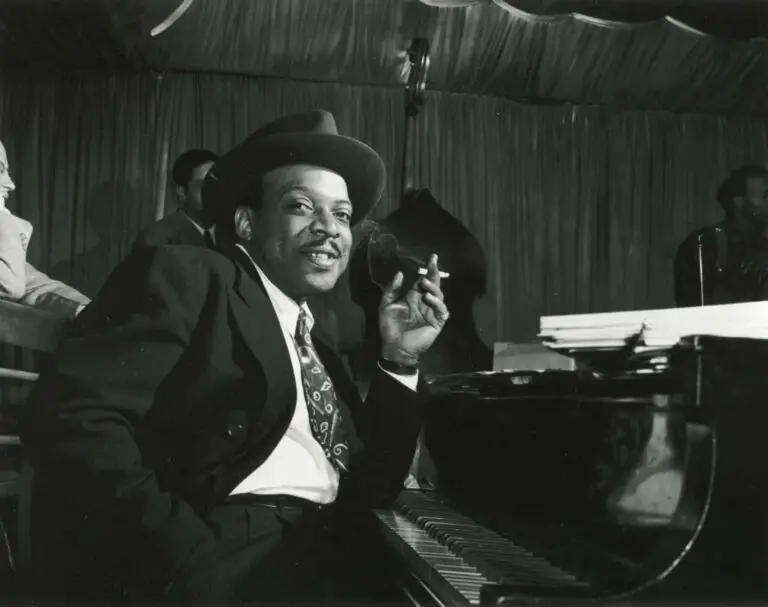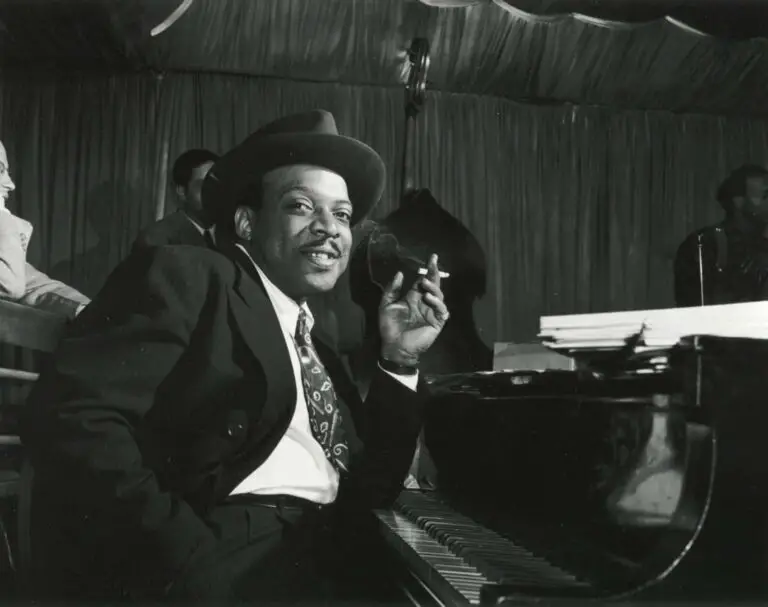 The band eventually voted Moten out, with Basie replacing him in "Count Basie and his Cherry Blossoms." This group also failed, and Basie rejoined Moten. In 1935, Moten died from a failed tonsillectomy. The band tried to remain together, but failed. Basie then went on to form "Barons of Rhythm" with five other Moten Band members.
The Barons of Rhythm often did radio broadcasts, one of which cemented Basie as "Count Basie" when one radio announcer referred to him that way. It was with this group that Basie released his signature tune "One O'Clock Jump."
Chicago
In 1936, Basie and his band, now "Count Basie and His Barons of Rhythm" moved to Chicago, landing a long engagement with the Grand Terrace Ballroom. Immediately, the band made an impact with its stellar rhythm section. Basie was one of the first to utilize two tenor saxophone players, Lester Young and Herschel Evans. They were able to complement each other and in some cases, held "duels".
While in Chicago, Basie began recording with John Hammond. He recorded with Vocalion Records (now Columbia Records) from 1936-41. Basie already had deals with Decca Records, but did not begin recording with them until 1937.
Back to New York
In 1937, Basie brought his band back to Harlem, often rehearsing in the Woodside Hotel basement. Soon, the Roseland Ballroom booked the group for their Christmas show. The show was not received well as the band lacked polishing and presentation.
Their producer John Hammond eventually introduced Basie to Billie Holiday who was invited to sing with the band. She declined to record with them as she had her own contract, but did sing with the band for concerts. They appeared at the Apollo Theater soon after.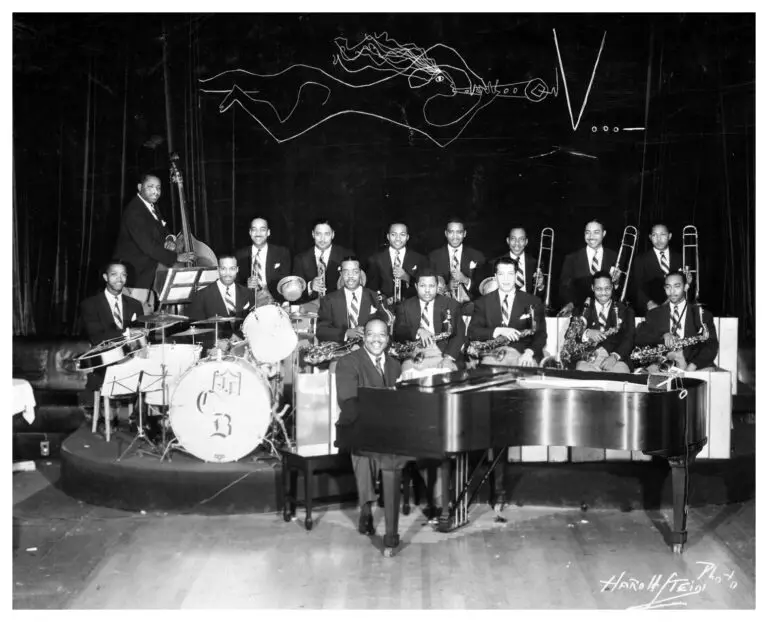 The band then played at the Savoy Ballroom. In 1938, there was a "battle of the bands" with Chuck Webb's group. Basie had Holiday to sing vocals, and Webb countered with a superstar of his own: Ella Fitzgerald. Basie and his band came out on top.
This "battle" with Webb brought publicity and name recognition to Basie. Benny Goodman recorded "One O'Clock Jump" with his band, bringing further recognition to Basie.
Over the next few years, band members came and went. Basie dropped his agent and switched to the William Morris Agency. In 1939, Basie and his Orchestra did a cross-country tour, the first time Basie played the West Coast. In February 1940, Basie and his Orchestra began a four-week stint at Southland in Boston.
Post-War
After World War II, the era of the big band era appeared to have ended. Basie disbanded the group. He performed in combos and occasionally orchestras for the next few years.
In 1952, Basie reformed his band, eventually called the New Testament band and got a stint with the Birdland club. The jukebox era had begun, and Basie was there along with the early rock'n'roll artists. Basie and his band were sharing the Birdland stage with Charlie Parker, Dizzy Gillespie, and Miles Davis, bebop legends. Soon, the band began to tour and record again.
In 1958, Basie and his band toured Europe. They later made two tours to the British Isles, performing for Queen Elizabeth II and Judy Garland. In 1959, Basie appeared on a television special with Fred Astaire. In 1961, Basie performed at one of John F. Kennedy's Inaugural Balls. In the summer of that year, Basie and Duke Ellington made their first recording together. Basie continued to lead his band through the next two decades.
In April of 1984, Count Basie died of pancreatic cancer in Hollywood, Florida.
Legacy
Count Basie recorded with a number of prominent vocal artists including Joe Williams, Ella Fitzgerald, Frank Sinatra, and Tony Bennett. Basie never recorded with Louis Armstrong, a fact Basie regretted.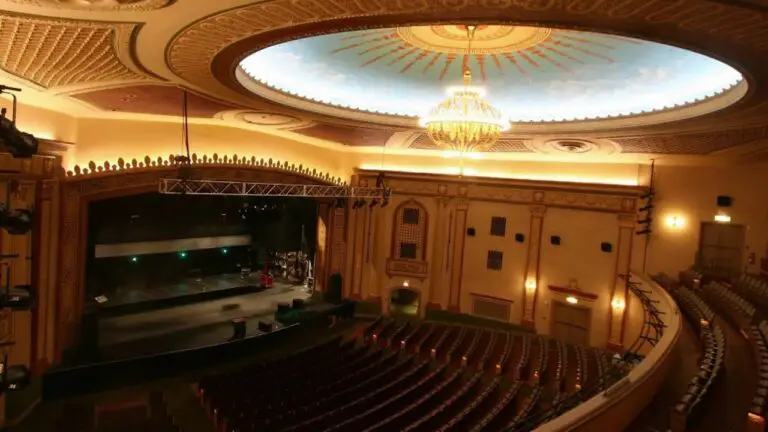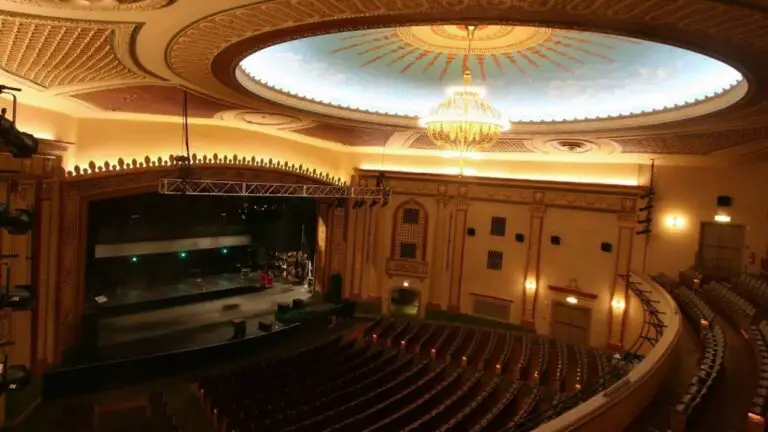 The impact Basie had can be seen across the country. In his hometown of Red Bank, there is now a Count Basie Theatre and a Count Basie Field. He received an Honorary Doctorate from the Berklee College of Music. Basie is a member of the New Jersey Hall of Fame as well as the Blues Hall of Fame. In 1997, astronomers at a French observatory discovered an asteroid, naming it "Asteroid 35394 Countbasie" after Basie. In 85, Basie was posthumously awarded the Presidential Medal of Freedom, the highest honor an American civilian can receive. There was also a Count Basie 32 cent stamp issued by the USPS in 1996.
Basie introduced generations of listeners to Big Band. Throughout his life, he was described as considerate, relaxed, fun-loving, and extremely passionate about his music.