On a chilly September night, the first where autumn made its presence known, Jericho Drive-In in Glenmont, NY hosted a socially distant crowd of a few hundred for a double feature – Pink Talking Fish and Richard Linklater's Dazed and Confused.
With cars lined up 10 rows deep, Pink Talking Fish gave the Capital District's jam scene something they had long been waiting for – a chance to get down and dance with close friends in a safe environment. Fans were smart and followed the rules we've all been aware of for six months – wearing masks when leaving your car area, and small clusters of live music fans staying within their bubbles. After 6 months of little to no live music, it's fair to say that fans weren't screwing this up (heads up here Gov. Cuomo).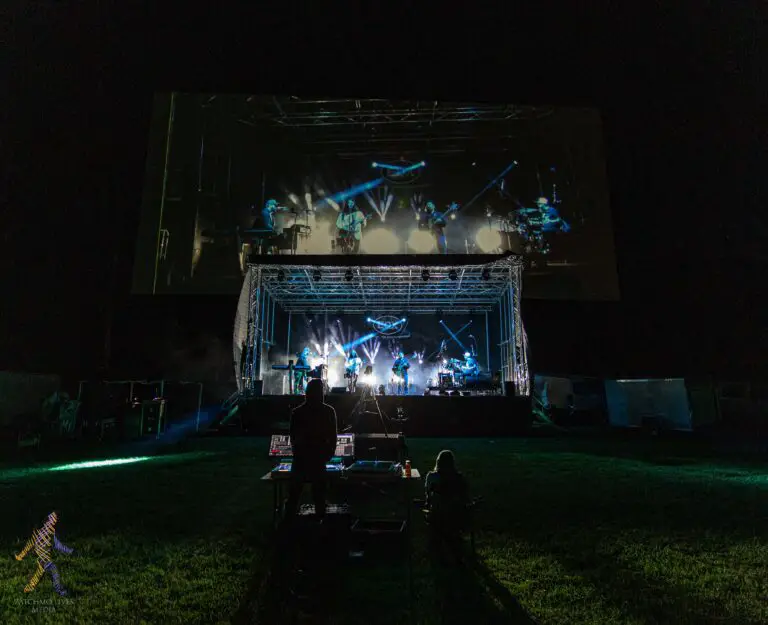 The performance from Pink Talking Fish was as invigorating as it was cathartic. Their blend of Phish, Talking Heads and Pink Floyd was overdue for many in the crowd, with a show opening "Simple" with a "Third Stone from the Sun" tease on the 50th anniversary of Jimi Hendrix's death.
One of many highlights of the evening, "Theme From The Bottom" > "Us And Them" > "Any Colour You Like" > "Theme From The Bottom," featured a subtle tease of "Waste" and jumped feet first into show-stopper "Crosseyed and Painless." To close out the night and give a nod to the second feature, Led Zeppelin's "Dazed and Confused" was deftly intertwined within Phish's "David Bowie," bringing back the feel of exploratory "Bowie"'s from the mid-90s.
Next up for Pink Talking Fish, they'll play two shows in Burlington, VT at The Backyard at Nectar's on Friday, October 16! More info and tickets here.
Jericho Drive-In, Glenmont, NY, Friday, September 18, 2020
Setlist: Simple* > Happiest Days Of Our Lives > Another Brick In The Wall Part 2 > This Must Be The Place (Naive Melody), Rift, Have A Cigar > And She Was, Reba, Wish You Were Here > Moon Rocks, Theme From The Bottom > Us And Them** > Any Colour You Like > Theme From The Bottom > Crosseyed And Painless > David Bowie% > Dazed And Confused > David Bowie%%
*w/ Third Stone From The Sun tease
**w/ Waste tease
% w/ Purple Haze tease
%% w/ Dazed And Confused teases Pink Talking Fish Drive-In