And now for something completely different. Two New York-based guitarists, Harvey Valdes and Álvaro Domene, come together for an ear-opening album of nine deliciously deviant duets. It's an ever-evolving, sonic tornado that is part free jazz, ambient somatic, mournful acousticity, industrial noise and the most searing, dark brand of heavy metal thunder – Nueva Guitarra.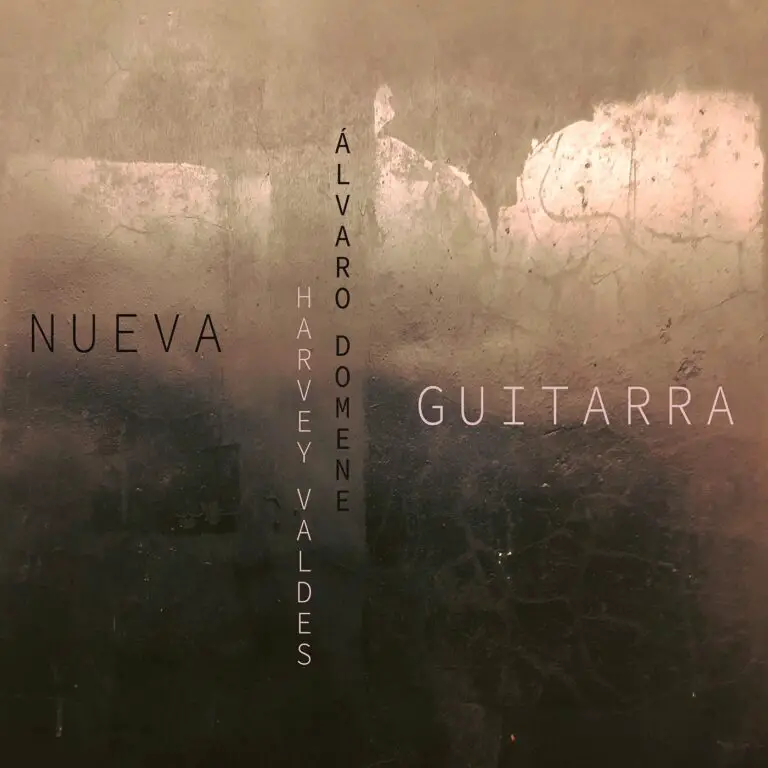 Madrid-born, Kingston-based Álvaro Domene is not only a most formidable and original guitarist; he's a tireless advocate for the creative music scene in the Hudson Valley and beyond.  His Singularity Concert Series has brought many renowned musicians like guitarists Ben Monder and Elliot Sharp for intimate performances at his Kingston loft.  Since 2013, his co-owned Iluso Records has released over two dozen discs featuring some of the most fearlessly composed and improvised music you'd even want to spin.  As with this album, Domene continues his habit of keeping some heavy company, recording and performing regularly with the likes of Joe McPhee, Karl Berger, Henry Kaiser, Ches Smith, Michael Bisio, Billy Martin and many more. 
Like Domene, Brooklyn-based Harvey Valdes is another guitarist (and oud master too!) for whom genre boundaries have little meaning.  His three solo albums have encompassed the radical reshaping of jazz standards ("Roundabout"), Mahavishnu-esque jazz fusion fury meets math rock  ("PointCounterPoint") and the 18 concise solo guitar compositions of his latest, "Solitude Intones Its Echo," mixed and mastered by sonic guitar innovator David Torn (David Bowie). 
"Nueva Guitarra" is not designed for the faint of heart and that's a very good thing. 
The duo make their uncompromising and delightfully madcap intentions known in the album opener, "A Crooked Odyssey."  It's a sonic assault of tapping, looping, glissandos, drones, whammy dives and frizzled corrupted guitar signalry, a mad ride to the mountain top that only let's up with a soothing ambient cloud appearing in the last 45 seconds of the six-minute outing.
The best place to start your listening might be with the two solo pieces, which showcase the players' varied approaches and signature sounds. 
Valdes' "Zealous Reflections" is a chord and melody exploration, with close voiced dissonances alternating with pleasant resolutions that he lets ring out. "Biomimicry" is Álvaro Domene swinging for the fences. It's all quicksilver, speeded up melodies over noisy pads, loops and thumps, over under upside down signals, otherworldly whammy bar and harmonizer torture.  A noise jazz industrial racket of the highest order, from the bastard son of Buckethead and Albert Ayler. 
My personal favorites, and maybe the easiest for the noise jazz newbie to dip into, are "Lady Dog Night Terror" and the album closer, "The Sophist Pundit." 
"Lady Dog Night Terror" emerges quietly from the darkness.  Its deep warm volume swells from Domene's rise to surround and complement Valdes' clean chording and single note lines.  Slowly, the dissonance in the melody and backdrop increases.  It gets symphonic and fuzz laden, then slowly slips away just after the four minute mark. 
With "The Sophist Pundit," the duo saved the best for last. This is a summary statement of all the ideas set before, spread over nearly nine and a half minutes of guitar hellacious. 
The track begins with stutter stop phrases looped to create a variable pulse, over which the duo improvise jagged lines.  It just gets more intense as it goes on, with the duo creating a wall of feedback looped upon feedback, punctured by siren calls and squeals designed to melt your preconceived notions of what guitars can do.
All musicians have been hit by COVID-19, but not many have as hard as Domene.  He battled the ailment all through the spring, but still managed to ready this and other collections for release. 
If you want to do a good deed for music kind, and vastly widen your own appreciation of music and the creative possibilities still left in the guitar, download this uncompromising disc.
Key Tracks: Lady Dog Night Terror, The Sophist Pundit, Biomimicry