After a long hiatus from live performance due to the COVID-19 pandemic, Vermont jam quartet Twiddle returned to the stage this weekend for three socially distanced Drive-In shows. Taking place in Essex Junction, VT, the three sold-out shows were a welcome return to live performance for the band, with over 250 car passes sold for each night.
We can't thank our fans enough for making our first live shows back such an incredible and safe experience. It felt amazing playing live again with the boys and having our brother Taz join us, elevating the band as he always does.

Mihali Savoulidis (Guitar, Vocals)
Twiddle kicked off a stellar weekend of music with a fantastic first set on Friday, August 14, during which the band seamlessly segued through their first set without a break between songs.
After sunset, the band took the stage for an improvisation-heavy three-song second set, featuring "Gatsby the Great," "Doinkinbonk" and "Cabbage Face." The show closed with fan-favorite sing-along "Orlando's."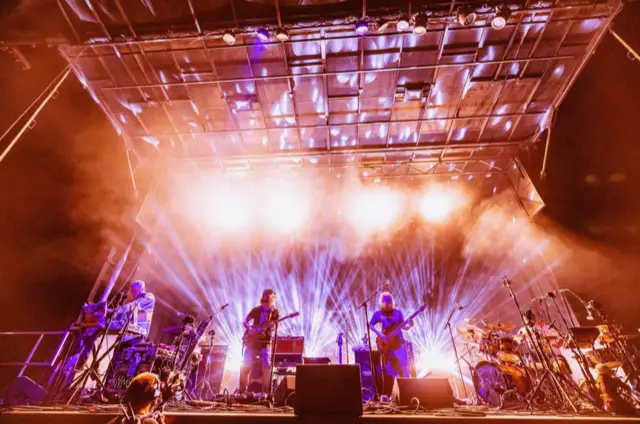 Saturday presented material from various phases of the band's 15-year career. Highlights from set one include "Zazu's Flight" > "Bronze Fingers" > "Zazu's Flight," as well as a tender rendition of "The Machine," featuring drummer Brook Jordan on vocals. Twiddle closed the first set with a raging rendition of "Every Soul," with special guest 16-year-old guitar phenom Brandon "Taz" Niederauer.
Saturday's second set was rife with deep jams and segues, including the introspective ballad "River Drift" sandwiched between "Dr. Remidi's Melodium" and "Nicodemus Portulay." Taz sat in on "Tom's Song" during set two and returned for a "Comfortably Numb" encore, played for the first time in over nine years.
Wrapping up the weekend, Sunday's first set showcased a healthy mix of Twiddle's bluegrass influences and improvisational acumen, with twangy acoustic takes on "Hattibagen McRat" and "Fat Country Baby."
Twiddle rounded out the weekend in Vermont with a trip down memory lane, with set two featuring throwback favorites "Invisible Ink" and "Tiberius," before closing out the show with an epic "Beethoven and Greene."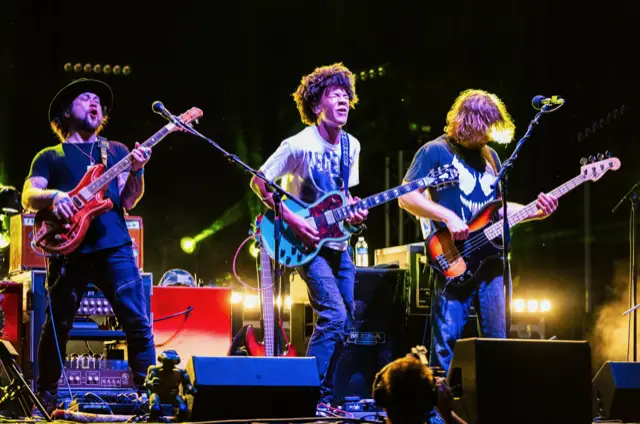 Night One – 8/14/2020 – Drive In – Essex Junction, VT

Set One: Blunderbuss-> Ricky Snickle-> Blunderbuss-> Ricky Snickle, Daydream Farmer ->Earth Mamma-> Daydream Farmer

Set Two: Gatsby-> Doinkinbonk-> Gatsby (1) Cabbage Face

Encore: Orlando's
1. Big Country (Bela Fleck) tease
Night Two – 8/15/2020 – Drive In – Essex Junction, VT

Set One: Zazu's flight-> Bronze Fingers-> Zazus Flight, The Machine, Apples-> Classical Gas-> Apples-> Every Soul (1)

Set Two: Dr Remidis Melodium-> River Drift-> Nicodemus Portulay-> Toms Song (1), Dr Remedies Melodium

Encore: Comfortably Numb (1) (2)
1. With Taz
2. Pink Floyd
Night Three – 8/16/2020- Drive In – Essex Junction, VT

Set One: Five (1), Hattibagen Mcrat (1), Lost in the Cold (1) (2), Fat Country Baby (1), Be there (1), Frankenfoote, Amydst the Myst

Set Two: Invisible Ink-> Country Road-> Invisible Ink, Fire on High-> Dinner Fork-> Tiberius (3))-> Slipping in the Kitchen-> Tiberius

Encore: Beethoven and Greene
1. Played on Acoustic Guitar
2. Storytellers Version
3. 2nd half finishing from Roots Tour