Jazz at Chandlerville Series announced their July and August line-up. The series will take place at the Thin Man Brewery and Tappo Pizza in Buffalo, NY. The event will take place in the outdoor seating and happen every Thursday this summer from 6PM to 8:30PM.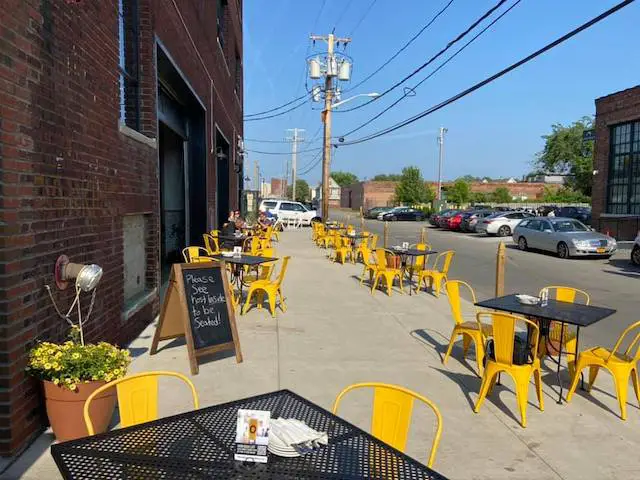 One of the main concerns for people with an event like this is how social distancing can happen while the coronavirus pandemic rages on? During the series's opening performance they had tables spread out six feet apart with a good amount of seating available. There was a location for the band across the street – more than the twelve feet requirement. People must also wear a mask when not seated. With these measures implemented the hope is to keep a safe environment for everyone involved. 
The opening performance was by the Ed Croft Trio featuring Ed Croft on bass, Nelson Rivera on saxophone, and Joe Goretti on drums. This season of performers include DeeAnn Dimeo, Alex McArthur, Paradigm Shift from Rochester, Phil DiRe and Speedy Parker, Will Holton, The TRUTH, and Carina and the Six String Preacher. DeeAnn Dimeo, will start off on July 16 and Carina and the Six String Preacher will wrap up the series on August 27.
The series is being hosted by JazzBuffalo and is sponsored by Thin Man Brewery and Tappo Pizza. The event is located at 166 Chandler Street Buffalo, NY. The performances are free but JazzBuffalo is accepting donations for their Keep Local Jazz Alive Fund. The fund will help cover the costs of the free summer outdoor live jazz presented during the COVID-19 pandemic. JazzBuffalo asks that people please donate a suggested amount of $3-$5 per person, if they can, to help us make local live jazz possible. Donations can be made via  PayPal: paypal.me/jazzbuffalo or Venmo: @Jazz249.
Form more information on the Jazz At Chandlerville Series and more information on their performers visit their website.
Full Line-up listed bellow: 
July 16 – DeeAnn Dimeo
July 23 – Alex McArthur
July 30 – Paradigm Shift from Rochester
August 6 – Phil DiRe and Speedy Parker
August 13 – Will Holton
August 20 – The TRUTH
August 27 – Carina and the Six String Preacher