The Disco Biscuits announce "The Disco Biscuits Take You Out to the Ball Game" benefit concert. This will be a free live-stream concert at Citizens Bank Park, the home of the Philadelphia Phillies, supporting PLUS1 For Black Lives Fund. The show will take place on the infield on Tuesday, June 23 at 7:45pm ET.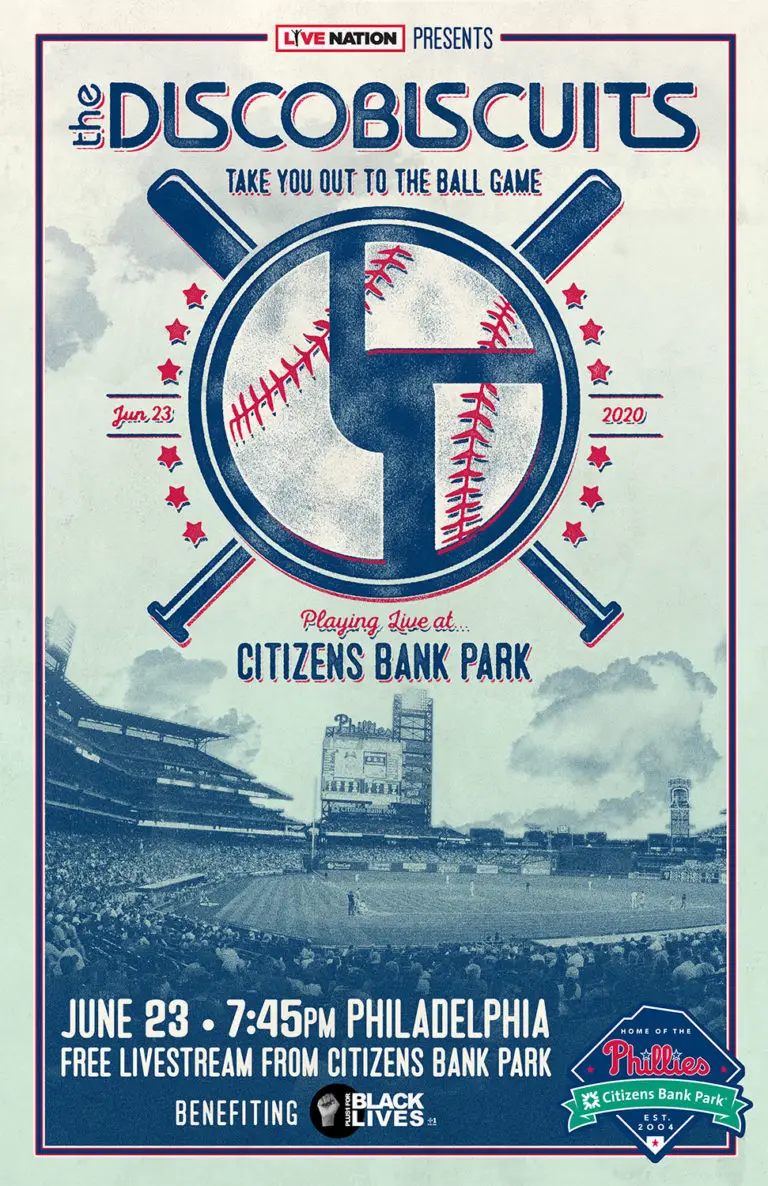 The concert is being put on by the Philadelphia Phillies, Citizens Bank Park, and Live Nation in support of PLUS1 For Black Lives Fund. The show will donate 100% of donated proceeds to the PLUS1 For Black Lives Fund. Donations will be distributed to various organizations including Urban League of Philadelphia. All partners in the event recognized that the on-going struggle with racism and violence aimed at the Black Community in this country need to be fought against and that the many systemic injustices are the root of the issue. 
The Disco Biscuits were in discussion with the Philadelphia Phillies to perform at Citizens Bank Park when the death of George Floyd in Minneapolis happened and decided that this was an issue they wanted support and decided to make their performance support PLUS1 For Black Lives Fund. Live Nation is providing financial funding, personnel, production support and other resources. Philadelphia Phillies are donating their field to the event as well as resources and personnel to the event. The Disco Biscuits will be wearing Phillies jerseys, have use of the Phanavision and other iconic stadium signage, and have an introduction from iconic public address announcer Dan Baker
People can watch the event live on the official YouTube & Facebook pages for The Disco Biscuits, Phillies and Live Nation, as well as on Live Nation's Live From Home platform. To donate to PLUS1 for Black Lives website or text DISCO to 50155.
For more information visit The Disco Biscuits website.
Check out this stream and more through our series NY Stream and Support, where you'll discover artists around the Empire State streaming nightly, and ways to support musicians and charitable groups close to home!