Caffe Lena, the storied venue for folk and indie music in Saratoga Springs will celebrate its 60th anniversary on Thursday, May 21 with festivities adapted for social distancing guidelines.
Early in the day from 12-1pm, a two-part event will include Bonacio Construction's flatbed trucks as they roll around Saratoga Springs with bands playing music on the back. These artists include gypsy jazz group Hot Club of Saratoga, soul singer Garland Nelson and jam band Let's Be Leonard on a route that includes Broadway, Lake Avenue, and Circular Street in Saratoga Springs. Attendees are encouraged to park along the route, decorate their cars, and cheer out the window as the parade rides along.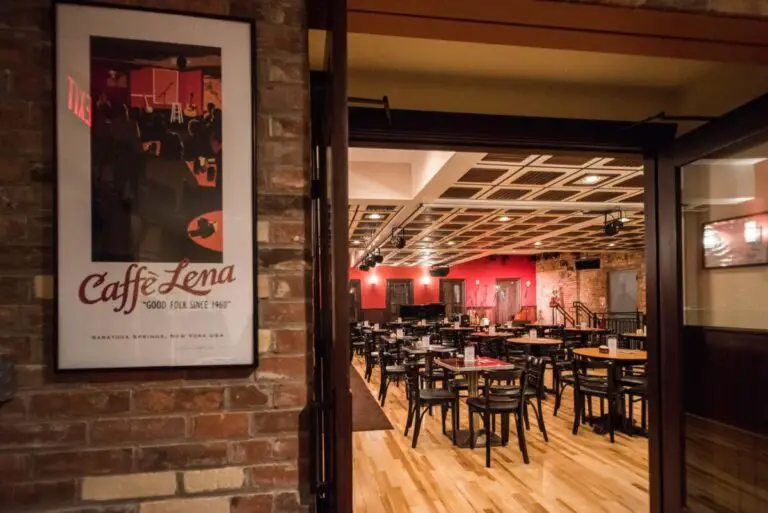 In the evening starting at 7pm, there will be a live stream at CaffeLena.org, featuring stories, songs, and photos from the Caffè Lena community.
The evening broadcast will feature artists such as humorist Christine Lavin, Vermont folk duo Steve Gillette and Cindy Mangsen, celebrated blues guitarist Rory Block, singer-songwriter Don Armstrong and Colorado folksinger John Winn, who joined the venue's roster in 1960.
"Each of these performers have played the Caffè Lena stage many times and represent the breadth of our programming," said marketing manager Carolyn Shapiro.
The celebration marks six decades of Caffè Lena, which opened its doors on May 21, 1960. Actress Lena Nargi Spencer opened the doors of a new coffeehouse at 47 Phila Street in Saratoga Springs with a goal to create a venue with a "continental atmosphere," complete with espresso, folk music, poetry, fine art, and plays.
Artists and curious customers made their way to the top of Lena's narrow stairs and the venue quickly became an off-the-beaten-path mainstay in the burgeoning world of folk music. Lena passed in 1989, but not before making her venue a landmark.
When COVID-19 collided with Caffè Lena's spring season, the venue, recognized as the longest continuously operating venue of its type, pivoted almost immediately to an online schedule of "Stay Home Sessions" that have reached thousands of YouTube viewers across the globe with nightly live or pre-recorded performances. Tips donated by viewers have put more than $25,000 into the pockets of these musicians since March 14.
Viewers may make donations during the broadcast to sustain Caffè Lena through the shutdown.
In addition, the nonprofit organization is using the occasion to launch the Lena Legacy Society, a new endowment fund that is expected to grow over the coming years.