Every Thursday for the last two years, and for the foreseeable future, Three Heads Brewing's stage has been taken over by a local musician. Each musician gets to command the stage for a month of Thursdays in what has been dubbed the Rochester Residency. Old bands have been resurrected, current bands have been discovered, new bands have been formed and the classics have been recreated. This year also saw one local musician try their hand at booking with great success.
Three Heads has released the 2020 Residents and it should be another fine year. First though, the month of January will be used to take a look back at some of the favorite shows from the first 2 years.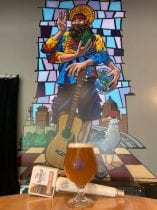 Starting off Jan. 2, The Seven Wonders will bring back their Fleetwood Mac tribute that was the first show to sell out during the Residency. Herb Heins and the Turbines take the stage Jan. 9, followed by Ben Rossi's tribute to "Sports" by Huey Lewis and the News Jan. 16. On the 23rd Brian McDonald brings back his all-star tribute to Cake. Closing out the month will be Left-handed Second Baseman's tribute to Warren Zevon's "Excitable Boy" on Jan. 30.
For the rest of 2020, you can look forward to some new and exciting sets from the likes of Avis Reese (Danielle Ponder and the Tomorrow People), Zahyia Rolle (Vanishing Sun), Willy O'Riley (The Niche), Ryan Barclay (Moho Collective), Allison Sparkles (Dial Up), Max Flansburg (Dirty Blanket), Brandon Sheffer (Mochester), Mike Gladstone (junkyardfieldtrip), and Alex Cote (Mikaela Davis). The schedule is yet to be determined so stay in touch at the Rochester Residency Facebook page or over at the Three Heads Brewing website.
There's truly no better way to get involved in the local Rochester music scene so get involved.