If one band is on the lips of live music fans around the Northeast, it's Goose. And for good reason – the group has had a break out year, with an instantly memorable Peach Festival set, a Fall Tour that saw them sell out and upgrade venues left and right, and now have sold out the Wall Street Theater in Norwalk, CT for their sixth annual Goosemas year-end, hometown show.
In addition to bringing in over 300 pounds of food for Open Doors shelter in Norwalk, Goose performed two sets – The Ghost of Goosemas Past, and The Ghost of Goosemas Future. The 'Past' set featured The Band's "Christmas Must Be" to open the night, original Goose guitarist Peter Castaldi joining for "Gringo," Trans-Siberian Orchestra's "Carol of the Bells" and a set closing "Linus and Lucy" seen below.
The 'Future' set was bookended by fan favorite "Wysteria Lane," followed by a debut of Robert Johnson's "Sweet Home Chicago," made famous by The Blues Brothers. Debuts of "Arrow" and "Honey Bee" were surrounded by songs released earlier this year, "White Lights" and "Creatures." An improv heavy jam on The Beatles "Tomorrow Never Knows" was dark and went deep, prompting a few nearby to ask "Is this still 'Creatures'?" The venue had loyal fans packing every inch of the venue until past 1 AM, and energy flowing from eveyone touched by the magic of Goosemas.
Opening the night was TalkPeck Soundsystem, featuring a combination of covers of Talking Heads, Vulfpeck and LCD Soundsystem, all of which were knocked out of the park to warm up the crowd, and then some.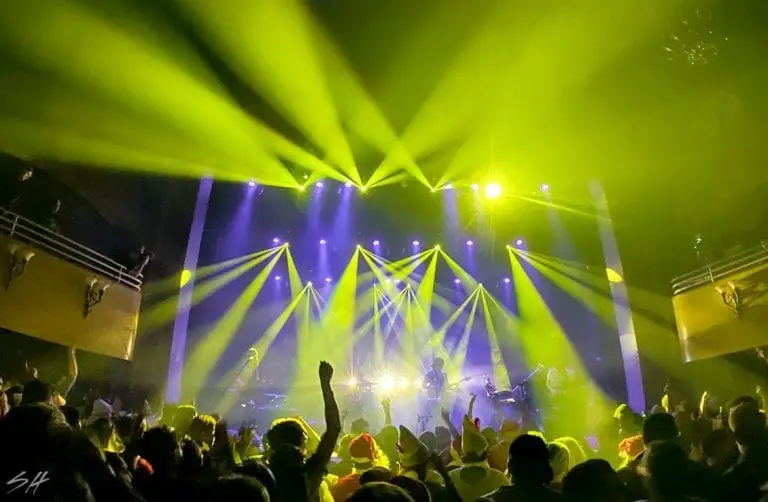 Goosemas, Wall Street Theater, Norwalk, CT
Set 1: Christmas Must Be, Tumble, Gringo, All I Need, Carol of the Bells, Rosewood Heart, Christmas Wrapping, Yeti, Linus and Lucy
Set 2: Wysteria Lane, Sweet Home Chicago*, Arrow*, White Lights, Honey Bee*, Slow Ready, Creatures, Tomorrow Never Knows Jam, Your Ocean, Wysteria Lane
*debut