December is here, and that means Phish's annual four night run at Madison Square Garden is right around the corner. And with those four nights of Phish come… Phish after-parties! CEG Presents has put together an incredible slate of post-shows that you'll be looking to check out after emptying out on 7th and 8th Avenues following Phish. See below for details on all the great shows you'll find starting late, December 28-30, plus a special NYE show from The New Mastersounds!
Click on the band name to browse tickets
John Medeski and Billy Martin (Medeski Martin and Wood) will come together with Scott Metzger (JRAD) and Nels Cline (Wilco) for the first time, one night only, for an evening of improvisational music after Phish performs at Madison Square Garden on December 28.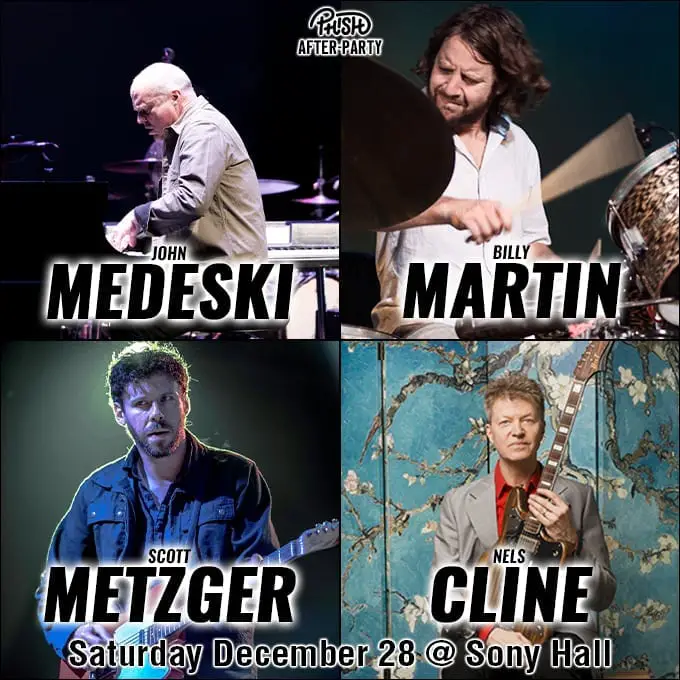 ---
An eclectic jam/funk band, infusing deep psychedelic grooves with improvisational techniques. The ambitiously crafted keyboard mastery, expressive saxophone and immaculate guitar shredding meld into a dynamic fusion. Lean more about The New Motif.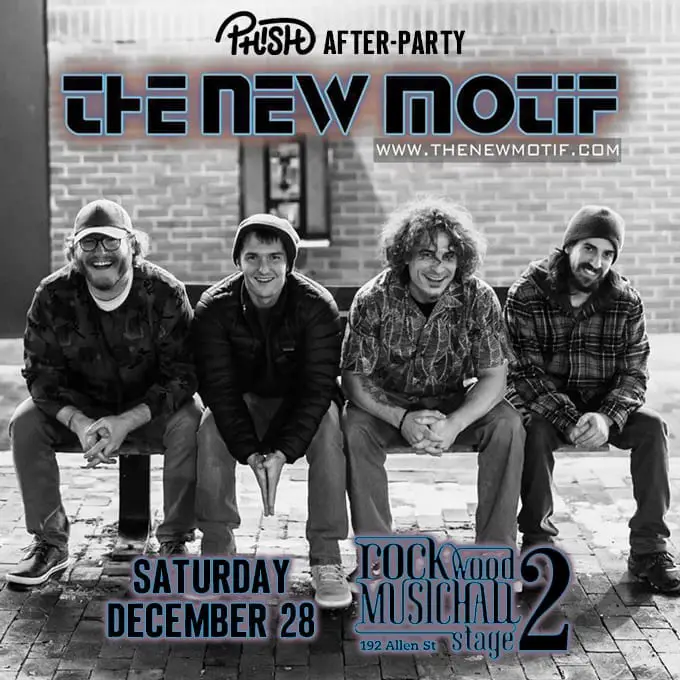 ---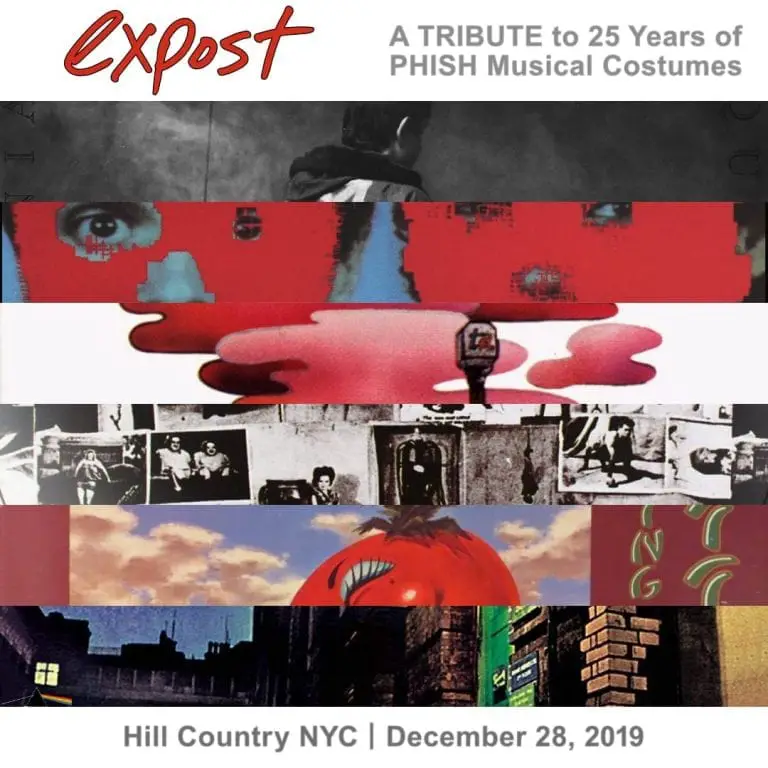 ---
Pink Talking Fish provides their own original musical concept by combining the songbooks of Pink Floyd, Talking Heads and Phish to create a unique experience for live music fans.  The band has added to this concept over the years by adding a 4th Act such as David Bowie, Grateful Dead, Michael Jackson and more.  They have also performed complete albums while intertwining songs from the other 2 Acts into the mix. On December 29 at Gramercy Theatre, PTF will unleash one of the most exciting concepts to date: Pink Talking Fish Are Beastie Boys!  This will be a fusion of Pink Floyd, Talking Heads, Phish AND Beastie Boys. 
Joining the band will be DJ Logic, who will be assuming the duties of Mix Master Mike and also adding his flavor to songs from the other 3 Acts.  PTF will also be performing 'Dark Side Of The Moon' for a NYC Phish After-Party on December 28th, also at Gramercy Theatre.  This will be a full rendition of the Pink Floyd album with Phish and Talking Heads songs intertwined through the album cuts.
---
Anybody who's seen Marco Benevento perform will attest, with eyes closed, smile wide across his face and fingers free-flowing across the keys, he's a satellite to the muse. With a devout and growing fan-base, Benevento is an artist whose story is only beginning to unfold..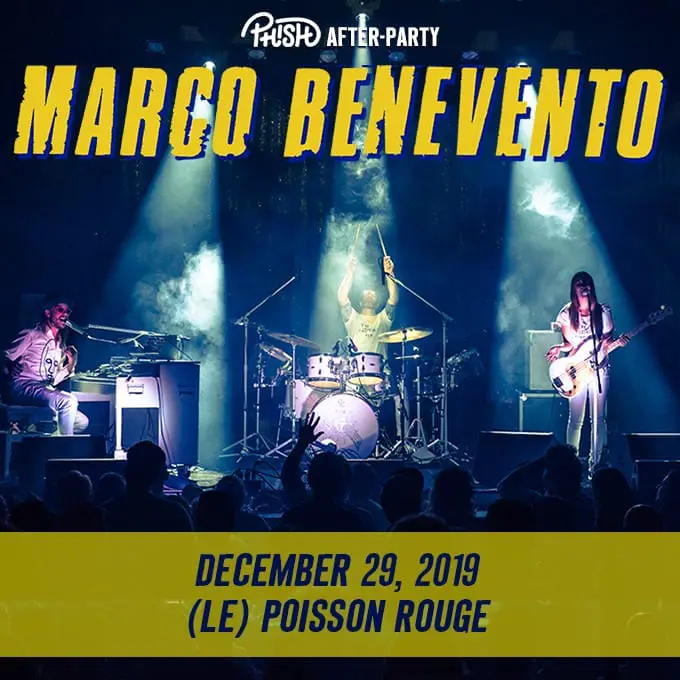 ---
Dead Sessions – Sunday December 29 – Hill Country
The music of The Grateful Dead transcends time, age and space. Their high energy, soul-touching jams, and family-like environment were central to the counter-culture experience.  Over the past 19 years Dead Sessions has grown to become one of the favorite Grateful Dead experiences in the Northeast. Playing since 1998, the collective is known for their authentic but unique renditions of Grateful Dead classics, thick with spiritual connectivity and heartfelt jams that make the most jaded Deadhead rejoice. Dead Sessions is composed of a rotating cast of musicians throughout the country, but the roots of origin are easily traced to the Green Mountain State. With an unmasked joy that pours off the stage and blurs any boundaries with their audience, the Sessions are beloved by all from the casual fan to the dedicated Terrapin warrior.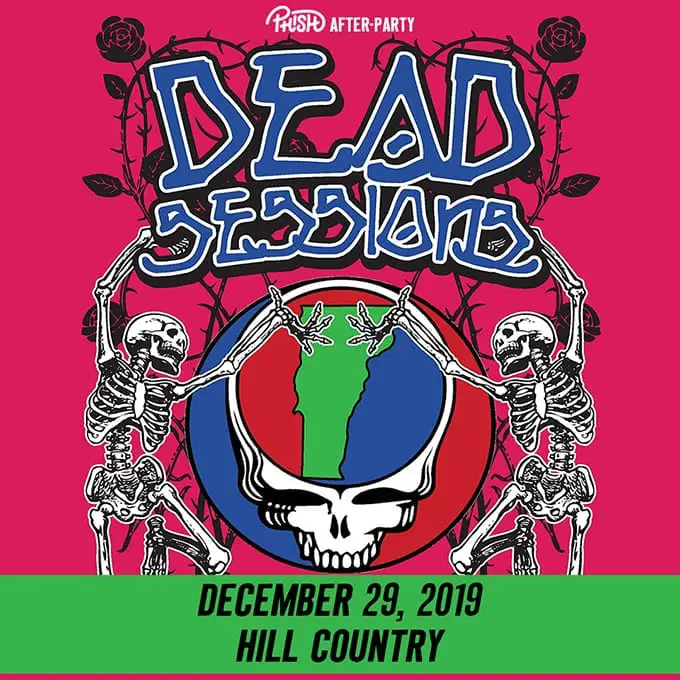 ---
On December 30, Greenwich Village venue (le) poisson rouge will host Electric In The Village: Ryley Walker, Chris Forsyth, and Garcia Peoples. Guitarist/songwriter Chris Forsyth got his start in Brooklyn's experimental circles in the early 2000's, and as the bandleader of Chris Forsyth & the Solar Motel Band, channeled both the psychedelic jamming of the Grateful Dead and the precision of art-punk guitar acts like Television. Illinois-based fingerstyle guitarist and singer-songwriter Ryley Walker adds new flavor to the series; his music has been described as fingerstyle ballads, psychedelic waltzes, and raga-inspired blues. Garcia Peoples is the Brooklyn Sextet blasting through residencies and new songs and sessions and collaborations, leaving a trail of live tapes in their wake, and scaling ever upwards.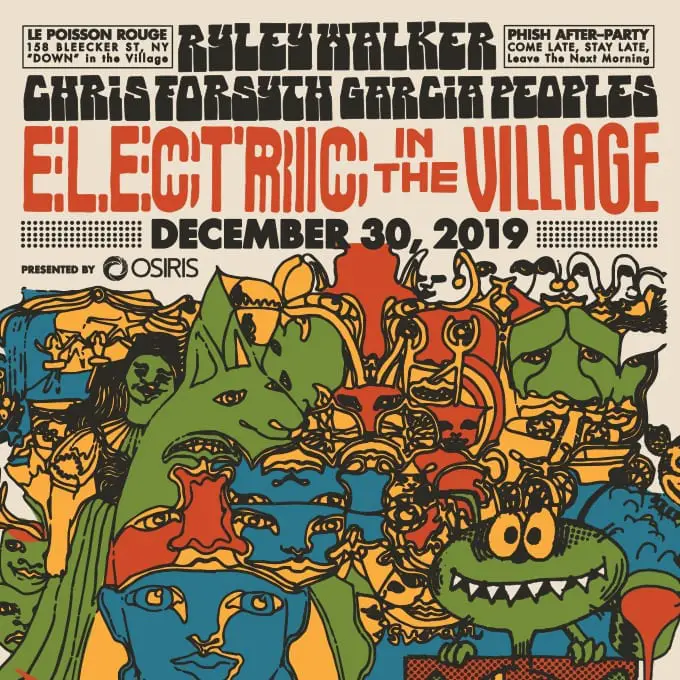 ---
The New Mastersounds – Tuesday December 31, 2018 – Gramercy Theatre
The New Mastersounds have been delighting audiences with their infectious brand of funky soul-jazz since they formed in Leeds in 1999. For the first five years of the band's career they were regulars at the Jazz Café in London, before they began to turn heads on the funk scene in the US, where guitarist/producer/bandleader Eddie Roberts now lives. For over a decade they have been a staple act of the late-night scene during New Orleans' annual Jazz Fest.
Though they have collaborated over the years with such musical luminaries as Maceo Parker, Fred Wesley, Corinne Bailey Rae, Art Neville, Bernard Purdie and Lou Donaldson, they are at their best on stage as a tightly-packed quartet – bass, drums, guitar and keyboards – firing scorching grooves off each other and feeding on the energy of the dancers in the front row.