NYS Music is proud to announce 15 Jam for Tots shows around the Empire State this holiday season. Kicking off on November 27, each show will have a Toys for Tots box set up for patrons to donate gifts to kids in need.
With a wide variety of artists, including Consider the Source, Runaway Gin, Annie in the Water, Tim Herron Corporation, Strange Machines, and Swedish metal guitarist Yngwie Malmsteen, this annual series will connect live music fans with those most in need in their local communities.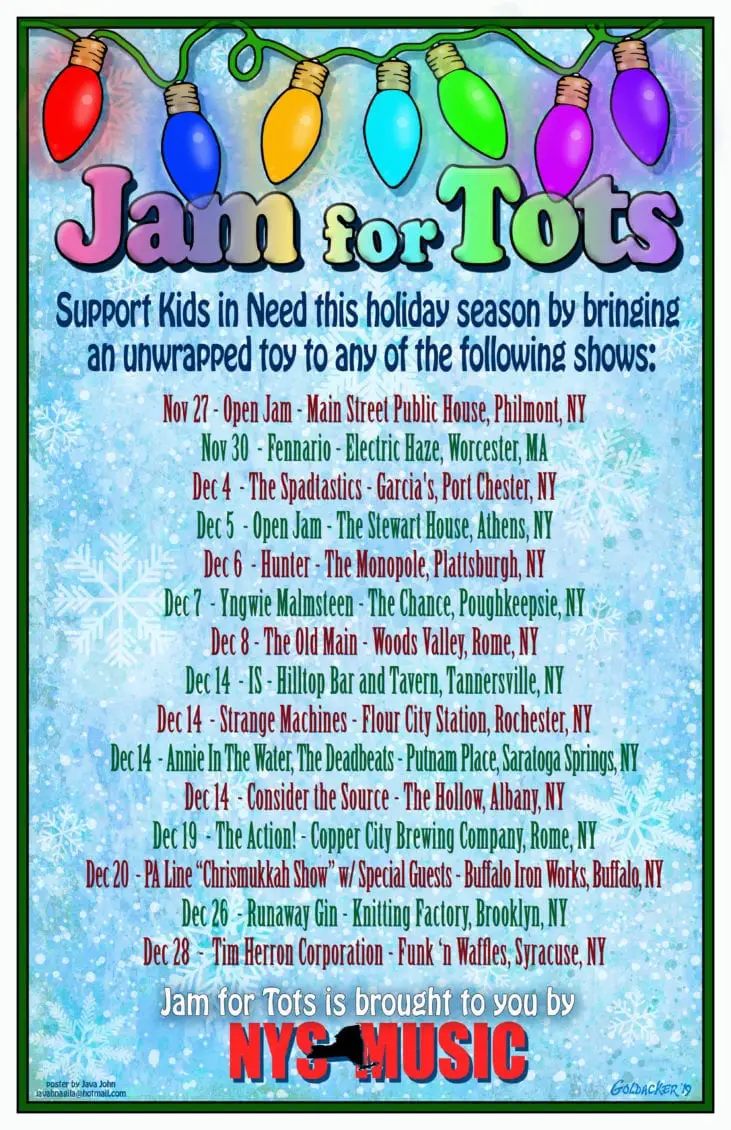 Support kids in need this holiday season by bringing an unwrapped toy to any of the following shows. Jam for Tots is brought to you by NYS Music.
Regional shows include:
Mid-Hudson Valley
Nov 27 Open Jam – Main Street Public House, Philmont
Dec 5 Open Jam – The Stewart House, Athens
Dec 7 Yngwie Malmsteen – The Chance, Poughkeepsie
Dec 14 IS – Hilltop Bar and Tavern, Tannersville
Westchester
Dec 4 The Spadtastics – Garcia's at The Capitol Theatre, Port Chester
North Country
Dec 6 Hunter – The Monopole, Plattsburgh
Western New York
Dec 14 Strange Machines w/s/g Haewa- Flour City Station, Rochester
Dec 20 PA Line "Chrismukkah Show" w/ Special Guests – Buffalo Iron Works, Buffalo
Capital Region
Dec 14 Annie In The Water, The Deadbeats – Putnam Place, Saratoga Springs
Dec 14 Consider the Source w/s/g Swimmer – The Hollow, Albany
Central New York
Dec 8 The Old Main – Woods Valley, Rome
Dec 19 The Action! – Copper City Brewing Company, Rome
Dec 28 Tim Herron Corporation – Funk n Waffles, Syracuse
New York City
Dec 26 Runaway Gin – Knitting Factory, Brooklyn
Massachusetts
Nov 30 Fennario – Electric Haze, Worcester, MA