From perhaps the world's most storied concert hall, Trey Anastasio, a storyteller of the highest order, delivered a homecoming performance for the ages. As he mentioned during story time between songs, it was good to be back in New York, in his very own UWS neighborhood no less, "like a hobbit come home" after a national tour, including stops in Minneapolis and Milwaukee among others. Tuesday, October 29 was the penultimate performance of his solo tour, the first of two at Carnegie Hall.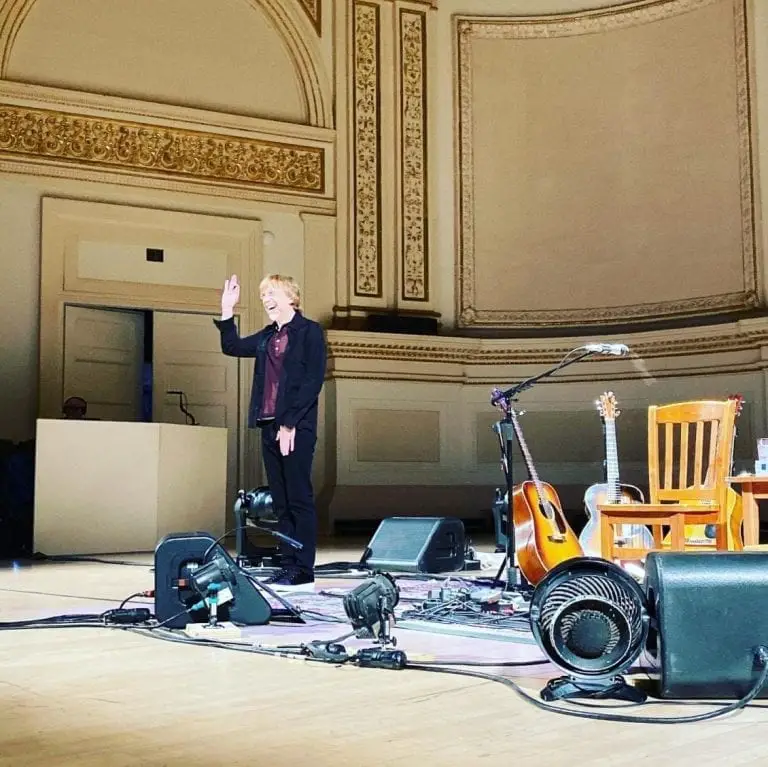 After a welcoming roar, the crowd was completely still for the opening "Theme From the Bottom," actively silent and attentive while offering the occasional whistle and woot. "Ghosts of the Forest" played beautifully in the pristine gilded white room, was followed by "Sample in a Jar" with the crowd singing along, which seemed to really please Trey who smiled and nodded appreciatively with every nuance of the crowd.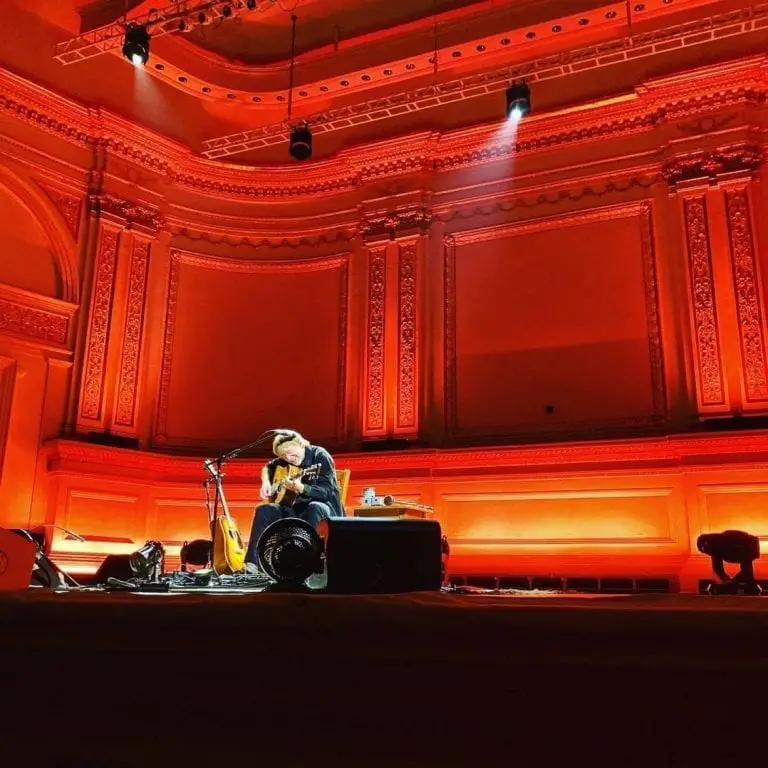 Trey, so alone and vulnerable (if that's possible in the face of his adoring phans) has found his stories becoming the best part of these shows. "I want to try this out real quick to establish the rules. Let's see how ya do," before he began the opening notes of "Limb By Limb" to a scream, to which he retorted, "I guess you can handle this," before continuing another of the night's epic singalongs. Then he recounted a story of playing the same room with the New York Philharmonic and explained the difference between a conductor and a concertmaster (the strongest and most confident member of an orchestra who everyone looks to for guidance), and shouted out Sheryl Staples, whom he played with in September 2009, before saying Phish could use a concertmaster at times, someone to snap them back to attention.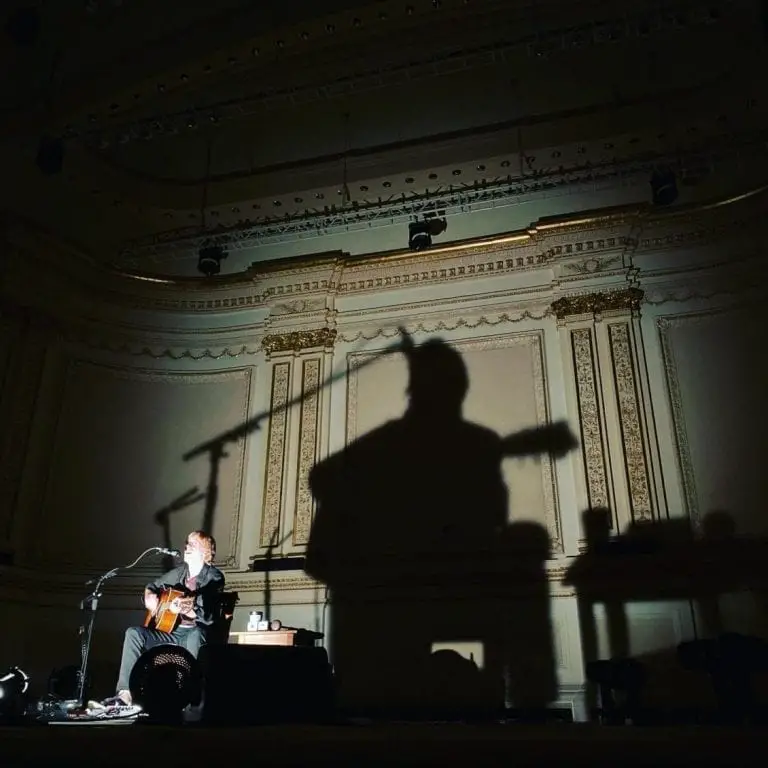 "I think my mom likes this song… this one is for you," and launched into "If I Could" which he dedicated to her, seated 6th row center, before the incredibly moving "Brian and Robert." Long a personal favorite, especially this version, and rearranged to fit a solo performance, "Wolfman's Brother" was next, with an acoustic telephone ringing, hysterical solo fills, and a great back and forth with the crowd. "The Inlaw Josie Wales," a gorgeous instrumental very suited for the room, was followed by "Shade" which preceded "Blaze On," a song long acknowledged by Trey, and received by the crowd, as a personal favorite.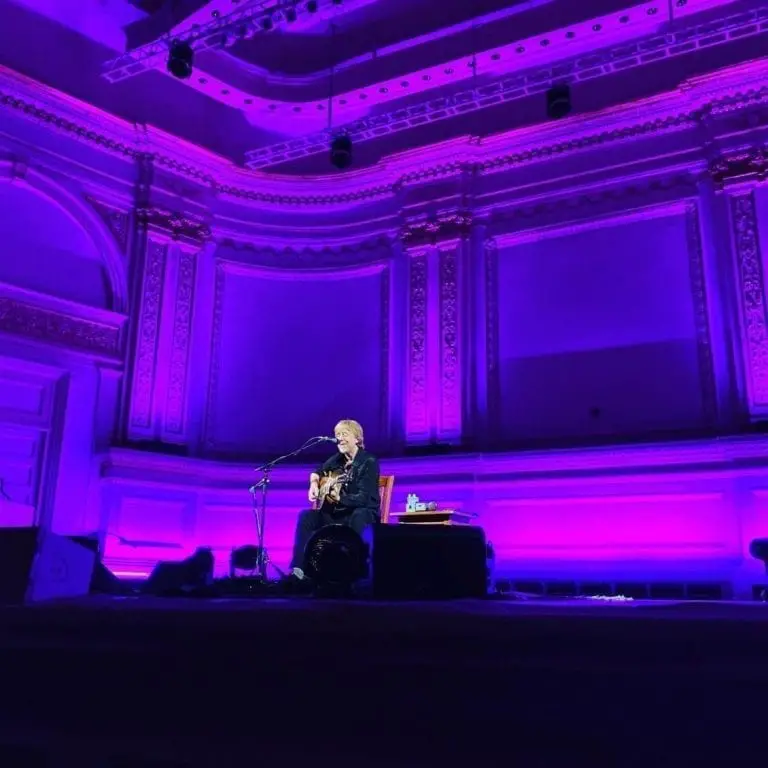 Another funny story followed, this one at a urinal with Tom Marshall and Steven Wright, coming before a "Strange Design," "Rise/Come Together," "Back on the Train," "AC/DC Bag" combo that had many dancing in their seats. The beautiful "Snowflakes in the Sand" showed off Trey's finger picking skills before another story and dedication, this one to his namesake and grandpa. "That's why I'm Trey, because we all had the same name and I'm the third, … I think he'd like this," as he played "Till We Meet Again" which sounded like a wordless Italian love ballad. The crowd enjoyed "Turtle in the Clouds," even as its lyrics seemed incongruous with the pristine room.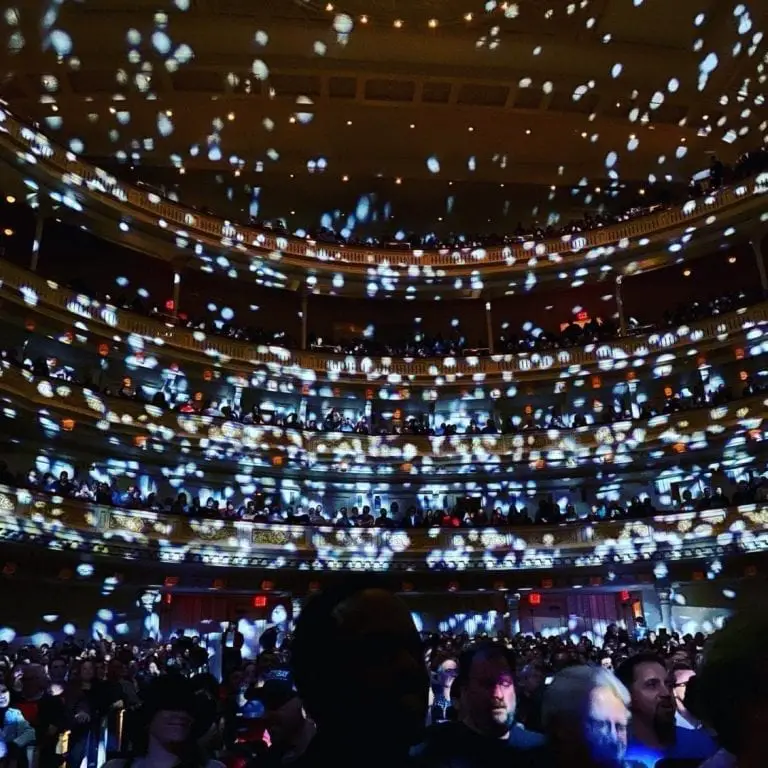 Trey's playing, his banter, his whole essence, dripped with passion and love and humility all night. The "prince of music" played a gorgeous "Winterqueen," another choice befitting the great stage upon which he sat. Perhaps the most poignant story of the night, Trey told of his deference for the hall and all the storied greats who came before him. He then mentioned Bach and how he used to write "For the Grace of God" on his compositions, and his feeling that his role in life is to be a vessel for this music, until he dies, and someone else will come along to do His work. Trey said he wants to play in his 80s, and Phish joked about playing a show in their 90s. "Everything's Right." Indeed. The first musical segue of the night saw Trey go right into "The Wedge" which had some furious acoustic solos.
Most of Trey's playing was stripped down, just as he and his wooden chair sat exposed and vulnerable, amidst a backdrop of kaleidoscopic colors on the cavernous stage. "Sand," a masterclass in looping, reminded the audience just how raw and stripped down the rest of his performance had been. "Say It to Me S.A.N.T.O.S." closed the set and prompted us all to remember where we were for a night never to be forgotten. 
After a short break, "Driver," "Summer of '89," and "Wilson" rounded out this first of two historic nights. Trey's solo tour concludes tonight.
Setlist via Phish.net
Set 1: Theme From the Bottom, Water in the Sky, Ghosts of the Forest, Sample in a Jar, Limb By Limb, Brian and Robert, If I Could, Wolfman's Brother, The Inlaw Josie Wales, Shade, Mountains in the Mist, Blaze On, Strange Design, Rise/Come Together, Back on the Train, AC/DC Bag, Snowflakes in the Sand, Till We Meet Again, Turtle in the Clouds, Sunset Days, Winterqueen, Everything's Right > The Wedge, Backwards Down the Number Line > Sand, Say It To Me S.A.N.T.O.S.
ENCORE: Driver, Summer of '89, Wilson