Songhoy Blues are set to release their new EP, Meet Me in the City via Fat Possum on October 18 in support of a 5-week North American tour. The band also helped kick off the United Nations Climate Change Week in New York City with a breakout performance in support of the historic Great Green Wall initiative they are helping bring to life.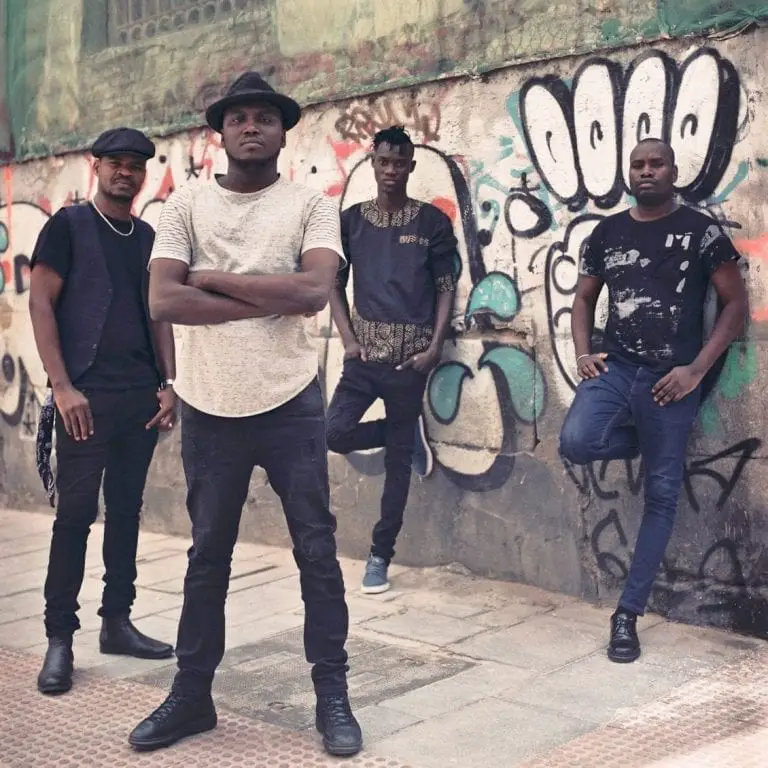 The EP is their first collection of new music since the critically acclaimed album Résistance, which Rolling Stone called one of the best albums of 2017, and will be released on special edition yellow vinyl. 
They recently shared two versions of the EP's title track — one mixed by Blake Mills (Grammy-nominated producer of Alabama Shakes' Sound & Color, John Legend's Darkness and Light, and Perfume Genius' No Shape) and the other by David Ferguson (known for his sound engineering work with "Cowboy" Jack Clement and on Johnny Cash's American Recordings). The title track was written by Junior Kimbrough (with additional lyrics by Songhoy Blues and produced by Matt Sweeney).
Steeped in the deep traditions of classic Malian music & desert blues fused with a youthful and super-charged sound of today, Songhoy Blues formed in 2012 in Bamako after its members had left Timbuktu, which was under siege by Islamist militants. The band released their debut album, Music In Exile, in early 2015 receiving across the board praise, including a 5/5 rating in The Guardian who claimed, "they have all the makings of African-rock crossover heroes."
Songhoy Blues says, "We're really happy to introduce this new EP and our English-language debut on the song 'Time To Go Home.' Please enjoy it and get ready for a heavy new album coming up very soon."
On PBS' American Masters, Will Oldham spoke of working with Songhoy Blyes, saying, "They are a Malian band that's really trying to make sense of what they've been witnessing, what they've been experiencing, and create or transmit a message to people about what they're seeing and how they're trying to understand it and make change…And to think, well I want them to know that I'm trying to listen and trying to understand, and if I can give voice to some of what they're experiencing, that they might be emboldened by this musical connection."
Most recently, the band completed a sold out run of UK dates, recorded a live session for BBC 6 Music; filmed an episode of the new UK TV show Noughts & Crosses in South Africa; featured in a new photography exhibit called My Rockstars by Hassan Hajjaj at La Maison Europeenne de la Photographie in Paris; and collaborated with UK artist Andy Morgan on a multimedia exhibition called Music & Conflict at the Imperial War Museum, which debuted in June 2019. 
Songhoy Blues are also proud spokespersons for the charity WaterAID, and have helped to raise money & awareness toward providing relief in their native Mali. They will be appearing in an upcoming documentary on climate change in the Sahel; and were featured in the award-winning documentary "They Will Have to Kill Us First", about the plight of musicians in war-torn Mali.
Songhoy Blues – remaining 2019 Tour Dates
10.17 – St. Paul, MN – Turf Club
10.19 – Chicago, IL – Lincoln Hall
10.22 – Toronto, ON, Canada – Great Hall
10.24 – Brooklyn, NY – Baby's All Right
10.25 – Easthampton, MA – New City Brewery
10.26 – Portland, ME – Port City Music Hall
10.27 – Boston, MA – Brighton Music Hall
11.07 – Edinburgh, UK – Usher Hall (with Vampire Weekend)
11.08 – Manchester, UK – O2 Victoria Warehouse (with Vampire Weekend)
11.09 – Manchester, UK – O2 Victoria Warehouse (with Vampire Weekend)
11.11 – Birmingham, UK – O2 Academy (with Vampire Weekend)