The historic Bardavon 1869 opera house in Poughkeepsie will kick off the Hudson Valley Philharmonic 60th Anniversary Season with the opening concert, Moon Landing, on Saturday, October 26 at 8 p.m.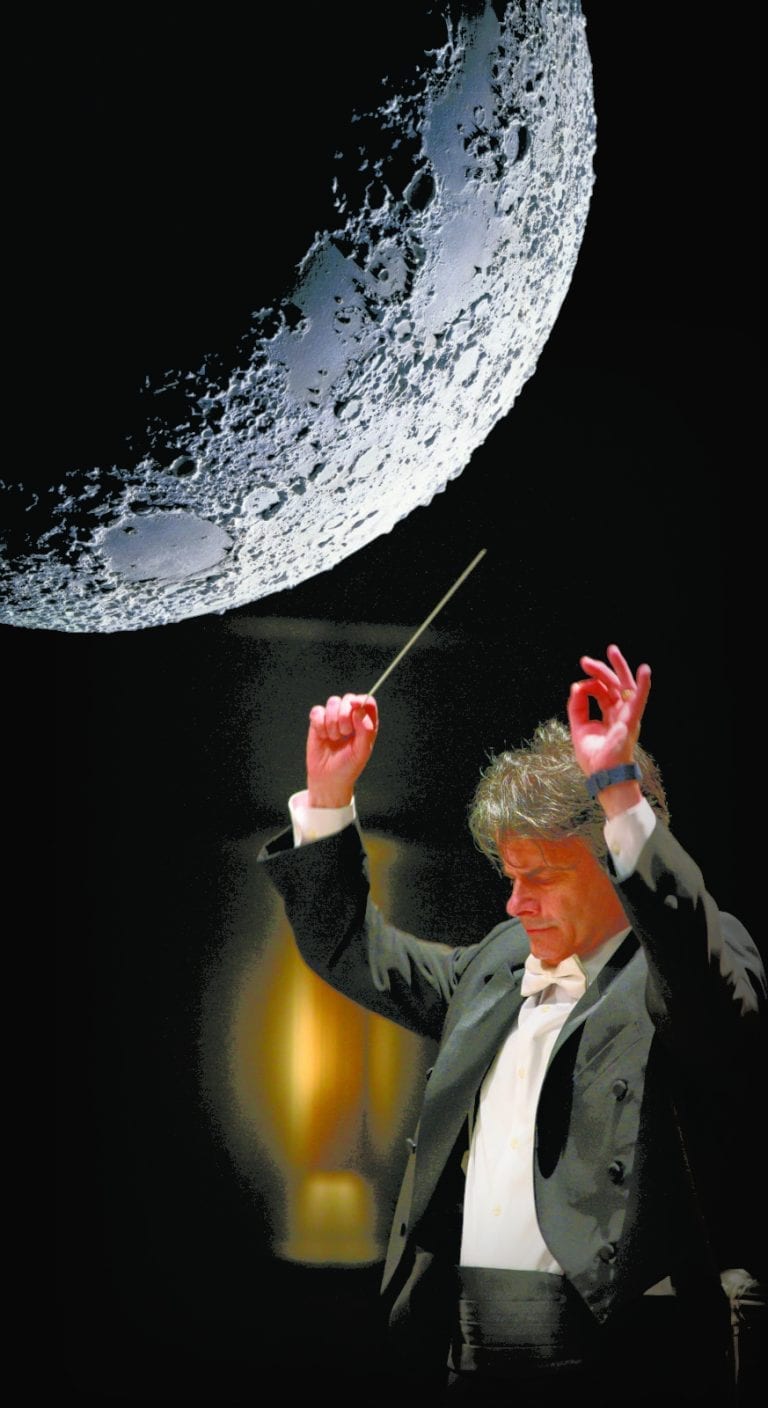 More than 80 years ago, the Dutchess Philharmonic Community Orchestra was founded by four local amateur musicians, and 60 years ago conductor Claude Monteux elevated the orchestra to a fully-professional ensemble, renaming it the Hudson Valley Philharmonic. The 60th season also represents the HVP's 21st year under Bardavon management and the 27th under the music direction of conductor Randall Craig Fleischer, who will conduct Moon Landing.
The Hudson Valley Philharmonic 60th anniversary opening concert at Bardavon celebrates the 50th anniversary of the moon landing with Mozart's "Jupiter," Prokofiev's violin concerto with an HVP String Competition winner and Ravel's suite from Daphnis et Chloé with projected images from outer space. The program includes:
Mozart: Symphony no.41, K.551, C major (Jupiter)
Prokofiev: Violin Concerto no 2, op. 63, G Minor w/ 2018 HVP String Competition winner Cherry Choi Tung Yeung
Ravel:  Daphnis et Chloé Suite no. 1 & 2 w/visuals from outer space by Dr. Jose Francisco Salgado
Audience members are invited to a pre-concert talk with the conductor and soloists and/or members of the orchestra one hour prior to the performance.
José Francisco Salgado is an Emmy-nominated astronomer (BS in Physics, Univ. of Puerto Rico; PhD in Astronomy, Univ. of Michigan), experimental photographer, visual artist, and public speaker who creates multimedia works that communicate science in engaging ways. As the Executive Director and co-founder of KV 265, a non-profit science and arts education organization, Dr. Salgado collaborates with orchestras, composers, and musicians to present films that provoke curiosity and a sense of wonder about the Earth and the Universe. His Science & Symphony films have been presented in more than 350 concerts and lectures reaching a combined audience of more than 400,000 people in 18 countries.
Cherry Choi Tung Yeung was born in Hong Kong, 22 years ago. Cherry studies with Ms. Ida Kavafian at The Juilliard School and has been admitted to the highly selective accelerated program, where she will finish both Bachelor's and Master's Program in four years; she is currently a senior/ first year master student. Cherry was accepted to the Hong Kong Academy for Performing Arts (HKAPA) Junior Program as a scholarship student at the age of 6. Cherry skipped high school and later at the age of only 15, she was accepted as a full-time student at the HKAPA.
Single tickets to all HVP concerts are $20 – $58 based on location. For more information visit the Bardovan website.