Groovesafe, a movement within the musical community to bring awareness about unwanted touching and sexual assault at concerts, has been making in roads through the music industry since the charity was formed in 2017 by Ashley Driscoll. On Monday, October 14, members of Turkuaz, Lespecial, Escaper, Goose and many more will join together as Groovesafe Allstars, for a benefit concert supporting Groovesafe at Brooklyn Bowl.
Driscoll has been bringing together musicians from across the jam scene to spread the word about Groovesafe. A topic such as unwanted touching is one that is all too common but the issue had not been brought to light until the past few years, around the same time the #MeToo movement pushed back against sexual assault and sexual harassment in the workplace. Through music scenes that intertwine, the mission of Groovesafe can be spread and consent culture can become the norm.
The October 11 Groovesafe Allstars benefit at Brooklyn Bowl has Driscoll's mission front and center in the jam scene. Speaking to NYS Music about the event, Driscoll says, "I'm excited about this inaugural event because it allows us to showcase what our mission is all about. The thrilling thing about the "AllStar" aspect is we can unite different GrooveSafe Artist Ambassadors from bands of all genres. Bringing everyone together to highlight the importance of our work at GrooveSafe and our main goal to rebuild consent culture in the live music realm."
"All we want to do is spread awareness that these bad behaviors are happening and that we won't stand for them anymore. Change in behaviors begins with this awareness. We will be out there at The Brooklyn Bowl on Monday night to remind people how important it is to respect each others dance space, and focus on why we see shows;  the music.

Ashley Driscoll – founder of Groovesafe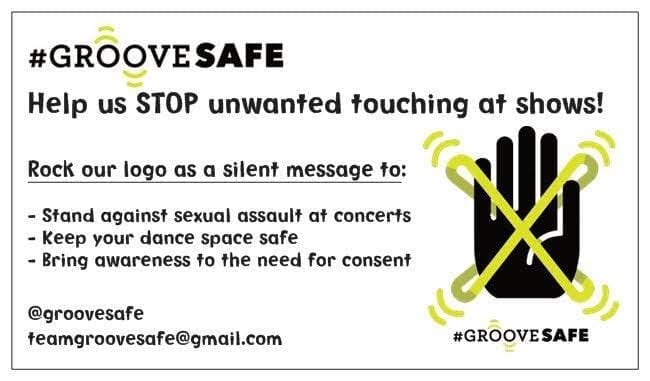 The show features The GrooveSafe AllStars – Sammi Garett (Vocals – Turkuaz), Josh Schwartz (Sax – Turkuaz), Greg Sanderson (Sax – Turkuaz), Chris Brouwers (Trumpet – Turkuaz), Luke Bemand (Bass – lespecial), Will Hanza (Lead Guitar – Escaper), Ben Atkind (Drums – Goose), Matt Dolliver (Keys, EWI – Swimmer), Sam Lisabeth (Guitar – Guerilla Toss), Melissa Goscinski (Vocals – Cousin Earth), and Tara Lawton (Vocals – Cousin Earth), with an appearance by Tom Salgo (Guitar-Of Clocks And Clouds). More info can be found here.
This initial event will be the start of a series of benefit concerts, spreading the mission of Groovesafe.
We hope to have a rotating act and continue to put on benefit concerts with talented musicians who support the movement to stop unwanted touching at shows in cities throughout the country. Our touring bands work so hard to bring you the music, let's work together and make the show experience better. Let's help people love the music again and give us a voice to create safer shows. Practice consent and take care of each other. 

Ashley Driscoll – founder of Groovesafe
Additionally, at the upcoming HarvestFest at Woods Valley, Groovesafe will receive a portion of ticket sales from the weekend event, which features Rob Compa of Dopapod and Hayley Jane, among others.