Over Father's Day weekend next summer, Fins Up LG will bring the sounds and flavors of Key West to Charles R. Wood Festival Commons in Lake George. Parrotheads and Mardi Gras lovers will be drawn to this weekend long festival on the shores of Lake George, with music, margaritas, daiquiris and more in store.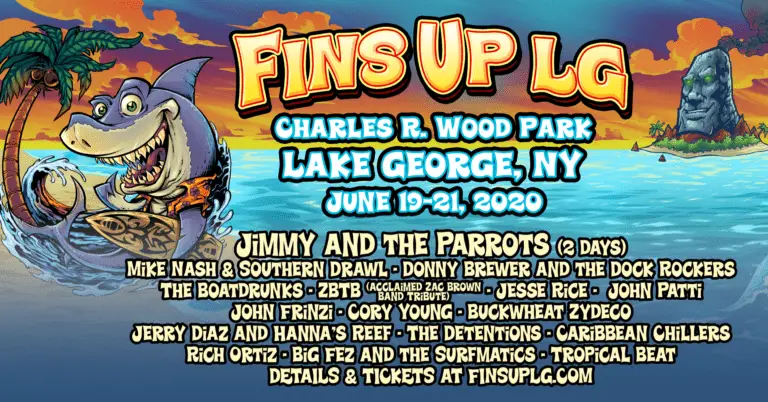 This three day music festival will feature more than 20 musical acts on two main stages for a continuous musical adventure. Featuring a who's who of Trop Rock Award winners, the lineup also features Jimmy Buffett tribute acts, and some incredible Zydeco, Cajun, and Country acts.
Featured artists include Jimmy and the Parrots (2 days), Mike Nash & Southern Drawl, Donny Brewer and the Dock Rockers, The Boatdrunks, ZBTB (acclaimed Zac Brown Band Tribute), Jesse Rice, John Patti, John Frinzi, Cory Young, Buckwheat Zydeco, Jerry Diaz and Hanna's Reef, The Detentions, Caribbean Chillers, Rich Ortiz, Big Fez and the Surfmatics, Tropical Beat and more. Craft and food vendors will be on hand, as well as a huge margarita and daiquiri bar. VIP options are available for the weekend as well, and the event will be held rain or shine.
And this party has a purpose! $10 from every ticket sold will be donated to St. Jude Children's Hospital. For more information, visit FinsUpLG.com