The two-day music and arts event, Adirondack Music Festival, returned to Lake George, NY this past weekend for its fifth year in a row. Held once again on the serene LG section that is Charles R. Park, this year's ADK Fest felt like the most well-received and celebrated yet, as many attendees seemed to vocally attest. If you were in attendance this weekend, you most likely at some point overheard someone discovering the festival for its special charm. Something along the lines of: "I can't believe how nice this festival this is" and "Well, I am definitely coming back next year."
As with every year since its start, ADK Fest opted for a classic setup with two main stages of music, set side by side—the style adopted by big-time events like Gathering of the Vibes and the first few years of LOCKN'. This format, which has bands perform back to back without delays, kept the energy on the field, and white hot, from early morning through sunset, as well as kept collective excitement packed into one shifting, intimate crowd.
A number of recently highly popular musical acts made their debut at ADK Fest. Midnight North, for starters, features members of The Terrapin Family Band and have been a hot ticket over the last year or so. Dead-relation aisde, Midnight North is its own beautiful creation, an americana powerhouse of band that displays a strong breadth of songwriting through dynamic, soulful musicianship. Members of this band were well connected within this music scene from the west coast and sat-in with many other artists as well.
Other buzz-generating artists performing at ADK for the first time ever were artists like The People's Blues of Richmond, Marco Benevento, and G. Love and Special Sauce. People's Blues, PBR for short, surely must have unexpectedly knocked a number of ADK patrons out of their musical comfort zone with their fearlessly-intense style of garage-punk blues. But the trio's ceaseless, air-tight musicianship won many fans over as well. Marco Benevento's own power-trio took the main stage just a few hours after them and wielded their own no-holds-barred mash of indie-pop, funk, and glam rock.
It felt strange to see G. Love perform a midday set at three in the afternoon -here was an artist, after all, that surfed high through the 2000's on a number of big hits, but he was a highly received set nonetheless. In addition to a solo acoustic intro, the guitarist and hip-hop-inspired vocalist careened the edge of the stage above a swath of outward hands and starry-eyed expressions. G. Love's collaboration with Twiddle frontman, Mihali Savoulidis, saw the two trading vocals for guitar riffs on a version of Hall and Oates' "I Can't Go For That," which was much better than the "What I Got" that happened between the two in Twiddle's headlining show later. 
Yet the four man dance-ready jamband, Twiddle, still performed a huge couple of sets to close out Saturday evening, to an elated audience that swamped the park's concert area all the way to the vendors in the back. Highlights of their two closing sets were a guitar-shredding collaboration with Midnight North frontman, Graham Lesh, on their original "Subconcious Prelude" and then the foursome's searing finish on "The Box."
Another artist who met the crowd with a freewheeling sense of stage presence was the northeast jam scene's golden girl, Hayley Jane. Fronting her band, The Primates, for a midday Sunday set, Jane sang face-to-face with a rail-climbing mass of highly excited young women. Hayley and The Primates as a unit announced their decision earlier this year to go on hiatus. This set at ADK Fest was undoubtedly an emotional one for many, despite the fact that Hayley, in her true style, beamed with smiles and soul through her own set. The joy transcended others that she guested on stage such as with polyrhythmic dub-rock band, Bartika, and then Jane sat in with Everyone Orchestra's set a bit, after her own.
In a very special move, Adirondack Music Festival booked an Everyone Orchestra set for its day two second-to-headlining spot. EO shows are, of course, completely improvisational from start to finish and are always performed by a mix of artists from different bands. Lake George's set was pretty substantially stacked for its members. Solo artists Haley Jane and Ryan Montbleau handled lead vocals (with the latter also offering some nice guitar solos here and there), while Deep Banana Blackout's, Fuzz Giovanni, handled lead guitar work.
Saxaphone legend Sam Kinninger  was a secret weapon here, shining up the band's various types of funk and rock jams with amazing melodic work. Kinniger and the rest played beside a hefty rhythm section that included moe.'s Vinnie Amico on drums, TAB's Tony Markelis on bass and Steve Moltiz on keys. Highlights here were a belly-laugh inducing, reggae-tinged sing-along about golf pirates. Super creative vocals led by Ryan Montbleau followed with an extremely moving, soul inspired jam which Everyone Orchestra impresario, Matt Butler, built a vocal tribute to the recently passed Neal Casal.
While some roll their eyes at cover bands, Pink Talking Fish works extra hard and thinks creatively to stand out from the ever-growing pack. The quartet began their set with a great surprise in The Beastie Boys' "Sabotage," which Phish has covered on rare occasion. In a climax to their set, PTF reprised a bit of the magic from their Junta album extravaganza at The Capitol Theatre earlier this year, which had Pigeons Playing Ping Pong's Greg Ormont act as Master of Ceremonies. Here at ADK Fest, PTF began with a beautiful segue-sandwich from "You Enjoy Myself" to Pink Floyd's "Wish You Were Here" and back. Upon returning to the Phish hit, Ormont joined the band mid-song, to first engage in some trampoline-style jumping with bassist, Eric Gould, and new guitarist Cal Kehoe. They finished with a very kooky vocal jam. 
It was another strong move to have Pigeons Playing Ping Pong return to close the festival Sunday evening, just as they did last year. These four jam-funk players having seen a truly meteoric rise recently (they will be headlining Explore Asheville this coming December). A few highlights for their near-explosive set included an electronically charged collaboration with Steve Moltiz on their own tune, "Live it Up," and a very colorful jam on Deee-Lite's "Groove Is In The Heart."
Major music events in Lake George, NY like Adirondack Music Fest often share in a little community-favorited crown jewel—a post festivities top-off at local music hub, King Neptune's Pub. Being a time-tested spot for upstate bands to play, King Neptune's always sees great crowds, but then really turns out when late night performances go down.
For Saturday night's musical extend, nearby favorites, Funktional Flow from Buffalo, and New Haven, CT's, Eggy, offered a proper finish to a full first day of music. Eggy, coming from the fertile music scene in New Haven, made a grand introduction for themselves in this venue, and they rocked the opportunity big time. The groove rock four-piece blasted their way through intense versions of originals like "Shadow" and "One More Dance," along with improvisationally-heavy takes on covers like Traffic's "Low-Spark of High-Heeled Boys." For a set-topper, Eggy invited Midnight North keyboardist, Alex Jordan, for a blissful and high-powered take on the band's "Buying Time."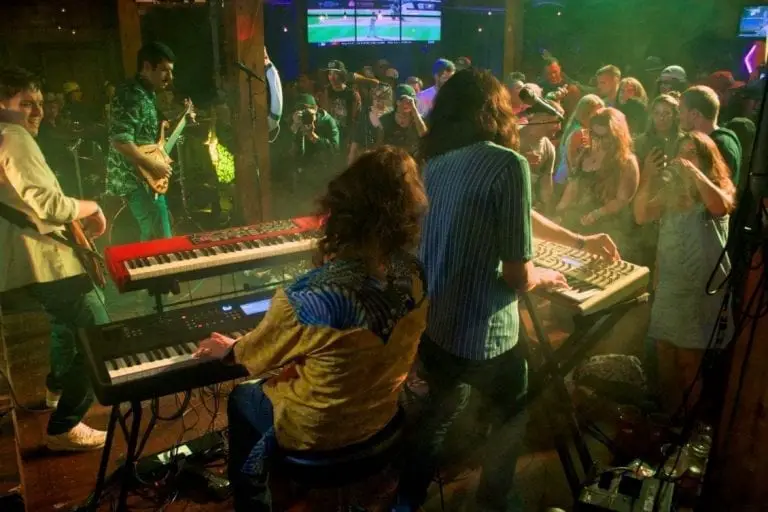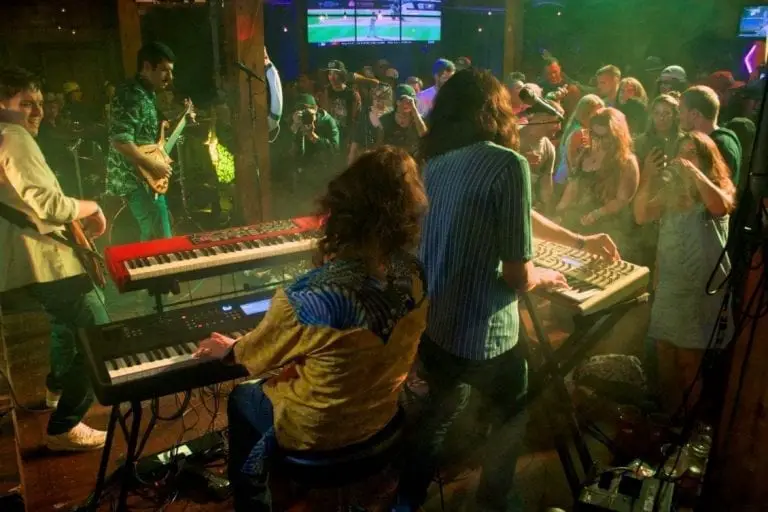 While night one's crowd was impressive, festival buzz Sunday afternoon must have spread like wildfire to make late night two's crowd even more massive and energetic, for Neptune's at the tail end of the weekend was nearly flooding out the door. After Sunday night's originally scheduled openers, psychedelic funk outfit The New Motif, had to cancel their slot and the evening switched around to second act, Annie In The Water, opening before a festival-family superjam close out.
Annie in The Water thus kicked off with a very uplifting display of original music, with some cover hits thrown in for good measure. A presentation of styles ranging all the way from folk rock to reggae to even some hip-hop was connected via strong, confident solos and endearing vocals. Members of Lucid, Magic Beans, Pigeons Playing Ping Pong coalesced into one family-type super jam set, for a final set at Adirondack Music Festival, that seemed to represent everything this dynamic music scene is about. At one point in this performance free-for-all, three keyboardists—Magic Beans' Scott Hatchey, former Formula 5's Matt Richards, and PTF's Richard James—hammered away on one rig at the same time, for a spectacle that was also technically impressive.
As with any festival, there's more musical experiences than can be reported on. From piano wizard Marco Benevento and his trio debuting material from their new record (Let it Slide), to upstate jam favorites Lucid commanding the main stage mid-Saturday as they do with fervor every year, ADK Fest's fifth year was artistically overflowing. All of this top-notch live music was met resolutely throughout the weekend with a positive and welcoming vibe, upheld via a sense of strong community and creativity. For mid-size festivals Adirondack Music Festival is one of the best you can experience in the ever-musically-fertile land of upstate NY—yet here's to a steady growth from mid-size to who knows how big.
Check out a gallery of images of Adirondack Music Festival 2019 below, courtesy of photographer James Sullivan.