The Disco Biscuits are back. The Philly-based trance-fusion band has announced an extensive 23-date winter tour with several multi-day runs, including SI Hall at the New York State Fairgrounds in Syracuse on Nov. 22 and 23.
The tour kicks off with two dates in McKees Rocks, PA at the Roxian Theatre on Nov. 14 and 15. The tour also includes the previously announced four-day run at the Playstation Theater for New Year's Eve. The run marks the band's 40th and final time performing there as the venue announced it will be closing at the end of December.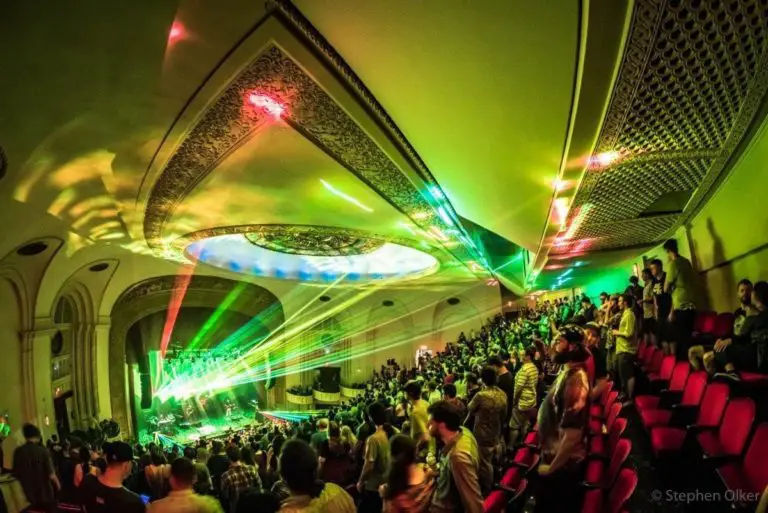 Tickets for the tour go on sale Friday, Sept. 6 at 10:00 a.m. local time. Ticketing information can be found on the band's website here. See the full list of dates below.
The band issued a statement regarding the tour and timeline for their upcoming album:
"We've been teasing this for some time now, it feels so good to finally be able to share it with you. We are back…and back in a big way. New tours. New music. New Jams. 2019 and 2020 are going to be our best years yet and all of you are at the heart of it. Expect to see us a lot, expect the unexpected.


The first thing we've got for you is our winter tour starting in just a few weeks. We're coming back to a few places we haven't been to in a while, and others that we've seen a lot through the years. All will be sweat dripping off the ceiling, Bisco fire fueled nights. 

The second is a new album…we're already burning the midnight oil on this, and can't wait for you to hear it. We plan on teasing some of these soon, and dropping them individually in early 2020, then a full album next summer. 'Til then, we'll be seeing you all quite a bit and spending every waking hour making sure this is the best of the Biscuits for all of us."
Disco Biscuits Winter 2019-2020 Tour Dates:
Oct. 5 – Breckenridge Brewery Hootenanny – Littleton, CO
Nov. 14 – Roxian Theatre – McKees Rocks, PA
Nov. 15 – Roxian Theatre – McKees Rocks, PA
Nov. 16 – The National – Richmond, VA
Nov. 17 – The National – Richmond, VA
Nov. 20 – Higher Ground – Burlington, VT
Nov. 21 – Higher Ground – Burlington, VT
Nov. 22 – SI Hall – Syracuse, NY
Nov. 23 – SI Hall – Syracuse, NY
Dec. 11 – House of Blues – Orlando, FL
Dec. 12 – Jannus Landing – St. Petersburg, FL
Dec. 13 – Revolution – Ft. Lauderdale, FL
Dec. 14 – Revolution – Ft. Lauderdale, FL
Dec. 27 – PlayStation Theater – New York City
Dec. 28 – PlayStation Theater – New York City
Dec. 30 – PlayStation Theater – New York City
Dec. 31 – PlayStation Theater – New York City
Jan. 2 – Riviera Theatre – Chicago, IL
Jan. 3 – Riviera Theatre – Chicago, IL
Jan. 4 – Riviera Theatre – Chicago, IL
Jan. 15 – The Ritz – Raleigh, NC
Jan. 16 – The Fillmore – Charlotte, NC
Jan. 17 – The Fillmore – Silver Spring, MD
Jan. 18 – The Fillmore – Silver Spring, MD