To paraphrase the Downchild Blues Band, the 2019 Chenango Blues Festival had everything you need, almost. The lone exception was a few bouts of rain and lightning. Even then, the staff anticipated the weather, advised festival-goers, revised the schedule, kept things rolling with minimal interruptions, and were rewarded with a spectacular rainbow once the rain subsided.
Norwich's native son, Brian Golden, kicked things off on the main stage. Golden has a long history of playing in Syracuse-area bands before eventually moving to Nashville, where he met his wife and band mate, Aletha. The Brian Golden Blues Experiment encompasses his interest in blues, but also makes room for Aletha Golden's powerful voice on soul/R&B/gospel-styled songs, which included a powerful cover of "I Shall Be Released." More information is available here.
Up next on the main stage was a returning crowd favorite, Johnny Sansone. A multi-instrumentalist, Sansone had fans up and dancing with his energetic accordion playing on zydeco tunes, adding Delta blues and swamp rock numbers throughout the set.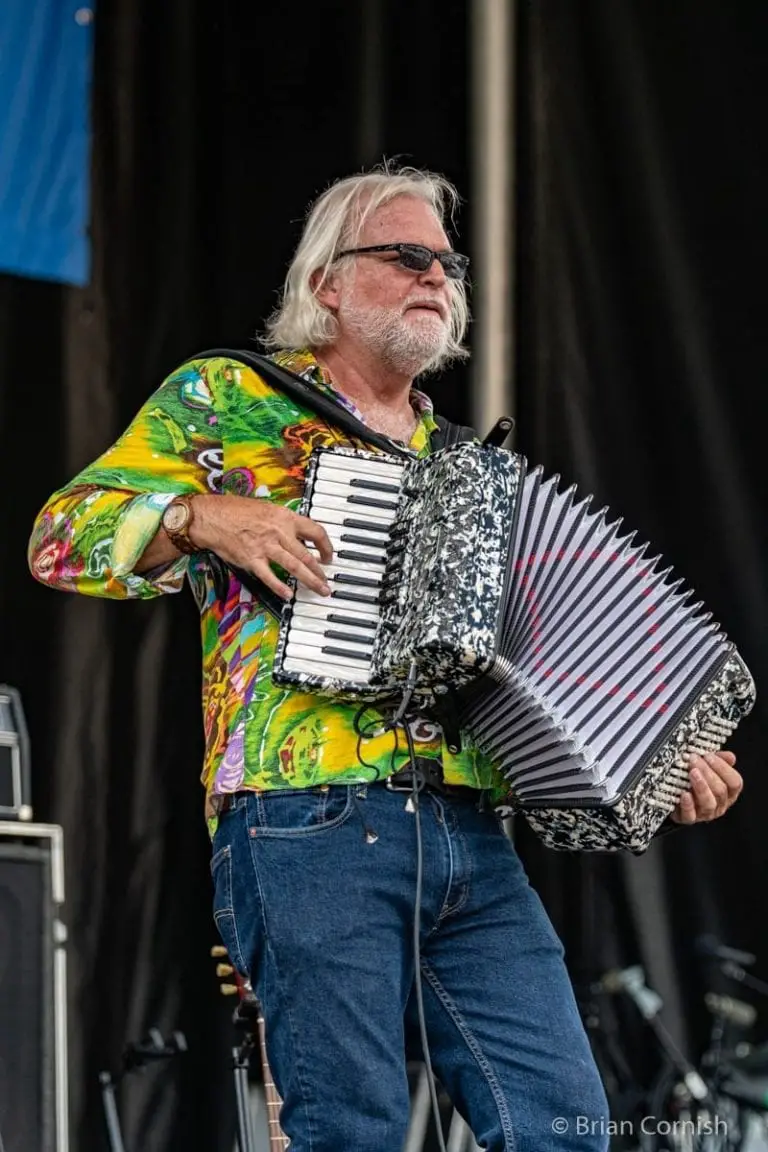 The tent stage is traditionally where CBF presents emerging solo/duo acts, or artists that might cover different ground than traditional blues. There were a couple of highly anticipated performers there, beginning with Jontavious Willis. At just 23 years old, he has caught the attention of venerable blues men Keb' Mo' and Taj Mahal, who combined as Producer and Executive Producer on Willis' Spectacular Class, released in April of this year and available for purchase here. Willis proved to exceed expectations, showing prowess, showmanship, an easy rapport with the audience, and surprising covers of a roof-raising version of Ray Charles' "What'd I Say?" and a crowd sing-along on Prince's "Kiss." This is an artist not to be missed.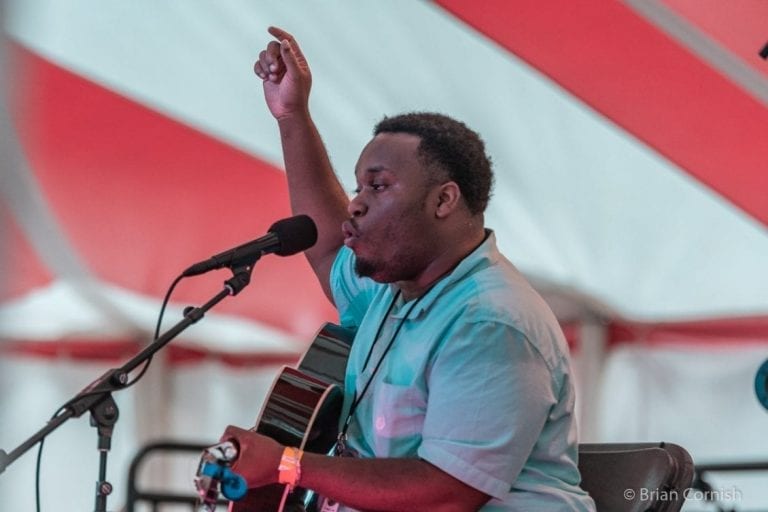 "When I heard him play I said to myself: this is how the blues, as I know it, is going to stay alive. Jontavious Willis is the first blues musician I've seen in over 30 years that I would pay to see – and he's only 20 years old! I've seen the best. Jontavious is the real deal." [Paul Oscher, noted blues musician, and former harmonica player in the Muddy Waters Band]
Multiple Blues Music Award winner and Grammy nominee Danielle Nicole took the stage for an abbreviated set cut short by the first rainfall of the day, which made it impossible for her to continue on the main stage. Still, she displayed the powerful vocals and driving bass guitar that were staples of her debut album Wolf Den and last year's Grammy nominated Cry No More. Hear her music and check out her tour schedule here.
With rain falling, the infield crowd shoehorned into the tent stage area to see Pokey LaFarge. A performer with a distinct vintage fashion style, LaFarge's set had elements of ragtime, swing, country, and certainly blues. He was often hilarious and seemed joyous to receive such an enthusiastic response. A highlight was his very recently penned tune, "There's Always Something to Drink About." LaFarge commented that he wrote the song a few days prior to the festival, after contemplating his decision to "try" to quit drinking last month.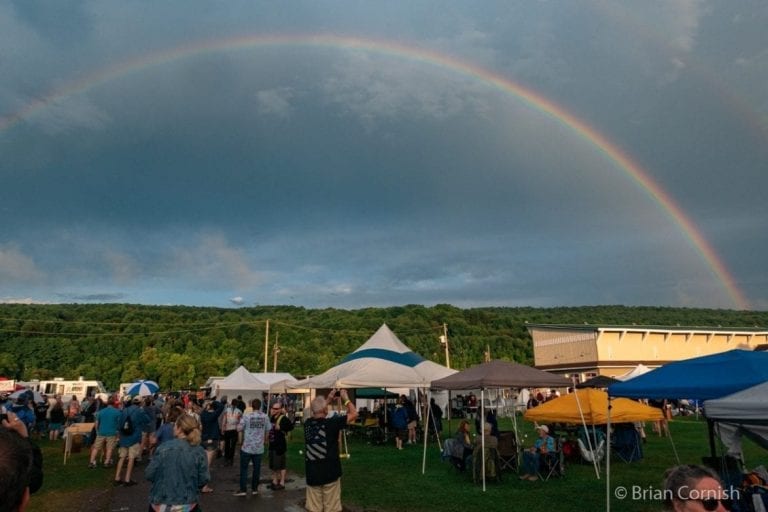 "…those…storms that rip up the world as you know it, and leave, like a sacrifice, a rainbow to make you forget what has come before."
― Jodi Picoult, Picture Perfect
While festival staff scrambled to protect equipment and clean up the main stage, it was decided not to wait, but to switch the Downchild Blues Band from the main stage to the tent stage. Frankly, it was a stroke of genius as the legendary band, celebrating their 50th anniversary, was able to replicate the feel of pulsating, crowded Canadian venues they had played for upwards of 250 to 300 shows a year for many of those years. Led by top-notch harmonica player and guitarist Donnie "Mr. Downchild" Walsh, with award-winning vocalist Chuck Jackson, the group played songs from throughout their history, including their famous "Shotgun Blues" and "I've Got Everything I Need (Almost)," as well as the high-energy "Mississippi Woman, Mississauga Man" from their 2017 release, Something I've Done, which features songs written by five different band members. The band's impressive history and music can be found here.
Joe Louis Walker had a couple of surprises for fans during his set. Piano player extraordinaire Kenny "Blues Boss" Wayne, easily the best-dressed person in attendance, joined what had initially been billed as a trio. Walker is a familiar face to Central New York blues fans, having played in Utica years ago and more recently at Funk N Waffles in Syracuse. He shared stories of the elder blues men that gave him a chance when he was just starting out and paid tribute by playing a song by Earl Zebedee Hooker. The second surprise was when Walker paid it forward by inviting Jontavious Willis to join him. Willis looked elated as he grabbed Walker's red and black Greco guitar and smiled all throughout his time onstage.
Once the rain ended and the rainbow appeared, perennial blues festival circuit favorite Tab Benoit took to the main stage. A dynamic guitar player with a distinct vocal style that mixes his Cajun roots with a whiskey-soaked sound more often heard in country music, Benoit is an original in a genre that often relies on familiar forms. A power trio with just Benoit and a rhythm section, the band had fans crowding up front and singing and dancing along.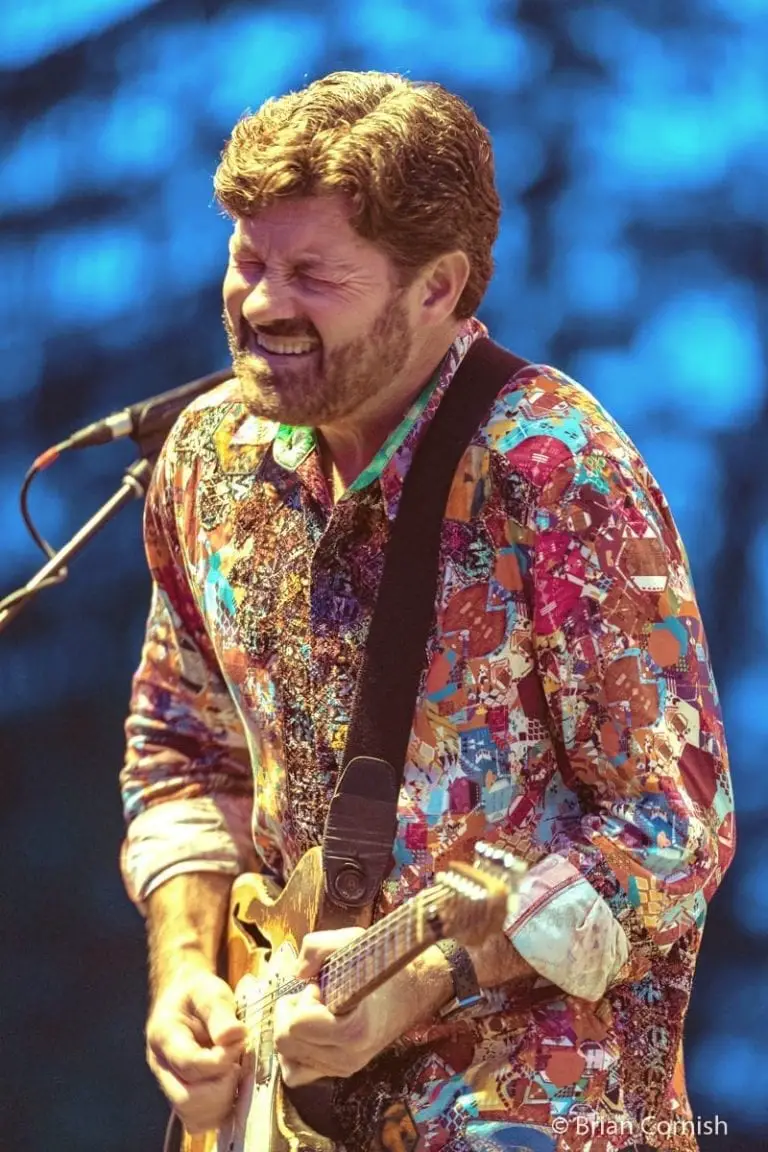 Closing out the day was Mississippi Heat band leader Pierre Lacocque, an impressive harmonic player and singer in his own right, directing a slightly stripped down touring version of the band, which sometimes features a horn section and multiple guitarists. The band still packed a punch and Lacocque was perfectly willing to share the stage and shine a light on the other performers, including the magnetic Carla Stinson on vocals for several songs and very special guest, Chicago legend Lurrie Bell on guitar and vocals.
Now in its 27th year, the Chenango Blues Festival is revered by fans far and wide. They have a fantastic knack of identifying and presenting emerging artists that create thousands of brand new fans. Valerie June, Ghost Town Blues Band, Davina and the Vagabonds, Southern Avenue, Nikki Hill, and Jerron "Blind Boy" Paxton come to mind in just the last few years. They also showcase known crowd pleasers and veteran acts that deserve an appreciative, responsive audience. They treat fans and artists with respect, pay attention to details, and just do things right. It's a simple formula, but that doesn't mean it's simple to do. However, those are exactly the reasons why it is many fans' favorite festival each and every year.